Why Sylvester Stallone Wants To Keep Celebs Away From His Daughters - Exclusive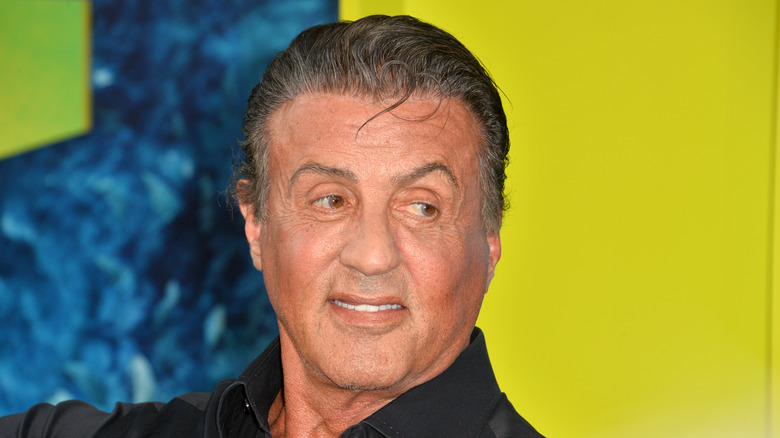 Featureflash Photo Agency/Shutterstock
It's always nerve-wracking to bring a boyfriend home to meet your father, but what if your father was Sylvester Stallone? Wonder no more — the new Paramount+ series "The Family Stallone" tackles the family dynamics between Stallone and his three daughters with his wife Jennifer: Sistine, Scarlet, and Sophia Stallone.
The series sheds light on how Hollywood has affected the family — from the long stretches of Sylvester filming away from his family to the various aspects of stardom. In the show's first episode, the family regales viewers with tales of Sylvester's overprotectiveness of his daughters and anyone they bring home to meet him. He's so intimidating that one boy fled from the house.
Despite Sylvester's stint in the spotlight, he was never quite thrilled about introducing his Hollywood colleagues to his daughters. Naturally, they were exposed to his world growing up, but that doesn't mean he has to like it. During an exclusive interview, The List spoke to Sylvester, Jennifer, and their three daughters. They told us all about growing up on set, which stars they were most excited to meet, and why Sylvester would prefer to keep the actor pool away from them.
From Guy Fieri to Liam Hemsworth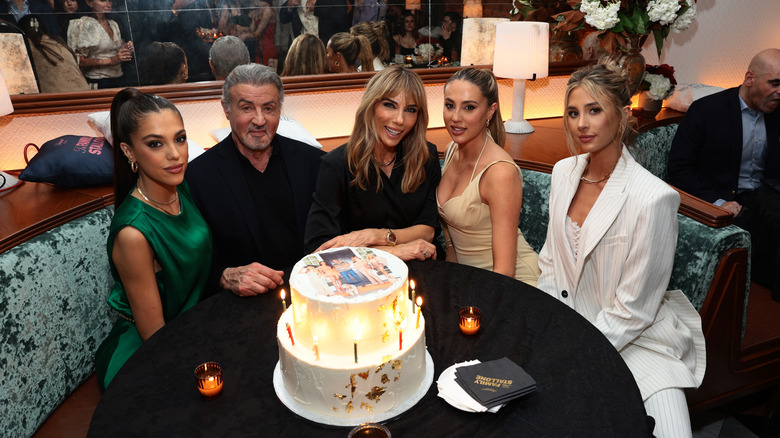 Dimitrios Kambouris/Getty Images
Sylvester Stallone's friendship with Al Pacino is one of the greats in Hollywood, and fans get a deep look into their dynamic in "The Family Stallone." Of course, the family has met a slew of actors and other personalities, but they still admitted to occasionally being starstruck by someone they met through Sylvester. Jennifer said, "I was struck by Jimmy Stewart. I met him probably 30 years ago."
Sophia surprised Sylvester with her choice of Guy Fieri, given how many actors she's met over the years. Scarlet noted how cool that experience was, and Sophia was ready to defend her choice, chiming in with, "Listen, we come downstairs to our kitchen [at] 10 in the morning, and we see Guy Fieri cleaning."
Sylvester couldn't wait to tell Fieri that he received top billing over actors. He said, "Guy's a great guy, but I thought you were going to talk about a movie actor. Guy's going to be really flattered."
Sophia praised the cooking genius, adding, "He's ... my God. You don't understand." Meanwhile, Sylvester was clearly thrilled with her choice, noting, "He'll be very happy when he hears this."
An overprotective dad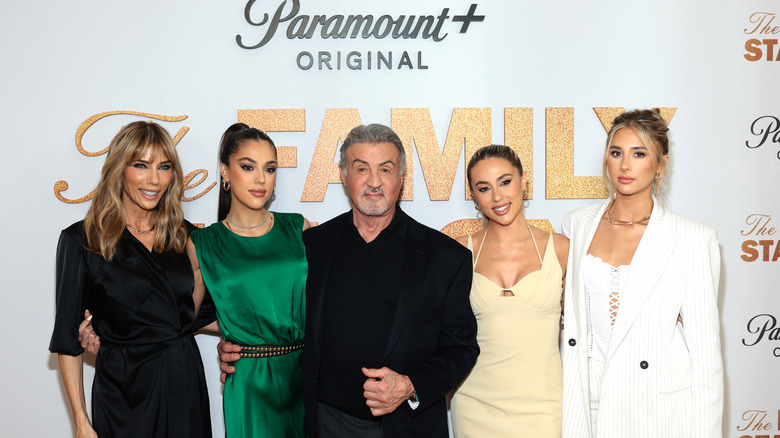 Dimitrios Kambouris/Getty Images
Of course, Jennifer Stallone wanted her daughters to spill the tea. She asked, "Who else? You guys liked a couple of the cuties." Scarlet called out her mom's digging, joking, "You're going to throw me under the bus with Liam Hemsworth," though she quickly clarified, "That's when I was younger, I promise."
But moms are going to mom, and Jennifer called her bluff, teasing, "And today." However, Scarlet defended her celebrity crush, admitting, "Well, you can't really blame me. He's cute." And who could argue with that?
Sylvester asked about the "new guy" on "Tulsa King," and Scarlet asked, "Garrett Hedlund, right?" After he confirmed, Sophia chirped, "Don't sell us out." Jennifer joked, "You're not supposed to tell us about Garrett," and Sylvester noted, "Garrett Hedlund is a new one."
But now that we know the litany of Hollywood staples that the women in his life adored meeting, was there anyone Sylvester was excited to introduce them to? Well, that's a hard no from the actor.
"No one," he said. "I'm trying to keep everyone away, actually." Sistine added that he never introduced them, and Sylvester was good-natured about it, joking, "Put bags on their heads like, 'Stay away.'" Here's wishing good luck to the Stallone ladies and their romantic dalliances — it looks like bringing someone home to meet parents might be even tougher if you're famous.
New episodes of "The Family Stallone" stream Wednesdays on Paramount+.