Everything We Know About Lili Reinhart's Boyfriend Jack Martin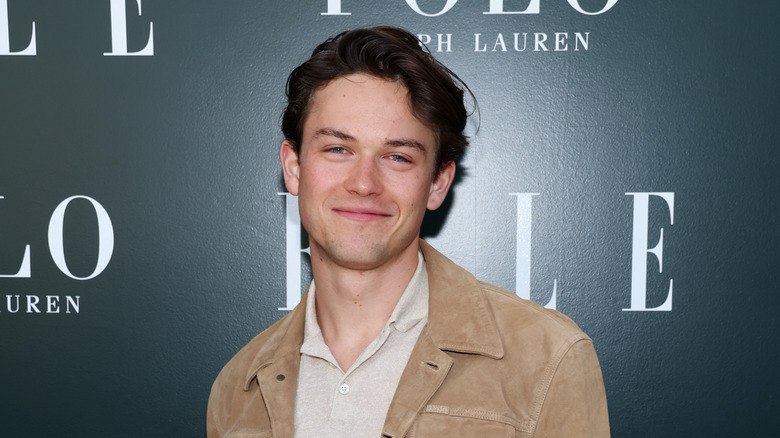 Phillip Faraone/Getty Images
In the early weeks of April 2023, "Riverdale" fans assembled on Twitter to gush about the latest news in town. Series favorite Lili Reinhart was seen kissing a handsome man outside LAX, and, unsurprisingly, rumors went wild. Fans scrambled to unravel the identity of the mystery man who has seemingly stolen the heart of their beloved Betty Cooper. Online fandoms are not to be underestimated: In a few hours, they figured out that the mystery man is an actor and TikTok star named Jack Martin. Of course, the discourse did not stop there. There was a great deal of chatter about Martin's physical appearance — namely, that some fans believe he looks a lot like Cole Sprouse, Reinhart's costar and ex-boyfriend. Oh, and on top of that, he'd only recently pretended to be Cole Sprouse on a podcast (more on that in a moment).
While Reinhart has not explicitly addressed their relationship status, she did seemingly have something to say when the photos of the airport smooch made the internet rounds. After speculation about Reinhart and Martin began to percolate, she wrote in an Instagram Story, "Really would love for everyone on planet Earth to leave me alone."
So who is Jack Martin? Here's what we know about Lili Reinhart's reported new guy. 
Jack Martin's Cole Sprouse parody was a hit
In March 2023, Cole Sprouse, who plays Jughead Jones on "Riverdale," made quite a splash on the "Call Her Daddy" podcast. Namely, he said a few things about his past relationship with Lili Reinhart that did not sit well with fans. "I think if I had loved myself a little more, I probably would have left a little sooner," he said to host Alex Cooper. "I just felt like I had to take care of a lot of people around me, which was not good for me. I probably should have exercised a bit more selfishness in that situation." His remarks — plus the indoor cigarette smoking shtick — did not go over well with a number of fans. As one wrote on Twitter, "The rewriting of Cole Sprouse's brand all within one podcast interview could be studied as a college course."
Shortly after the pod dropped, Jack Martin went on "Plan Bri Uncut" as "the third Sprouse." Throughout the segment, Martin pretended to smoke about half a dozen cigarettes at once and channeled the "Riverdale" star. When asked why things didn't work out with his former girlfriend, for example, he deadpanned, "I don't want to place judgment on anyone, but it was her f**king fault completely."
When word got out about Martin and Reinhart in April 2023, this parody made the rounds. As one fan tweeted, "Lili Reinhart dating Jack Martin, who loves to make fun of Cole Sprouse, is such a power move."
Who is Jack Martin?
Now that you are all caught up on the drama, let's get to the original question: Who is Jack Martin? According to his personal website, the guy who has apparently wooed Lili Reinhart is an actor, comedian, and content creator. Oh, and let us not forget his Instagram bio, where he calls himself the "Founder/CEO @ Theranos." (Of course, the actual founder of Theranos, Elizabeth Holmes, is in jail for fraud.) As per his TikTok page, he also "posts trash content" on the platform which he calls a "children's dancing app."
Born in Maryland in 1998 and raised in Virginia, Jack Martin is now based in Los Angeles and chasing his Hollywood dream. That chase began back in elementary when he auditioned for (but didn't land) a role in a feature film. Fittingly, his zodiac sun sign is Leo — the perfect sign for those who love to stay in the limelight.
Jack Martin changed his path while he was in college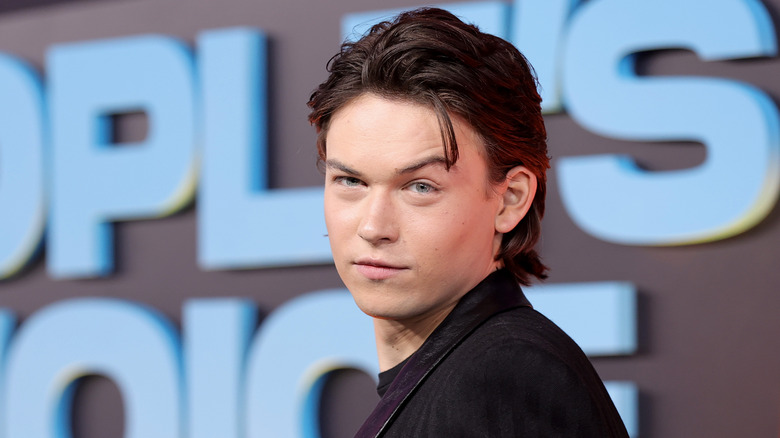 Amy Sussman/Getty Images
Following high school, Jack Martin headed to Georgetown University to study political science. Evidently, things weren't quite clicking for him, so he made a major life pivot. While he was still in college, Martin joined Stonestreet Studios Film & TV Conservatory at NYU Tisch School of the Arts to pursue a summer course dedicated to screen acting. 
Martin's life hit the gas pedal after college. "I graduated early. And then all of a sudden, my TikTok account blew up, and then I moved to LA and then I got signed by an agent," he shared in a cover interview with A Book Of. He also recounted a particularly encouraging conversation he had with his mom and a friend about his future while he was still in college. While many aspiring young actors' parents will push for their kids to go for a more practical and stable career path, Martin's mom told him to shoot for the stars and get serious about being an actor. And that suggestion felt right. "I was like, of course. It just came from the gut," he said.
The actor is a star of the NBC series La Brea
After he teamed up with an agent, Jack Martin made his debut in the role of the 17-year-old teenage boy Josh Harris on NBC's sci-fi series "La Brea." In his interview with A Book Of, Martin noted that landing this gig right out the gate was a major confidence boost — as well as a sign he was on the right path. "It was so many things at once for me because obviously, it was my first big acting role but also it was a confirmation that I'm actually going to be able to do this for a living," he said. When Martin found out he got the part, he was beyond thrilled. "I never really cry about anything and I was absolutely tearing up when that happened," the young actor said.  
In "La Brea," a giant sinkhole opens up in Los Angeles and not only turns the city upside-down, but opens up time travel portals. Josh's family must navigate the aftermath. While the plot of the series is, of course, rooted in fantasy, Martin has found ways to relate to Josh's experiences. "It's such an exciting character because 17 is a very pivotal age and he's forced to grow up on an extremely accelerated timeline in circumstances that are, to say the least, bizarre," he said in Bello Magazine. Before "La Brea," he had a minor role on the CBS legal drama "All Rise."
Jack Martin is a family man
"Riverdale" fans know that their sweetheart Lili Reinhart is a family woman. In 2019, when she was named in the Time 100 Next List, she showed up at the event with the most influential woman in her life — her mom. "My mother has always been so kind and grounded, even in the worst of stressful situations, so I've learned a lot from her," she told reporters at the event (via Us Weekly). So we love to see that her reported beau Jack Martin is also a family man. The location of "La Brea" was set in Australia and the filming for the first season happened during the height of the COVID-19 pandemic. Martin has talked about how difficult it was for him to stay away from his family during the lengthy shooting period. 
"I was there for six months and I hadn't seen my parents for nine months, because they weren't able to see me in LA because the vaccines weren't out yet and so they weren't able to travel. So that was a pretty big gap for me, they weren't able to visit because of the restrictions in Australia and it's an 18-hour time difference," he recalled in A Book Of. Thanks to that massive time difference, Martin and his family struggled with even figuring out a time for a simple phone call that worked for everyone. "I'd get home [from the set] and everyone's asleep when I would be texting or calling," he said. 
TikTok didn't always appeal to Jack Martin
Before he made a name for himself as a professional actor, Jack Martin was a TikTok star. As of this writing, Martin's TikTok page has well over 845K followers and more than 46 million likes; all three of his pinned videos have been viewed more than 7 million times. While he's found success on the app, he was initially reluctant to join TikTok — let alone try to dominate the FYP. 
In an interview given to ComicBook, Martin admitted, "I was an elitist about TikTok. I was like, 'I'm never downloading that app.'" He, of course, changed his tune at some point, and that proved to be a wise move. As he recalled to ComicBook, his TikTok content is what ultimately landed him an agent and a manager, which really set the wheels in motion. "Then I got this audition, which was my first pilot season audition ever. I booked it and here we are," he said. Clearly, downloading that app worked out for him. 
Martin has also said that his favorite part of TikTok is the quality content the app gives a home. "I mean, you can have a million followers and a video can do really poorly, you can have zero followers, and the video can go viral if it's really good," he told A Book Of.
He was 'embarrassed' to tell his friends that he wanted to be an actor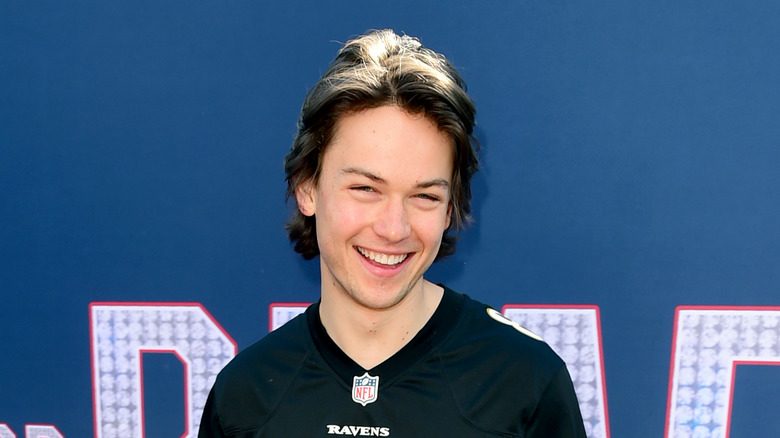 Vivien Killilea/Getty Images
While Jack Martin knew he wanted to be an actor early on, he also knew the odds of actually making it in the industry were slim. He worried about how his life would shake out if he put all of his eggs in the actor basket only to fall short, and he worried about what people in his inner circle would think about this dream. "I was too embarrassed to even tell my friends about it because I didn't know what they were going to say," Martin said in A Book Of. "They worked on Wall Street and stuff like that and just had a really kind of curriculum approach to life."
Martin also shared that it took him a while before he felt okay with the idea of his real-life friends watching his TikTok content. "[W]hen you're actually filming yourself, trying to be funny and posting it on the internet, where all your friends can see it, it's kind of a different ballgame and I think it would make a lot of people uncomfortable. It made me uncomfortable," he admitted. Given the way things have panned out, it feels safe to assume Martin isn't so uncomfortable with it anymore. 
Jack Martin is a big Leonardo DiCaprio fan
Jack Martin was not alive when "Titanic" first cruised into theaters in 1997, but that does not mean he's too young to appreciate the epic historical drama's legacy. What's more, he's very into the actor who played Jack Dawson. "I've always been big on Leo DiCaprio, especially in his younger days – his performance in Titanic is so legendary it's the only movie I have downloaded on my phone," he told Bello. 
It should not come as a surprise that Martin sure seems to dig that he shares a name with the Oscar-winning film's tragic hero. In 2017, he posted a pic on Instagram that someone snapped while he and a pal recreated Leonardo DiCaprio and Kate Winslet's iconic "I'm flying, Jack" scene on the bow of a boat. "Living up to my name," he wrote in the caption, while also tagging the RMS Titanic as the location. Some people in the comment section noted that the "La Brea" star looks a little like a young DiCaprio. We can surely see the resemblance, too.
Jack Martin had a kidney stone while filming La Brea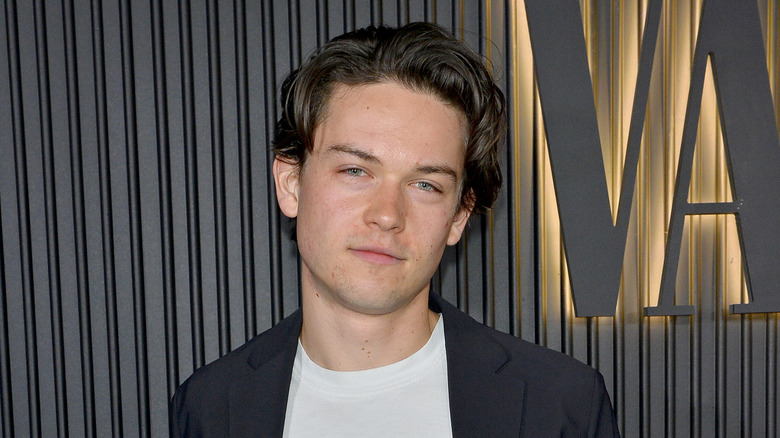 Jerod Harris/Getty Images
Being away from home and missing his parents weren't the only obstacles Jack Martin faced while filming the first season of "La Brea" in Australia in 2021. In the scripted fantasy series, Martin's character, Josh Harris, falls into a sinkhole, gets swept into another dimension, and gets mauled by a wolf. While making the first few episodes, Martin was also grappling with the very real issues brought on by a very real kidney stone. "It's the worst pain that I've ever felt in my life," Martin told A Book Of. "It was like method acting." 
It was not easy for Martin to ignore the symptoms of the kidney stone while he was filming, and he took all of the severe discomfort and put it into his performance. "I've never been mauled by a wolf but I have to imagine it's a pretty similar feeling. Because it was right there in my side around the abs, there's just brutal pain and literally that's what I was thinking of in all those scenes," he said. Thankfully, Martin did go to the hospital to receive treatment at some point. Talk about a rough way to kick off your first days on your first big budget production. 
Jack Martin really digs science fiction
Playing Josh Martin on the NBC series "La Brea" was Jack Martin's big introduction to Hollywood, but it was not his introduction to science fiction. "This was definitely in some ways a dream project for me," he said in his aforementioned interview with A Book Of. "I've always been a fan of action and Sci-Fi and stuff." He went on to name smash TV shows like "Lost" and "Stranger Things" as some of his top sci-fi series. In the same chat, he said that if he were a book, he would probably be a sci-fi book. 
While Martin may not be a sci-fi book, one piece of his real life reflects the sci-fi series. As he told Variety in 2022, his Los Angeles apartment happens to be near the La Brea Tar Pits — which is right where the sinkhole opened up on "La Brea." "[I]t wasn't even until after I was moving in, I looked out and I was like, 'Oh my God. I'm in the sinkhole,'" he said. 
He is open to exploring various genres
While sci-fi certainly has a special place in Jack Martin's heart, the "La Brea" actor is set on exploring other genres. "I think it's really fun as an actor to dive into a role and really immerse yourself in it and there's a lot of things that I would love to do," he told A Book Of. "I mean something like 'Succession' that's like high finance kind of drama. I'd love to do comedy, I just think it'd be really fun to be on set for that and I love comedy." 
In his aforementioned chat with A Book Of, Martin offered up details about his likes and dislikes when it comes to pop culture. While he enjoys prestige television, he's also game for a classic comedy series like "South Park" and "It's Always Sunny in Philadelphia." And when it comes to movies, the actor digs anything from a big-budget action spectacular to an understated drama. "I love 'Good Will Hunting,' it's one of my all-time favorites," he shared.
So, what is next for Martin? We'll just have to wait and see — but we're sure it'll be worth watching out for. As he said in Bello Magazine, "As long as I get to perform and create content people enjoy, I'll be happy."