Hallmark Star Eva Bourne's Original Career Goal Was A Far Cry From Acting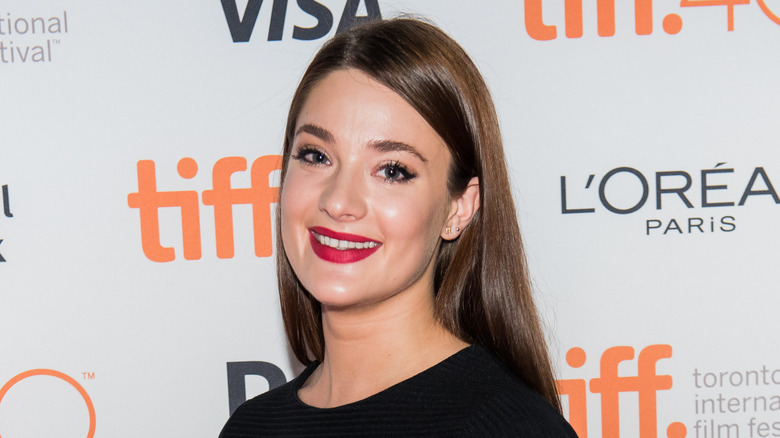 Dominik Magdziak Photography/Getty Images
Eva Bourne's acting career started when she landed the role of Mary in the TV show "Psych." Since then, she's appeared in "Beyond the Black Rainbow," "Caprica," "The Big Year," "Once Upon a Time," and more. Her most notable role is as the beloved Clara Stanton Flynn in Hallmark's popular series "When Calls the Heart."
The Canadian actor always had an affinity for the arts and credits her 9th-grade drama teacher for helping develop her interest in acting and storytelling. Additionally, her family consists of eccentric parents that encouraged her and her sister in their own creative pursuits. While Bourne is a successful actor, she explores her interests in other areas too. She said that she and her sister, who went to film school in Vancouver, were writing a script together. "I really think that it's important to be creative in all aspects," Bourne told The Pop Culture Principle. "I wouldn't want to just act because I feel like it wouldn't enable me to grow in different directions. As an actor, you want to have as many experiences as possible because you can bring that into your acting as well."
Eva Bourne didn't set out to be an actor
Bourne originally pursued a path in dentistry, studying to be a dentist assistant immediately after high school, but eventually dropped out and moved to Vancouver to try acting. "I remember watching movie trailers in my dorm room, and I just decided I was going to act," Bourne told The Pop Culture Principle. "It was like a two-second decision, and I decided to be impulsive, drop out of school, and pursue this career that I don't know anything about."
Before dropping out, Bourne had been reflecting on what would make her the happiest, and she kept coming back to her memories of acting in high school plays and partaking in other creative outlets like painting. Originally, she said she didn't consider acting as a career simply because she didn't believe it was feasible. The change in perspective came suddenly, and once she booked her first role in "Psych," her career began to grow.
Eva Bourne's career continues to grow
While Eva Bourne was not part of the original cast of "When Calls the Heart," she's been involved since the second season, and her time there has made up nearly half of her career. She won't be appearing in the upcoming season, but she played a large role through season 8 of the show. "It sounds like we've been doing this forever, but it doesn't really feel that way," Bourne said in an interview with Sarah Scoop. " I've kinda grown up on this show and developed many skills and really have been so blessed to have watched so many great actors do their things and take little tidbits of knowledge from them."
Others on set have noticed Bourne's growth too. "She's just evolved in general, as an actress in her range. She's just grown so much," Jack Wagner told Entertainment Tonight.
If you're looking for more Eva Bourne to watch, she will be starring in the June 2023 Hallmark wedding movie "Make Me a Match" — make sure to tune in!