How To Properly Tease Your Hair For Extra Volume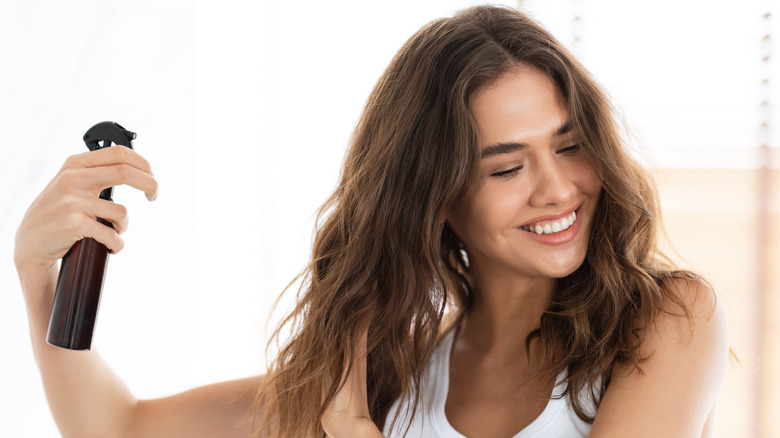 Prostock-studio/Shutterstock
If you have ever looked at a celebrity and wondered how their hair is so perfectly voluminous, the answer is probably teasing (and a team of expert stylists, of course). But what does teasing your hair actually mean? In simple terms, teasing your hair involves using a comb to give it some extra volume, especially at the roots. People with thin, fine, or straight hair that tends to get flat quickly will be more familiar with the technique than those with curlier hair. 
However, as teasing your hair involves backcombing, you should be careful to avoid causing breakage or other damage to your hair when doing it, particularly if it has been dyed or is brittle for other reasons. You'll need a comb to tease your hair, but not just any comb will do. Celeb hairstylist Andrew Fitzsimons recommended a rat tail comb for best results, per InStyle. To start out, you should always prep your hair by spritzing liberally with a texturizing spray. 
Be careful to only use the spray on the areas you will be teasing, as otherwise, you could clog up your hair unnecessarily. Moreover, hold the can away from your head as directed in the instructions so you end up with textured instead of just wet hair. Be gentle and build up the volume gradually, taking care not to be too rough with your delicate strands, and soon you'll have the big, bouncy hair of your dreams. 
Teasing your hair is a great way to give it added volume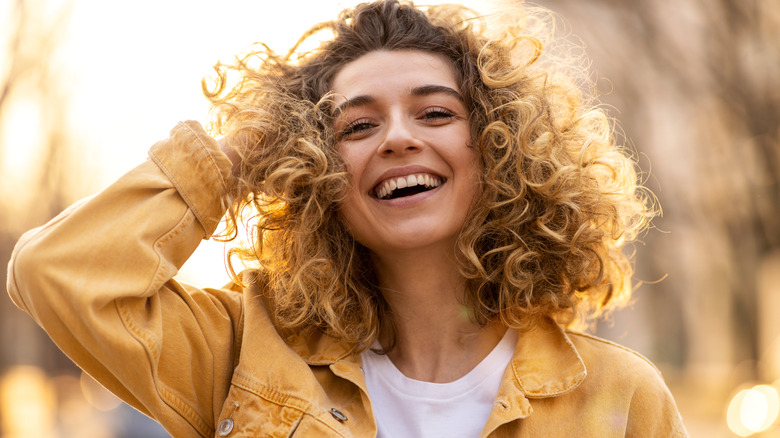 Piksel/Getty Images
Once your hair is prepped and ready, grab the section you want to tease and lift it up. Take your comb and brush downwards through your hair, making sure you're doing so on the underside and not the top of your hair. If your sense of direction isn't the best, think of making a shape similar to the letter C when backcombing your hair. Depending on the length of your hair, you may need to start at a different point of your root.
Hairstylist to the stars Matthew Collins told InStyle that those with long hair should "start four inches above the root." Once you've got the hang of making the C shape, repeat it a few times over, making sure you're moving up each time to add volume on top of more volume. There's no rule on how many times to repeat the motion, but be careful not to go overboard. 
As celebrity hairstylist David Lopez informed Byrdie, the main goal of teasing is that your final result shouldn't be too obvious — think about the effortlessly volumized hair that your favorite stars tend to have on the red carpet. 
There are tons of fun teased hairstyles you can try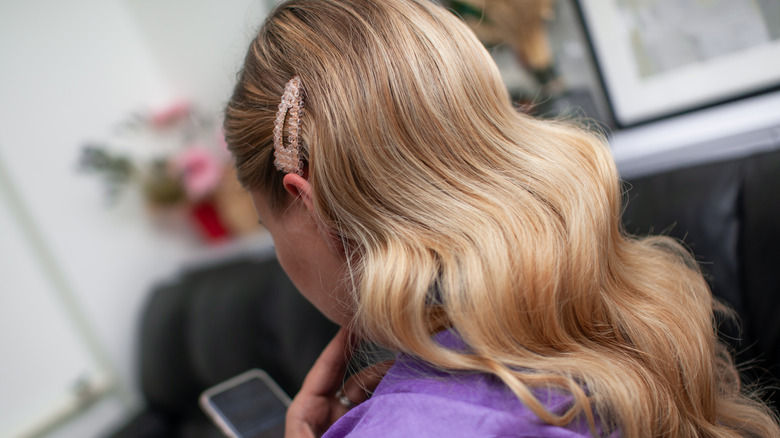 Oksy001/Getty Images
Now that your hair is sufficiently teased, what kinds of hairstyles can you do with it? Voluminous Jessica Rabbit hair, recently rocked by Zendaya and Gigi Hadid, is always a popular style on the red carpet, and your teased roots will be the perfect base for it (don't worry, you don't actually have to have red hair to pull off this style). You could also put your newly teased hair into a high ponytail for a show-stopping look that's a bit different.
If you plan to accessorize your hair with some eye-catching clips, make sure you're placing them against the wave of the teased section of your hair so you don't ruin all your hard work. The same goes for headbands — place the band behind the teased section instead of on top to prevent the section from becoming flat again. 
Likewise, you might need to finish the look off with some hairspray if your hair is on the finer side, though don't spray a large amount as too much texturizing spray along with hairspray could cause your hair to feel sticky and become tangled. As always, take your time and work with what you've got to achieve the best results.