How Katie Maloney Feels About Vanderpump Rules' Scandoval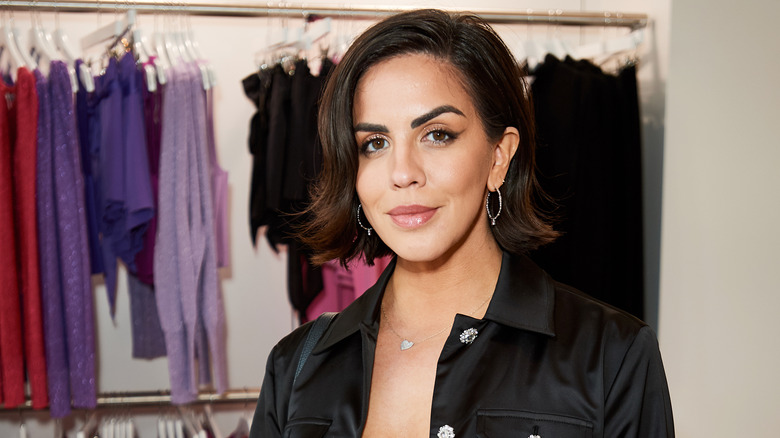 Unique Nicole/Getty Images
"Vanderpump Rules" star Katie Maloney is just as blown away as the rest of the world when it comes to the cheating controversy between co-stars Raquel Leviss and Tom Sandoval, which has colloquially been dubbed "Scandoval." Maloney is firmly standing in solidarity with her friend and business partner, Ariana Madix, who was dating Sandoval for nine years and living with him when the affair with Leviss began. 
The reality star has her own murky history with Leviss, which only adds to Maloney's feelings regarding Leviss' inappropriate relationship with the Schwartz & Sandy's co-owner. If you recall, Maloney's ex-husband, Tom Schwartz, and Leviss had a makeout session in August 2022 during Scheana Shay and Brock Davies' wedding in Mexico. This was just months after Schwartz and Maloney announced their split in March. 
In fact, Maloney revealed during an appearance on "Watch What Happens Live" that it was right after this kiss that Sandoval told Schwartz about the burgeoning affair, which ultimately stopped any blossoming relationship between Schwartz and Leviss from continuing. Now, with Scandoval really shaking things up, Maloney has several thoughts and even a theory regarding the salacious hook-up between the co-stars.
Maloney reckons Raquel Leviss tried to convince Ariana Madix to leave Tom Sandoval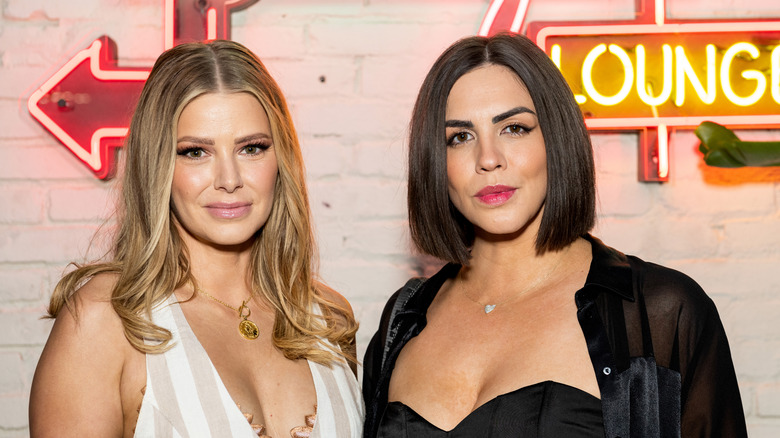 Amanda Edwards/Getty Images
Reality TV firecracker Katie Maloney sat down with Andy Cohen for "WWHL" following the "Vanderpump Rules" episode that aired May 10, 2023. During that appearance, the host asked Maloney how she felt specifically seeing Raquel Leviss giving Ariana Madix advice on satisfying her man, Tom Sandoval. We now know that Leviss was secretly seeing the restaurateur by this time, which made the conversation incredibly shocking to watch. 
The reality star admitted that she felt that the beauty queen was definitely trying to convince Madix to break up with Sandoval. "The audacity!" fellow guest Karen Gillan declared, before speculating that Leviss was having some sort of "identity crisis." During this particular episode of "VPR," Leviss very boldly listens to Madix detailing her relationship issues with Sandoval, including that the couple was not as intimate as they once were. 
Leviss told Madix that she "should want to have sex" with her long-time boyfriend, leading Madix to confirm that she still loved Sandoval and wanted to continue her nine-year relationship with him regardless. Maloney, a business partner in their sandwich shop and a close friend of Madix, shared that she only learned of their disturbing conversation when she watched the episode, calling it "the most nefarious thing" she's ever witnessed.
She also claimed Leviss wanted to make Tom Sandoval jealous by kissing her ex-husband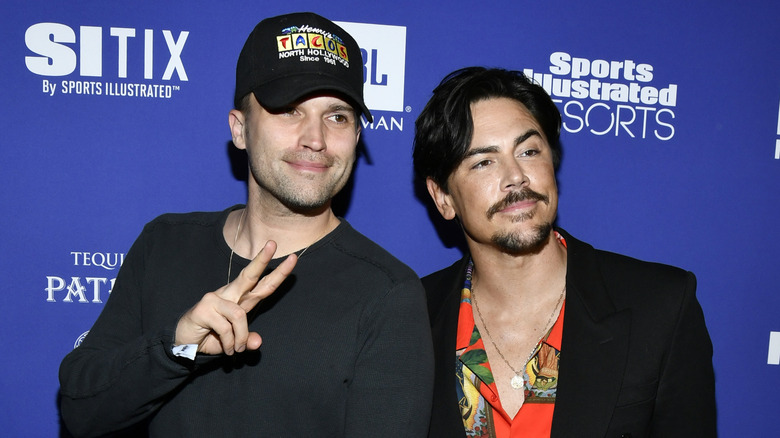 Michael Tullberg/Getty Images
Further, Katie Maloney also argued that her cast-mate, Raquel Leviss, was out to make Tom Sandoval jealous when she hooked up with his BFF and business partner, Tom Schwartz. On "WWHL," she claimed that the kiss they shared in Mexico was just another of Leviss' blatant attempts to lure Sandoval. Apparently, it may have worked, as her secret lover swiftly told his pal about their romance, shutting down any chance Schwartz may have had. 
During an appearance on the "Not Skinny But Not Fat" podcast, Maloney took aim directly at Sandoval for his recent claims that seemingly place much of the blame for the breakup on Madix. "[The interview was a] dumpster fire. I just had a hard time with the Ariana slander of it all," she railed. The remarks Maloney is referring to took place during Sandoval's interview with Howie Mandel when he claimed that Madix knew that a split was inevitable. 
The controversial reality star even shared that he was seeing Leviss constantly, and spent a lot of time on FaceTime with her, which he claims Madix never clocked. It's clear that Maloney is not the biggest fan of Sandoval, Leviss, or even her ex-husband Schwartz, who also failed to warn Madix. It'll be interesting to see the cast dynamics in season 11, particularly whether or not Scandoval has blown over. Though, as of right now, that seems highly unlikely.