Swap Kitschy, Colorful Accessories For The Elevated Cuff Bracelet To Be On-Trend This Summer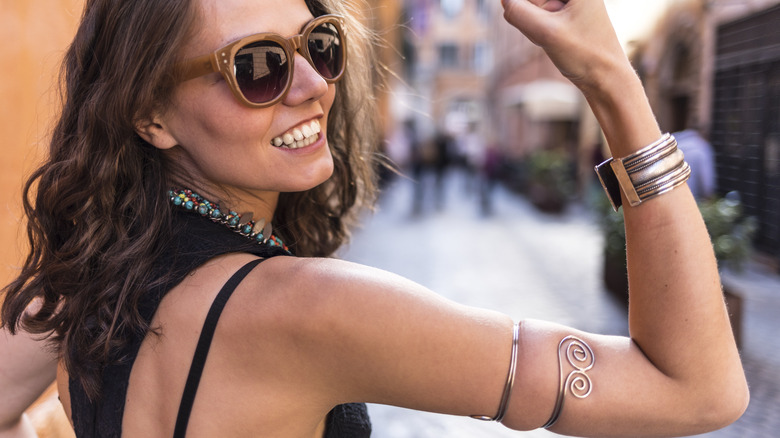 Vladimir Vladimirov/Getty Images
Whoever said that there's nothing new under the sun was on the right track, especially when it comes to fashion. Trends come and go, and that's just the way life is. Accessories from decades ago make their way back to us today like a merry-go-round. Lately, we've been seeing a lot of old styles come back into vogue like '80s mullets and '90s mom jeans. The latest accessory to waltz over just in time for summer 2023 is trendy cuff jewelry and, more specifically, bracelets. 
A long-lost ornament popularized in the liberating '70s and rockin' '80s, cuff bracelets actually go way back. We're talking roughly over 7,000 years. Before these glamorous accessories were being sported by celebrities like Liza Minnelli and Margot Robbie, they adorned the wrists of ancient Egyptian nobles and Mayan royals, just to name a couple. Now, cuff bracelets are gracing runways as more people start ditching their colorful, gaudy baubles for more elegant wristwear.
Customize your look with a barely-there bracelet or a chunky cuff
Cuff bracelets have a certain sophisticated flair about them, likely because they have been associated with royalty since their inception. Hence why all eyes are on the shiny accessories following their reintroduction at Saint Laurent's Spring/Summer '23 fashion show. Since the bracelet's attention-grabbing appearance, celebrities have cashed in on the trend, cementing its fabulous return into society. 
Big names have brought the accessory to the red carpet, and we are absolutely floored. The fashion girlies are turning to luxurious elegance this year which means letting go of colorful minimalistic accessories to embrace chunky, '80s-inspired jewelry. Cuff bracelets forged from brilliant metals seem like suitable compensation and thankfully various smaller, fast fashion brands are mass-producing them too.
Whether you're inspired by flattering, subtler cuffs like the engravable Elvie cuff bracelet seen above or a heavier bracelet like the gold Saint Laurent cuffs Hailey Bieber wore to the LACMA Gala, this is surely the trend to hop on once it's time to be outside in the sun again.
Find your dream cuff bracelet based on your budget
While the cuff bracelet is a worthy accessory to try out, not everyone can afford the $27,000 Coco Chanel Crush Cuffs made of 18-karat gold or even the $1,090 Wavy Textured brass cuffs by Saint Laurent. If your pockets are a bit lighter due to rent, student loans, and, well, life, you could opt for a more affordable yet sustainable alternative. The Dôme Cuff Bracelet by Mejuri is a less expensive option without losing any of the star quality of a true cuff bracelet. 
This creation boasts gold vermeil, electroplated 18-karat gold on sterling silver, and at just $128 it's a steal. If you're looking for a cuff bracelet with a bit of chunkiness to it, you can go for Mejuri's Charlotte Oversized Cuff Bracelet, which will set you back about $250. While these prices are much more reasonable than the designer bracelets, you can still find less expensive ones like the three-piece cuff bracelet set from Fashion Nova, which retails for a modest $12.99.
Cuff bracelets can elevate any look with instant class, and that's why we give them two thumbs up. It might hurt to kiss your colorful, kitschy trinkets goodbye, but it's not forever. You'll probably be seeing them another five to 10 years down the road when they come back in style again.