Anna Kendrick And Rebel Wilson's Friendship Remains Pitch Perfect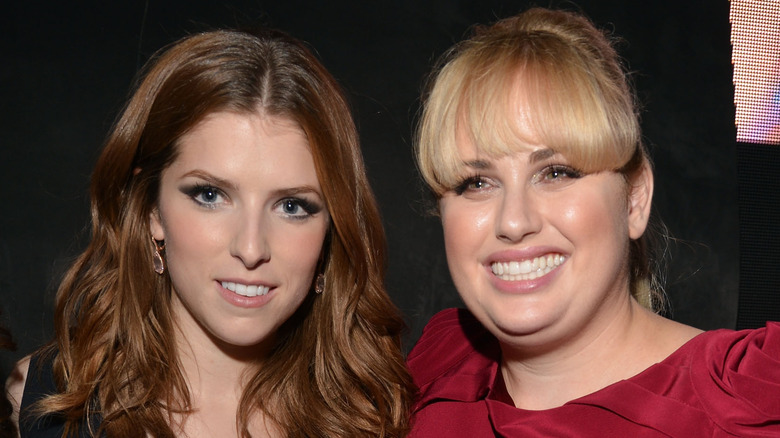 Lester Cohen/Getty Images
Not only did "Pitch Perfect" lead to an a cappella renaissance in the mid 2010s, but it also led to life-long friendships between its cast members. Encouraged by her professor father, college freshman Beca Mitchell, played by Anna Kendrick, joins the Barden Bellas, an all-female a cappella troupe, where she befriends a singer from Tasmania, who calls herself Fat Amy. This fan-favorite character is brought to life by none other than Rebel Wilson. 
As Wilson explained in an interview with Hollywood XYZ, "Pitch Perfect" changed her life. These days, the Bellas are pursuing acting (and singing) in different corners of the world. For instance, Kendrick went on to star in films like "A Simple Favor" and "Into the Woods," and Wilson headlined comedies like "Senior Year" and "The Hustle." Even though they've become household names, the actors have maintained a pitch-perfect friendship. Here's what we know about Kendrick and Wilson's connection throughout the years. 
Anna Kendrick considers her Pitch Perfect costars family
As Kendrick points out in interviews, she considers her "Pitch Perfect," costars more than coworkers. "They aren't even a chosen family, it is genuinely family," the actor explained to Entertainment Tonight, adding, "We're gonna be in each other's lives for so long, and it also means that like we can go through all of these ebbs and flows and still be there." Although they share an interest in music — yes, the actors really did sing in the movie — the Bellas come from vastly different backgrounds. Wilson's career took off after her memorable cameo in "Bridesmaids." The following year, she was winning over fans as Patricia "Fat Amy" Hobart. 
As for Wilson's friendship with Kendrick? The pair appear to still be in touch. The latter posted a snapshot with her co-star on Instagram in 2021, writing, "Ten years ago, in the bottom of a freezing, empty pool, this girl got stuck with me. How did I get so lucky?" Kendrick went on to share a BTS pick from the first "Pitch Perfect" film and, just a few months later, shared a Halloween pic on Instagram alongside Wilson and some of her other "Pitch Perfect" cast mates. "Thank god these girls are cool with me being lazy," she wrote, referring to her dressed-down costume. 
Wilson, too, has positive memories with her co-stars. "We just love each other all of us girls," Wilson told The Ellen Show, adding, "We always want to work together." 
The Bellas are in a group chat
Although over a decade has gone by since "Pitch Perfect" first hit theaters, the cast still stays connected. How? Through a Barden Bellas group chat, of course. "We have this big group chat," Kendrick told Access Hollywood, explaining how Esther Dean, also known as Cynthia Rose, often sends throw-back pictures from memorable days on set. Although she's not particularly active in the chat herself, Kendrick is always excited to get updates from her friends. Wilson announced the birth of her "miracle" baby with fiancé Ramona Agruma at the end of 2022, which Kendrick mentioned in her interview. "When [Rebel] told us [about her new baby], we were just over the moon for her and like so excited for her. She is so happy, and she's such a beautiful person, and I love her so much," shared the "Up in the Air" star via Access Hollywood.
When it comes to in-person reunions, the cast reconnected in Tahiti for Wilson's belated 41st birthday party in 2021. "Bellas be ballin' – could not love these ladies more! 10 years since we met and instantly harmonized," Wilson captioned a group photo. Although no plans for a fourth movie have been announced, it's fair to say that these actors would jump at the chance to work together again.