Little Black Dresses Really Pop With Our Favorite Colorful Accessory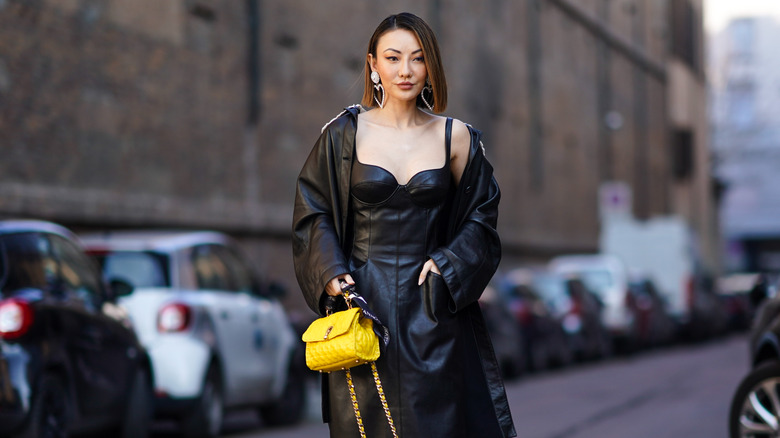 Edward Berthelot/Getty Images
We all have an LBD in our wardrobe for a reason. The little black dress is reliable, versatile, and usually requires minimal styling. However, if you've been feeling stuck on how to style your version in a new and inventive way, it's time to level up your LBD with some accessories – namely a bold purse. 
When we say a bold purse, we don't just mean a colorful bag, but one with a unique shape, too. Novelty bags, such as Moschino's heart bags that have a lock in the center, and JW Anderson's bird bag, which is literally in the shape of a pigeon, have been popping up all over the fashion world. In general, accessories have taken on a life of their own in 2023, with puffy, cloud-like accessories such as the Coach Pillow Tabby becoming more popular. 
Here are a few tips on how to incorporate a colorful handbag so you can breathe new life into your go-to LBD look.
Try out these color combinations to switch things up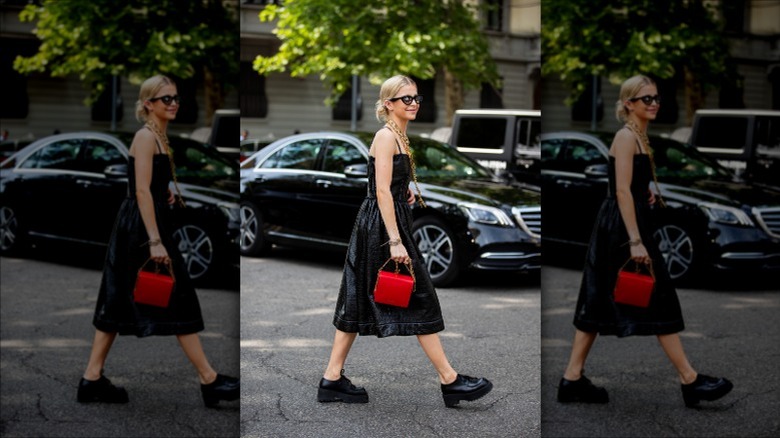 Christian Vierig/Getty Images
So, which colors should you choose for your handbag and which should you avoid?
The good news is that black is a neutral, so it goes with pretty much everything. However, the color combinations listed below are classics because they never fail to look good. Black and red are a good combination because red is a naturally eye-catching color — there's a reason people often wear red lipstick with an LBD. Red is bold, stylish, and will look perfectly in line with any style of little black dress, long, short, or midi. 
Or, you could switch things up and create a charming contrast by opting for a bag in a pastel shade. Black and lilac or pale lavender always look gorgeous together. Pastel colors will soften your LBD look, particularly if your dress is fitted or on the shorter side. Baby pink is also a cute option, or opt for hot pink if you want to make a statement. Overall, pastel hues like lemon yellow, baby blue, or dreamy sage green are a great way to transform an LBD look for summer.
Get creative with how you style your bag and shoes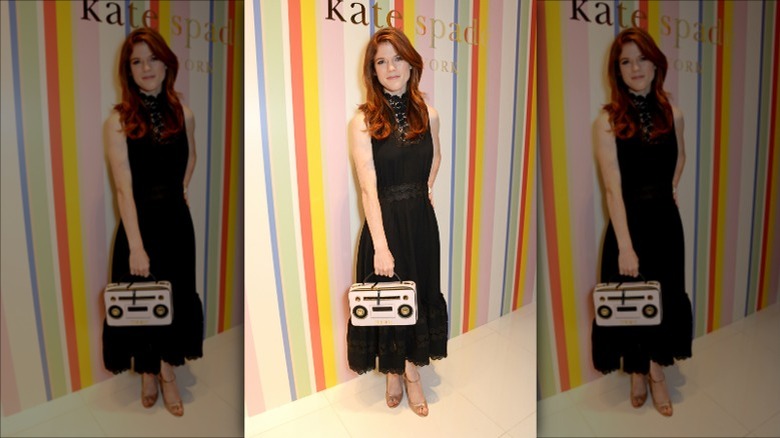 David M. Benett/Getty Images
Once your bag is sorted, turn your attention to the rest of your outfit. An often underrated styling tip is matching your shoes and handbag together. By doing this, you'll ensure your outfit looks coordinated whichever color you decide to choose. For example, if your handbag is red, choose red shoes to match (or red-soled shoes if you're feeling fancy). If you don't own any matching shoes or the color of your bag is slightly unusual for a pair of shoes, look to other accessories instead. Chosen a sky blue bag? In this case, sky blue earrings will pull your look together.
Remember that this styling rule doesn't apply every time. If you have a novelty handbag that's large, bold, or just generally a standout in other ways, it's best to keep the rest of your look understated to prevent any clashing. Your largest or brightest accessory should be your most focused on, so stick to neutral heels or flats, especially if your LBD features extra detail.
Next time you plan to wear your little black dress, make it a moment with a colorful accessory like the ones above.