Jacob Tremblay Grew Up Right Before Our Eyes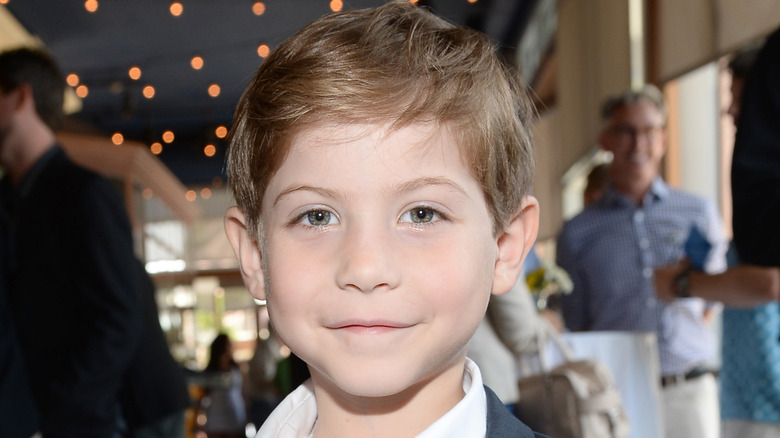 Michael Buckner/Getty Images
Chances are, you've seen Jacob Tremblay before. The child actor was just 5 years old when he starred in his first movie, "The Smurfs 2." Since then, he's been working non-stop, landing leading roles in films like "Room," "Before I Wake," "Wonder," and "The Book of Henry." He has also leant his voice to numerous major animated films including "Luca," "My Father's Dragon," and "The Little Mermaid." 
Thanks to his success within the industry and reputation for professionalism, there's been a running joke about Tremblay — that he's essentially a grown man in a child's body. In 2017, Tremblay told Jimmy Kimmel that he now wears suits "every day." "You're still technically a kid, right?" the host replied. In 2018, one interviewer for Flaunt noted, "Tremblay is an old soul packed into a 10-year-old's body." In 2020, he even got in on the joke himself, taking part in a comedy video for Comedy Central, in which he pretended to intimidate an interviewer, asking him things like, "I trust your questions will get a bit more complex?" 
After years of this running joke, it's startling to see that Tremblay has suddenly grown into his adult personality. At the premiere for "The Little Mermaid," fans were shocked to see Tremblay looking, well, all grown up. Let's take a look back at his evolution over the years.
Jacob Tremblay grew up in Vancouver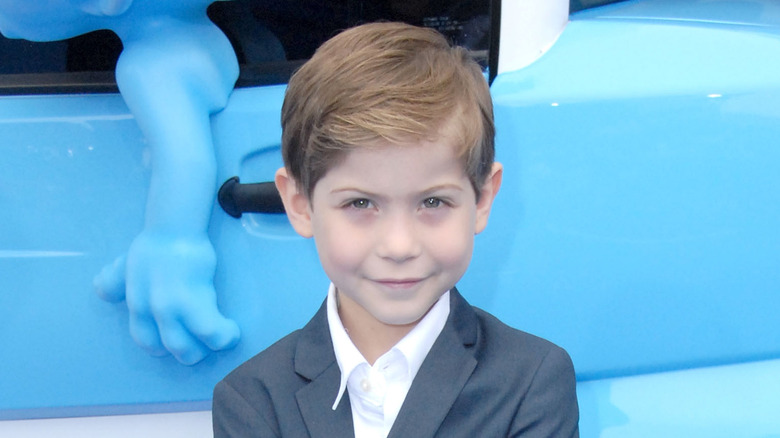 Barry King/Getty Images
Before Jacob Tremblay became a well-known child star, he had a few ordinary years of childhood. Born in Vancouver, Canada and raised in the nearby city of Langley, Tremblay grew up with his parents and his sisters, Emma and Erica. By the sounds of things, his pre-stardom childhood was pretty normal. His father was a police detective, and Tremblay spent his time simply enjoying kids' movies. "Pixar is a big part of my childhood," he later told the Calgary Herald. "Obviously I'm still growing, still going through part of my childhood. But I think in my earlier childhood years, Pixar played a big part. I mean, Lightning McQueen, I really looked up to him."
At heart, Tremblay still holds a soft spot for his childhood, and even as his career progressed, he kept going to school in Vancouver. As he told Collider of his home town, "I really, really love the mountains. I can ski and snowboard ... I just love to go down the hill on the snow as fast as I can."
Jacob Tremblay got into acting at the age of 5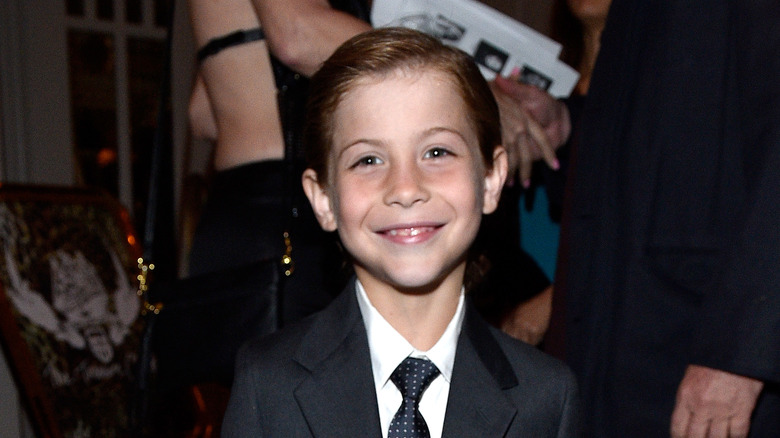 George Pimentel/Getty Images
Jacob Tremblay was only 5 years old when he first began acting, appearing in "The Smurfs 2," two TV shows, and one short film all in one year. "Acting was something I wanted to do since I was 5," he told Jimmy Kimmel, explaining that after he appeared in "The Smurfs 2," his parents let him decide whether he wanted to continue and he said yes. As Tremblay went on to explain, his first audition was actually thanks to his sister, Emma, who was already acting. A casting director spotted him and suggested he audition for a few commercials, too. 
Even at the young age of 5, filmmakers could tell that Tremblay was exceptionally talented. Allison Parker, who cast Tremblay in her short film "The Magic Ferret," told the Vancouver Sun, "He just blew me away. He was only five years old but he was so much better than all the actors that I had seen."
Jacob Tremblay was inspired by his Star Wars obsession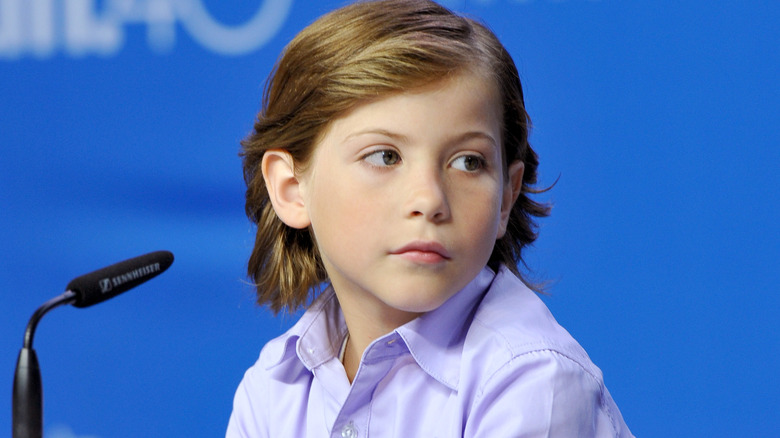 George Pimentel/Getty Images
In his early years as an actor, one of Jacob Tremblay's biggest inspirations was the "Star Wars" franchise. In fact, as Tremblay later told Cinema Blend, his "Star Wars" obsession helped him understand the world of acting when he was young. "Something about my acting is just ever since I was a little boy, when I went to school everyone else they were into sports ... I just never really connected with that," he said. "For me it was all about the movies. And the way I loved to play as a little boy was just pretending to be a different character, and get a lightsaber." Clearly, "Star Wars" played a big role in helping Tremblay see the world through his characters' eyes.
And his "Star Wars" obsession has continued to motivate him throughout his career. After winning the Critics Choice Award for his performance in "Room" in 2016, Tremblay said in his speech, "I know where to put this ... On the shelf right beside my Millennium Falcon." After making "Room," Tremblay starred in "The Book of Henry," which was directed by Colin Trevorrow — who was also, at the time, slated to direct "Star Wars: Episode IX." As Tremblay's co-star Maddie Ziegler told Vanity Fair in 2017, "He was pretty much just trying to get himself a role [in 'Star Wars'] the entire time." Tremblay confirmed that he "really was," adding, "I would love to say I was an extra in 'Star Wars.'"
Jacob Tremblay learned a lot working on Room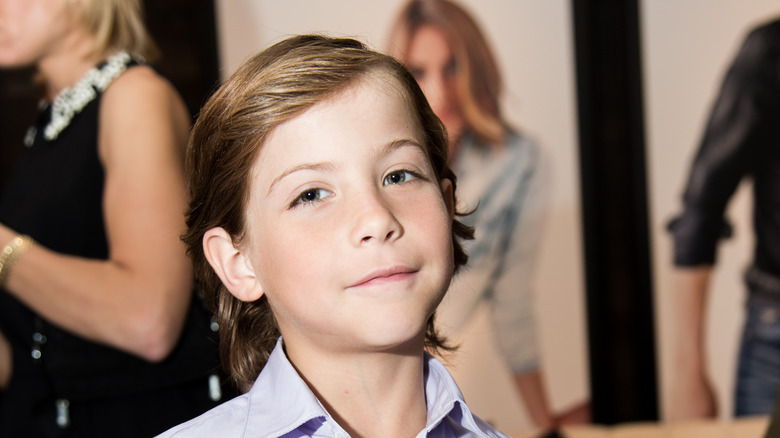 Emma Mcintyre/Getty Images
In 2015, Jacob Tremblay starred in "Room" opposite Brie Larson as a young boy who was raised by his mother in captivity. The pair initially bonded over Tremblay's love of "Star Wars." "He had these little 'Star Wars' Lego figurines, and so I started asking him about 'Star Wars,'" Larson later told Vulture of their first meeting.
Working with Larson on set, a younger Tremblay learned a lot about the craft of acting. He later told Discussing Film, "I was so young and so nervous but she taught me it's okay to just let go and have fun with it. And that helped with the role so much because it's the character himself. He's so playful, so it was really important for me to know how to play in that sense."
Larson also helped Tremblay let go of looking "cool" on screen. "I remember I was so young that I thought it wasn't cool to cry in a movie," Tremblay told Looper. But when he saw her cry, he knew it was okay. "I think that's really helped my career," he reflected. Clearly, Tremblay owes a lot to Larson!
Jacob Tremblay's life changed after Room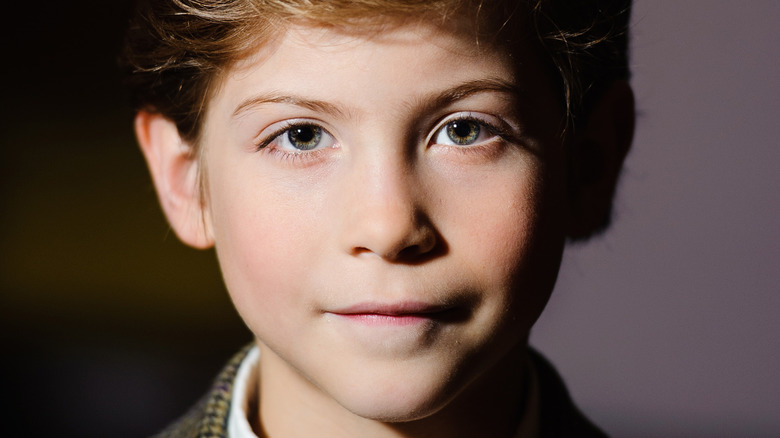 Dave J Hogan/Getty Images
After starring in "Room," Jacob Tremblay shot to fame. Suddenly, he was on everyone's radar. He was appearing on chat shows and even being tipped for an Oscar nomination. "After I did 'Room' a lot of things have changed," he told KTLA 5. "I definitely traveled a lot, for sure, and I was getting a lot of parts." 
And, naturally, people at school saw him differently, which he shared with The Globe and Mail. But he added, "But mostly, I'm just Jacob." During a press conference after the 2016 Canadian Screen Awards, Tremblay said that other kids "don't really watch my movies." And, as he said at the Toronto Film Festival that year, "I don't feel like a different person" (via The Hollywood Reporter).
While Tremblay may have been spending a lot of time acting in Hollywood and doing the press circuits for his films, he was also still just an ordinary kid.
Jacob Tremblay had a challenging role in Wonder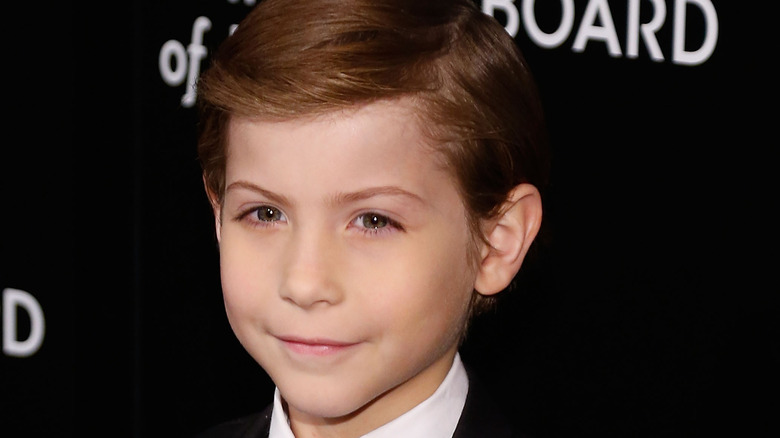 Taylor Hill/Getty Images
A couple of years after finding fame in "Room," Jacob Tremblay took on another major role in the 2017 film "Wonder." Tremblay played Auggie, a boy with a rare facial deformity. His parents were played by Julia Roberts and Owen Wilson. 
"I wore prosthetics and I usually had to wake up really early in the morning everyday," Tremblay told KTLA 5, explaining that the process took two hours every single day. Apparently, he was given an iPad to keep him entertained. 
But Tremblay was willing to sit through the long process because he was, even at a young age, passionate about the film's message, which is all about the importance of kindness. "That's actually one of the main reasons I wanted to do the movie is because of the message," he said. "When I heard about it, I was like, 'I gotta be part of this movie.'"
Fans love his adorable and hilarious interviews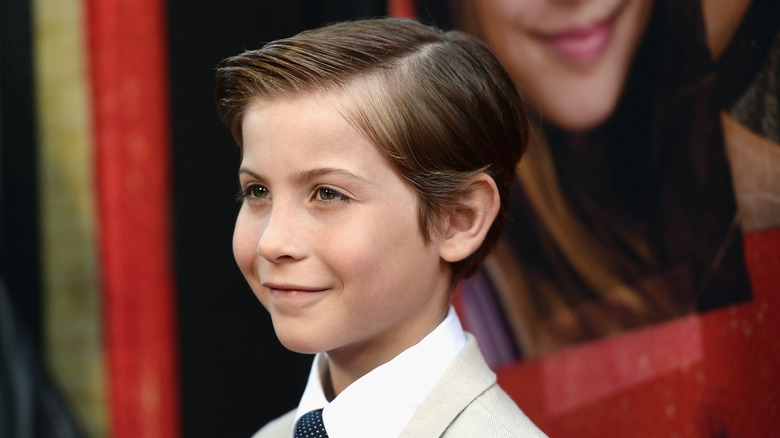 Amanda Edwards/Getty Images
As Jacob Tremblay's fame grew and he appeared in more and more films, he became a regular fixture on the late night talk show circuit — and he quickly won over fans thanks to his adorable personality and his natural sense of humor. In one 2019 appearance on "The Tonight Show," the young actor joked with Jimmy Fallon about being in the running to play Prince Eric. "My people have told me that it is down to me and Harry Styles for the role of Prince Eric," he said as Fallon burst into laughter, hiding his face in his hands. When he finally composed himself, Fallon replied, "You're up for the role of Flounder is what I heard." In the same interview, Tremblay also delighted the audience with his hilarious impressions of Seth Rogen and Arnold Schwarzenegger.
In fact, Tremblay is so funny in his interviews, there is even a compilation of funny moments on YouTube that, as of 2023, has almost half a million views. Some highlights include Tremblay wearing a "Top Gun" outfit on Halloween with Jimmy Kimmel, talking about his "old" parents, and bragging about his "cool" poses on the red carpet. It's easy to see why so many people fell in love with Tremblay — not only is he super cute, he's also hilarious!  
Jacob Tremblay played a young Justin Bieber
Jacob Tremblay got another important role in 2020 — but this one wasn't in a film. It was in a music video with fellow Canadian, Justin Bieber. Tremblay played the young Bieber in the singer's music video for the song "Lonely." Apparently Bieber himself asked the actor to be in the video. "I kind of didn't believe it at the beginning," he said in an interview. "I thought this was maybe someone, like, scamming me." He even got Bieber to send his sister a video — "she was, like, freaking out and crying all day." Sounds like the whole Tremblay family are huge Bieber fans.
Not only was Tremblay a big Bieber fan, he also connected with the song's message. "I definitely miss home sometimes, especially when I'm, like, filming movies that are far away," Tremblay explained to ET Canada. "Like, for instance, in London, I was filming a movie in London and I got really homesick." 
Jacob Tremblay began an era of voice acting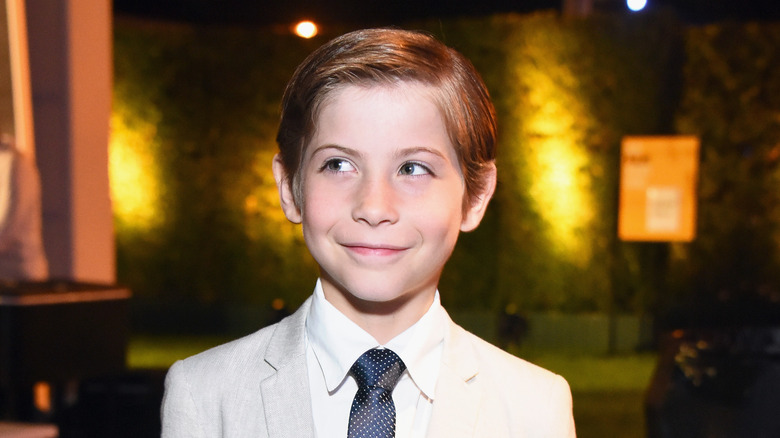 Araya Doheny/Getty Images
In 2021, Jacob Tremblay starred in Pixar's "Luca," voicing the titular role. The went on to voice a character in Netflix's "My Father's Dragon," as well as Robin in three episodes of "Harley Quinn." Then, in 2023, he voiced Flounder in "The Little Mermaid," which marked a new era for Tremblay's career. 
The actor learned a lot from working on "My Father's Dragon," which he recorded at the age of 13. "I learned how to really elevate my voice," he told Discussing Film. "Because in live-action, you can actually be there in person and in costume and that really helps you get into character. But for animation, you don't really have that."
As Tremblay explained, he didn't exactly mean to become a voice actor — instead, it happened naturally as a result of COVID. "Obviously during COVID, the whole animation process, it's pretty easy to be able to slip into the recording studio and just record," he said. Whether he intended to go into voice acting or not, he's clearly very good at it! 
Jacob Tremblay dealt with his voice changing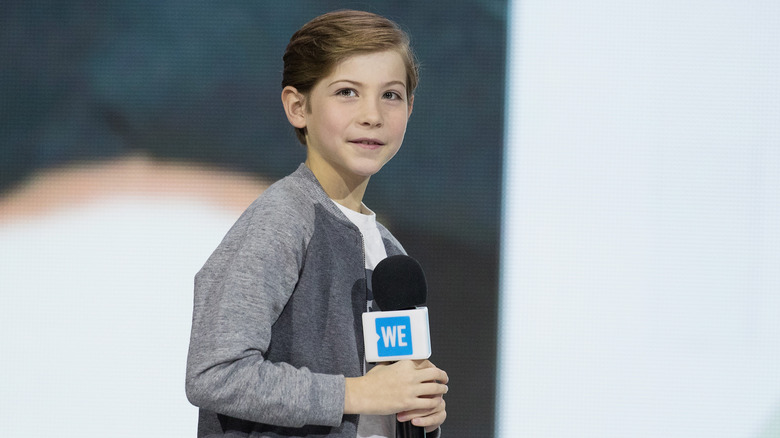 Mat Hayward/Getty Images
Even though Jacob Tremblay entered a new era of voice work, things soon became tricky when he hit puberty and his voice began to deepen. In fact, when he recorded "My Father's Dragon," he ran into a few difficulties. Apparently, his voice was changing so much that when he returned to the studio to re-record some sections, he had to modify his voice. 
"I'm really glad that my voice was able to match the character when I had to do some re-recordings because my voice has changed so much in the span of one year," he told Original Cin. "I think I must have been 14 when we did the re-recordings, and I had to kind of go into a higher octave. But I'm completely unable to do that anymore now."
It sounds like Tremblay's days of voicing child characters might be over!
The actor also voices Flounder in The Little Mermaid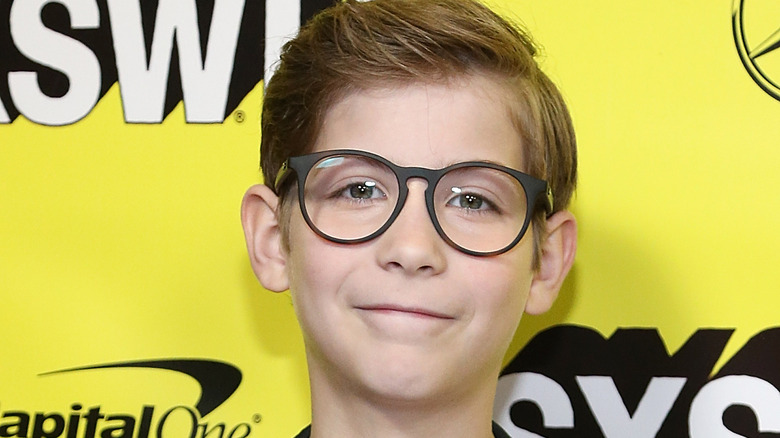 Gary Miller/Getty Images
Even though Jacob Tremblay's voice was changing, he continued landing coveted voice roles — in 2023, he joined the cast of Disney's live-action remake of "The Little Mermaid" as Flounder the fish.
For Tremblay, this movie offered a whole new style of recording. "It honestly felt like it was live-action, even though it was just voice recording," he said to Metro, adding, "they had it set up like a stage really — but recording it with everyone there, it really helped my performance."
However, in other ways, this role proved to be even more challenging than others — his voice was changing faster than ever.  As he told People, he managed to record his songs just before his voice changed even more drastically. "If I were to try to do that now, it would not sound very good," he said. "I find it hard to not have voice cracks in regular conversations."
Jacob Tremblay is looking all grown up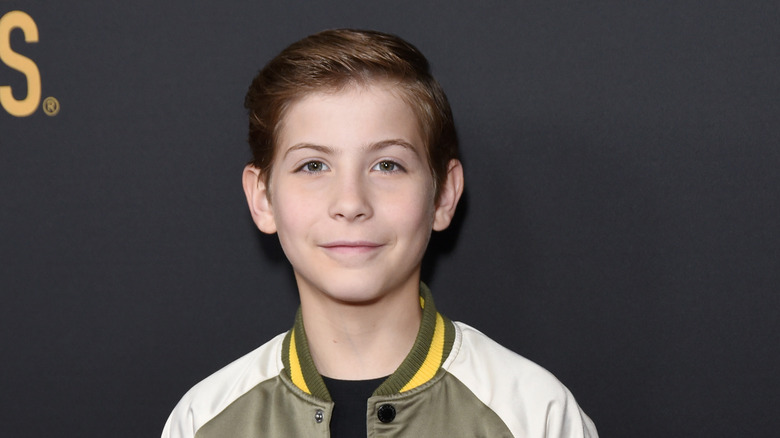 Presley Ann/Getty Images
Even though Jacob Tremblay has been growing up right in front of us, fans can't seem to wrap their heads around the fact that Tremblay is actually all grown up now. In October 2022, Tremblay tweeted a split image of him as a child and him as a teen, writing, "how it started vs how it's going." The internet was blown away in response.
Tremblay's looks once again became a hot topic in 2023 when the internet was shocked to see just how old he looked at the premiere for "The Little Mermaid." Images of the actor on the red (or rather blue) carpet quickly went viral. "Omg! He was just a tiny thing just yesterday," one fan wrote on Twitter. Others even compared his appearance to Timothée Chalamet. E! News reported on the viral images, and Tremblay replied on Twitter, writing, "You made my mom cry."
He hopes to flex his dramatic acting muscles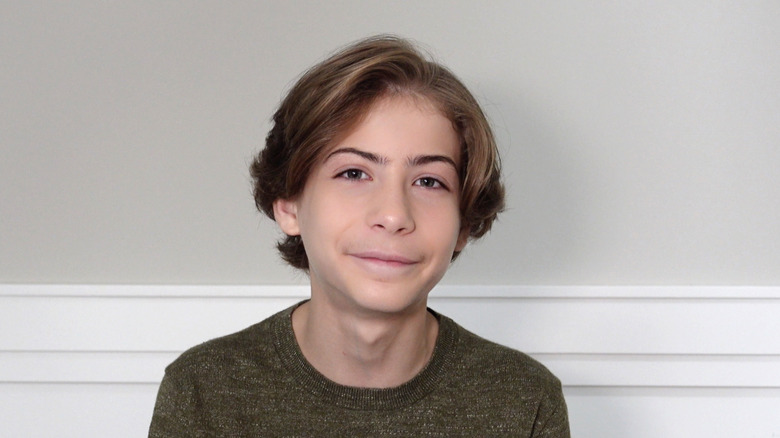 Media Access Awards Presented By Easterseals/Getty Images
So, what's next for Jacob Tremblay now that he's all grown up? Well, by the sounds of things, he's hoping to move away from children's animated movies. Instead, he's keen on returning to his dramatic roots with more serious roles. "I would love to maybe play a more dramatic role," the actor told Discussing Film in 2022. "I haven't done that in a real while ... invest really deep into a character." Looking back on his roles in "Room" and "Wonder," it's also clearly something he's very good at!
Tremblay is also interested in getting into screenwriting. Over the years, he's even written his own scripts. "I've written a couple stories right now, actually," he told Flaunt back in 2018. "Yeah, I think that I want to become a scriptwriter and a director together, like to direct my own movies." Still, the actor shared that he hopes to continue playing roles in front of the camera too. And we can't wait to see what he does next.
Expect to see a lot of Jacob Tremblay in the future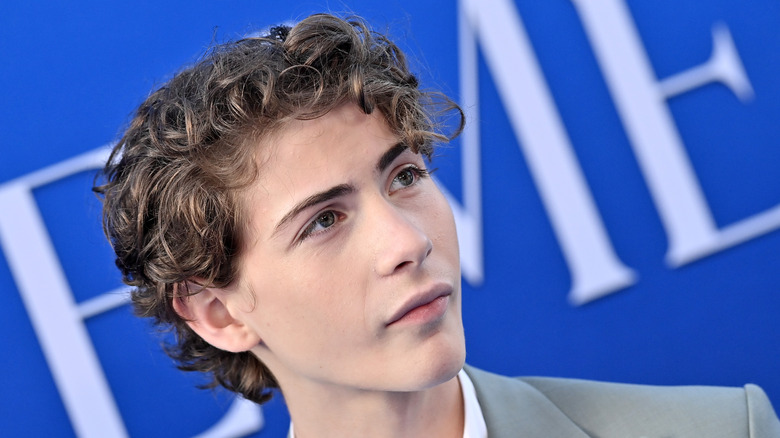 Axelle/bauer-griffin/Getty Images
As of 2023, it seems that Jacob Tremblay's career is only just getting started. He is currently set to star in a staggering eight upcoming projects according to IMDb. First up is "Cold Copy," a journalism thriller starring Bel Powley and Tracee Ellis Ross. He's also set to star as Sam in "Queen of Bones" alongside Martin Freeman and Julia Butters. Other projects include: "The Toxic Avenger," a remake of the '80s comedy; "Skeleton Tree," a survival drama about teenaged boys; and "House of Stairs," based on the cult 1974 sci-fi novel. 
Tremblay also has three upcoming voice roles in "The Kid: An Animated Adventure," an untitled project by Lani Pixels Studios, and "Wildwood." One thing's for sure — Tremblay has never been so busy. And we can't wait to watch him transition into more mature roles as he continues growing up. 
Static Media owns and operates The List and Looper.