How Many Children Do Eric And Lara Trump Have?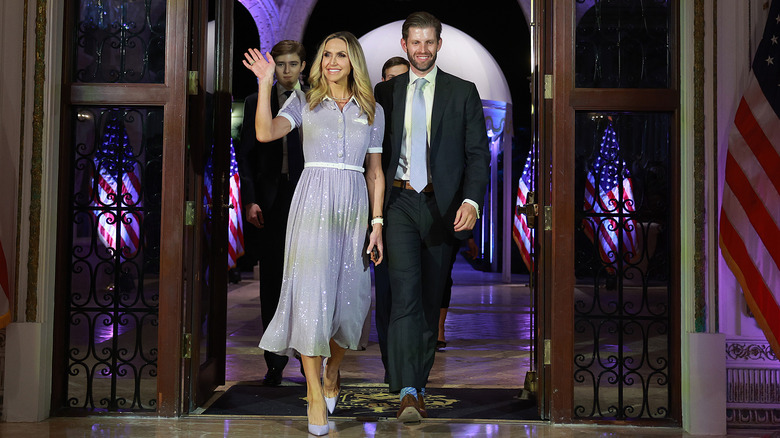 Joe Raedle/Getty Images
Eric and Lara Trump have been a power couple in the world of politics and business for years now. The couple got married back in 2014 at Eric's father's family estate in Palm Beach, Florida. Eric, being the youngest child of former President Donald Trump, is the executive vice president and trustee at the Trump Organization. Eric was a huge activist during his father's campaign to become president of the United States. After the former president left office, Lara became a paid contributor to the Fox News network. However, in 2022, Lara Trump was suddenly out of the job at Fox News, due to the company's policy against hiring anyone running for office, or connected to an ongoing campaign.
Everyone has a life outside of our heavy media-oriented world, though, and often this includes children. The pair welcomed their second child into the world in August of 2019. They named this baby girl Carolina Dorothy Trump. Their first child was a baby boy born in September of 2017, named Eric Luke Trump. The birth of Carolina Dorothy makes the family an official family of four.
The family of four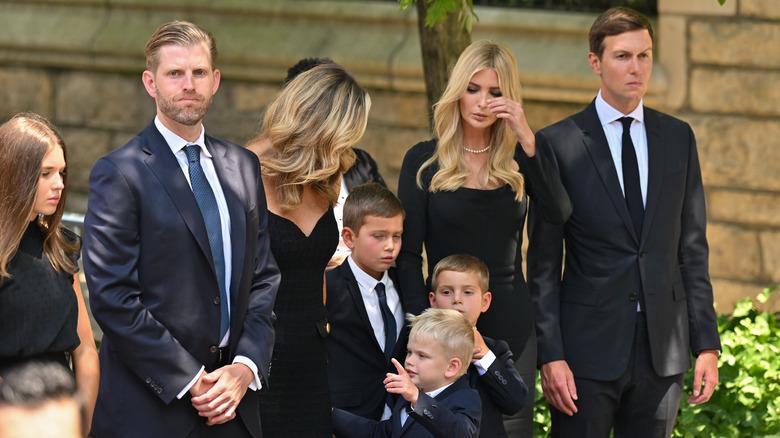 James Devaney/Getty Images
The photos Lara Trump shares on Instagram of her husband and kids demonstrate a pretty fundamental and normal way of life. Her two children may not realize it while very young, but they have a lot of 'nepo-baby' in them. Being the children of two incredibly spotlighted people, as well as the grandchildren of the former president of the United States, seeing them living a seemingly normal life through the media of their mother can be a refreshing sight for many.
As of May 2023, Eric Luke Trump is five years old, expected to turn six in September. Carolina Dorothy Trump is three years old, expected to turn four in August 2023. Although the couple's two children are only still young, they have made quite an impact on social media, per Lara Trump's Instagram page. She is always posting pictures of her children, keeping her followers in the loop about their family events and what the kids may be up to. For example, Mrs. Trump shared a photo of herself with the kids, along with her mother, enjoying themselves at the Palm Beach Zoo.
Carolina Dorothy is former President Donald Trump's tenth grandchild. Back in 2017, when Eric and Lara were expecting their first-born son, she told People Magazine that she wasn't very nervous about becoming a mom, because she knew kids were always something she wanted. She also told People that she knew Eric would be a great father, saying, "The nieces and the nephews love hanging with him. He's the cool uncle. He's watched 'Frozen' many times."
Inside the marriage of Eric and Lara Trump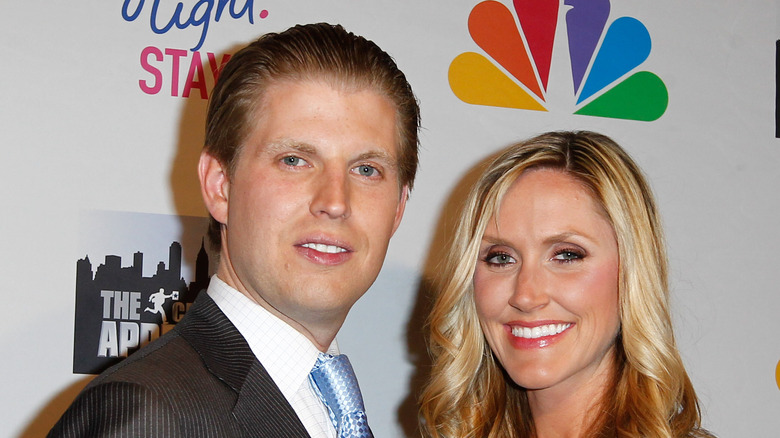 Debby Wong/Shutterstock
Before welcoming their first child into the world in 2017, Eric and Lara Trump met in 2008 while both were out in New York City with friends, with their tall statures quickly drawing them to each other. In a "Fox & Friends" interview in 2016, Lara took a trip down memory lane and spoke about the first time she met Eric. She said, "We met here in New York. Actually, we were both out one night with friends and being, probably, the two tallest people in the room was really helpful. I think we spotted each other across the room."
Eric Trump proposed to Lara Yunaska on July 4, 2013, and his older sister Ivanka was a crucial part of Eric's proposal to his now-wife. She helped Eric by providing the ring for his proposal to Lara. Ivanka was the owner of Ivanka Trump Fine Jewelry Collection, but the company has since shut down due to Ivanka wanting to focus on providing more cost-effective costume jewelry. Not only did Ivanka Trump supply Eric with the ring, but her daughter with Jared Kushner, Arabella, was the flower girl at Eric and Lara's wedding in 2014.