The Trendy Midriff Belt Is More About Style Than Functionality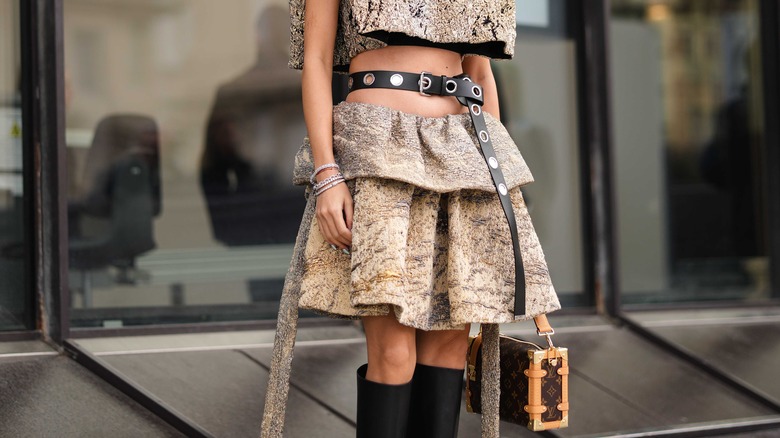 Edward Berthelot/Getty Images
Accessories are vital for an outfit. You may keep it simple with earrings and a scrunchie or go extravagant with a crown and cap. Either way, they are fabulous and can make a boring outfit worth talking about. One fashion staple that makes its rounds in and out of vogue is the belt. It might have been designed for functionality, but it is a style choice. Remember when every Y2K outfit had a random belt cinched at the waist?
Gen Z is bringing back the 2000s statement belt trend with a modern twist. Using the accessory to hold up your pants? So 20th-century. Your belt is screaming to be freed from the jail cell of pants loops. Now, fashionistas are securing the accessory around their bare waist to maximize allure. Louis Vuitton's Spring/Summer '23 collection embraced this stellar and unique look. But trust us when we say you can pull it off, too.
Match your accessories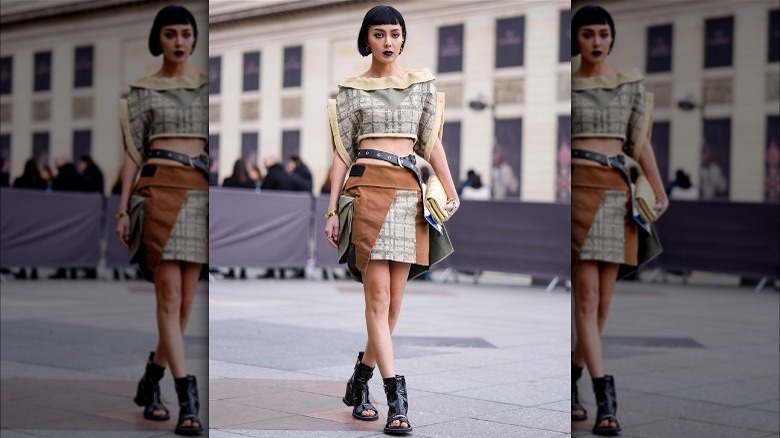 Edward Berthelot/Getty Images
A midriff belt may not hold up your bottoms, but it ups the depth of your outfit. A great way to tie a belt in to the rest of your look is to match it with your other accessories like jewelry, headwear, or sunglasses. Wear items of the same hue or similar shades, like a black waist belt with black shoes and a dark bag. You can even complement the stylish trend with your beauty choices: Matching lipstick, eyeshadow, or nail polish is chic and creates cohesion throughout your ensemble.
Chain belts are jewelry for your waist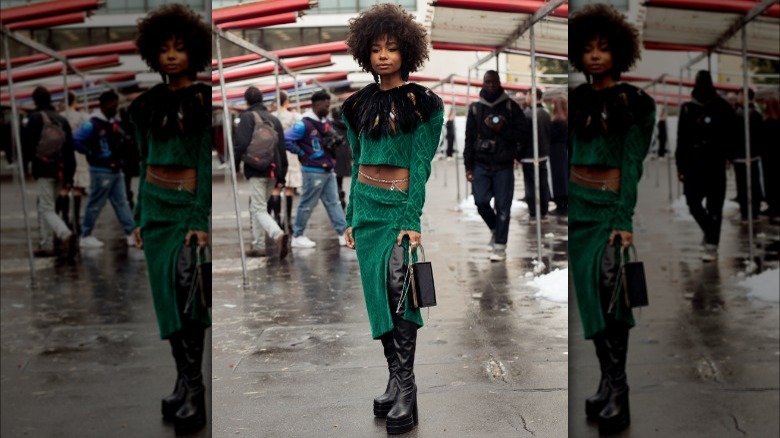 Raimonda Kulikauskiene/Getty Images
To ease into the midriff belt trend, we recommend chain belts. Many pieces are thin and delicate, giving you an elegant look even with a crop top and shorts. These accessories are more like body jewelry, so they won't be as out-of-the-box as a leather belt knotted around your bare skin. While these pieces can add a touch of sophistication, some styles also play into grunge fashion. A chic way to add edgy chain details to your wardrobe is by incorporating chunky links and charms, which give a Wednesday Addams vibe.
Your waist belt lets patterns shine
Accessories are superb for bringing in various colors, textures, or materials, and the midriff belt is no different. It's great for breaking up patterns. So a matching top and bottom can breathe with a contrasting waist belt. It also puts space between distinct prints. Your plaid button-up and checked skirt don't have to compete with each other — just throw on this midriff accessory for a smooth transition. Plus, a belt can be used to brighten up a dark ensemble, or tone down a bright one.
You can't go wrong with monochrome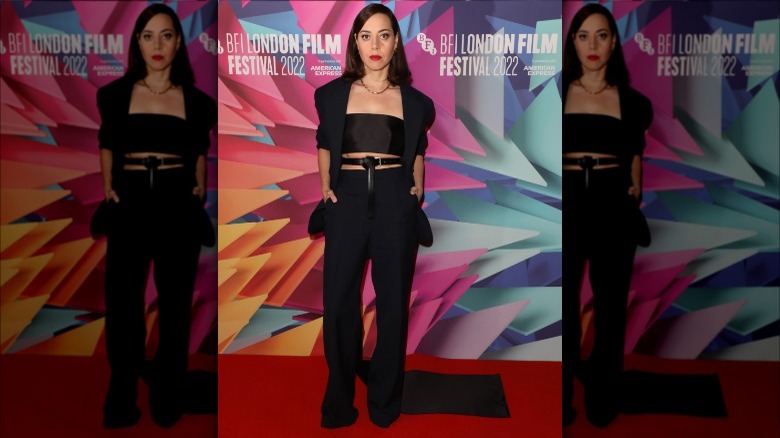 Lia Toby/Getty Images
Monochrome is a go-to styling hack when you have no idea what to wear. And the safest color to rock from head to toe is black. Adding a black midriff belt brings pizzazz to a simple outfit. It even works with semi-formal wear. An oversized blazer, long slacks, and silk bandeau is a sleek spin on office attire. The belt knotted around the waist limits the exposed skin, yet ties in perfectly with the ensemble. Throw on your favorite black shoes for a red-carpet-worthy look.