The Secret Behind Kate Middleton's Coronation Gown Neckline Switcheroo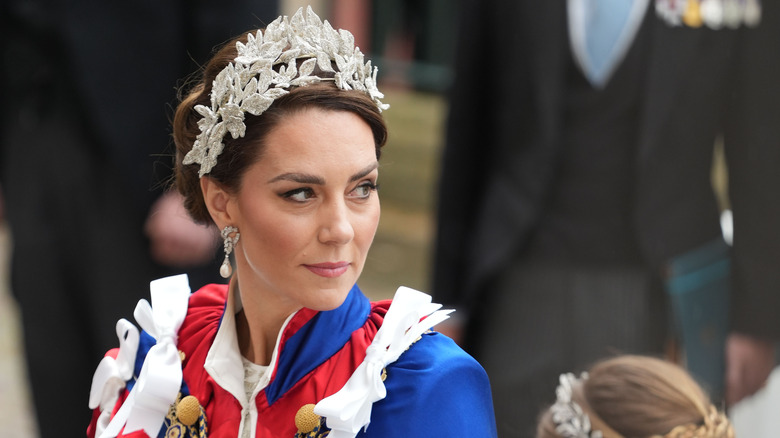 Wpa Pool/Getty Images
If we're being honest, many of us in the States watch royal events with ulterior motives, such as fawning over luxurious dresses and daydreaming about wearing a bespoke, diamond-encrusted headpiece. Our keen eye for all things fashion makes it hard for anything to slip past our gaze, hence the amount of attention paid to Kate Middleton's changing coronation gown neckline.
When the Princess of Wales ascended the stairs of Westminster Abbey, it was tough to get a proper look at her gown. Like other royal family members, she donned a robe adorned with buttons and chains, signifying her status at the ceremony. King Charles III was crowned on Saturday, May 6, 2023, while the event's official portraits were released the following Monday. 
Thanks to the photos, fans got a closer look at Middleton's gown. Created by Alexander McQueen, the same designer who fashioned her wedding dress back in 2011, everyone "oohed" and "aahed" over the ivory silk crepe, intricate silver bullion, and thread embroidery, not to mention the feminine but flattering cut. However, when our gaze arrived at the neckline, it was met with a resounding "Huh?"
A secret switcheroo for an important reason
The neckline Kate Middleton sported in the royal portraits was markedly different from the one that fans could barely make out beneath her flowing coronation robe. Posing amongst her family members on the red steps at Buckingham Palace, the Princess of Wales's dress clearly had a deep-V neck. Its graceful edges were highlighted with a glittering, embroidered floral motif consisting of a thistle, daffodil, rose, and shamrock to represent the four British nations. 
Neatly within the lowered neckline sat Queen Elizabeth II's George VI Festoon Necklace. Such details were hard to overlook, especially when the dress spotted under her robe had a much higher, collarbone grazing neckline. It didn't take long for social media to become awash with speculative theories. The most obvious was that, although the gowns appeared similar, Middleton actually wore two different dresses to King Charles III's coronation.
In the more far-fetched camps, certain individuals believed she may have worn the McQueen gown backward to the event. But the truth is likely far from this fashion faux pas. Alastair Bruce, a commentator for Sky News, speculated on Twitter that the neckline switcheroo was due to sensibility. He explained that Kate likely wore a "temporary cape" with her gown to keep its fine embroidery safe from the heavy mantle and chains that decorated her robe. 
Kate Middleton's always sensible style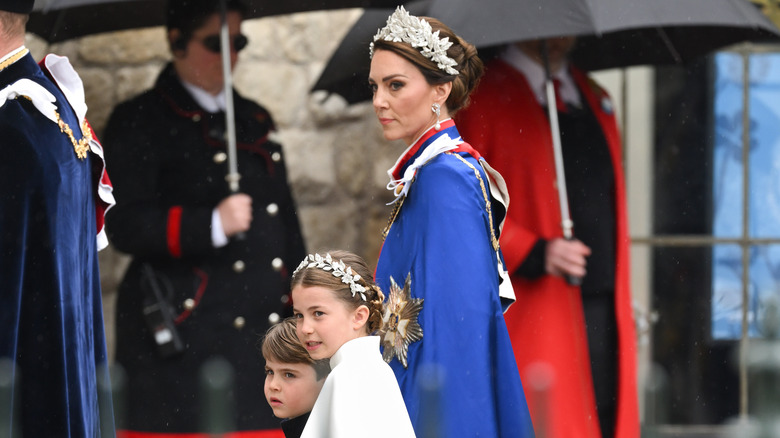 Karwai Tang/Getty Images
Kate Middleton's daughter also followed suit, wearing a chic cape over her Alexander McQueen coronation day dress that featured similar embroidery. Princess Charlotte, a budding fashion icon, was even more her mother's twin with her nearly identical headpiece. Both ladies also coordinated with Queen Camilla when it came to the floral themes. Post-cathedral coronation, Middleton shed the robe and likely the cape too, exchanging them for a blue and red sash while showing off her glamorous neckline. 
We also got a better look at the impressive triple-strand necklace she was sporting. Crafted from 105 loose diamonds, it was said to be one of the late queen's favorites throughout her lifetime. Due to its value, both literally and sentimentally, the necklace was most likely also removed for the coronation so as not to be damaged by the Royal Victorian Order mantle and silver bullion of the robe. This isn't the first time we've seen Middleton make wise choices with other outfits she has worn either. 
For outdoor royal events, Middleton often chooses gowns with a higher neckline and a skirt that falls below the knees, not just for modesty but so that she doesn't have to worry about showing too much skin when she's out and about. Her signature blazers pair well with everything and can be dressed up or down, while always looking polished and pretty. Seriously, if Middleton offered a masterclass on dressing, we'd take it. She truly puts the "sense" in fashion sense!