B&B Fans Are Warming Up To Thomas And Hope's Potential Pairing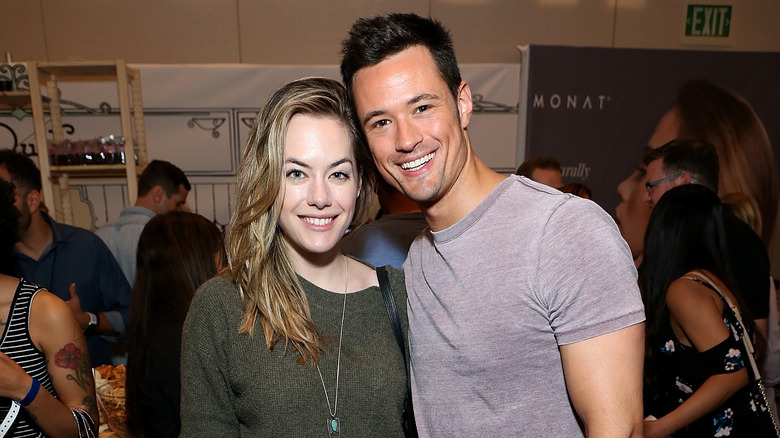 Phillip Faraone/Getty Images
Since Thomas Forrester (Matthew Atkinson) got his job back as lead designer at Forrester Creations, we've been wondering: Are "The Bold and the Beautiful" fans ready for a Hope Logan (Annika Noelle) and Thomas redux? Hope's husband, Liam Spencer (Scott Clifton), is rightfully concerned that Thomas may fall back into his old ways when he was obsessed with Hope and did some horrible things to her to boot. Thomas has sought therapy and seemed to have shed his scheming and manipulative ways, making his mother, Taylor Hayes (Krista Allen), very proud that he's turned his life around.
Meanwhile, Hope's mother, Brooke Logan (Katherine Kelly Lang), has observed Hope and Thomas working together on their fashion line, Hope for the Future. She's picked up signs from Hope's seemingly erratic behavior and is concerned that Hope is the one who's going to rekindle their romance, not Thomas. When Brooke confronted her, to be honest about her feelings, and pointed out that she seems to be in love with Thomas again, Hope lashed out at her. She told her mother that while Thomas has truly changed, he is an unstable manipulator, and she doesn't want to be with him. 
Sadly, Thomas overheard only this part of their conversation and later told Hope about it. Hope backpedaled and claimed that she didn't mean it, reassuring Thomas that she believes he has genuinely changed. This touching yet uncomfortable moment has sparked intense fan conversation online about whether these two could end up back together.
Thomas and Hope fans were ravenous on Twitter
Fans of "The Bold and the Beautiful" are everywhere on Twitter posting show clips and fan-made videos of Hope Logan and Thomas Forrester together, and in particular their most recent interactions. One "B&B" enthusiast created a video compilation of their most romantic moments, to which another responded, "The chemistry is insane omg." Regarding Hope being practically in tears when Thomas revealed that he'd heard what she said about him, one user hilariously enthused, "Oh girl!!! she's so close to exploding!! Hopefully Thomas is there to catch every single drop [of tears]."
One fan who is more hesitant to embrace a new Hope and Thomas pairing noted, "I applaud 2 great actors who brought tears to my eyes. See Thomas's face which is borderline sad & angry. Hope feeling guilty for saying what she doesn't mean & didn't mean to hurt Thom. AN/MA [Annika Noelle/Mathew Atkinson] works very well even if I don't want Thope." Several responses to that post demonstrated that soap fans are really enjoying the chemistry between the characters, and applauding the actors' performances, despite not being convinced about the two reconnecting down the line. 
Other viewers shared pictures from Thomas and Hope's wedding in 2019, and some even got creative with one posting a photoshopped romantic wedding photo, and another making a sweet video collage. Using the squish name for Thomas and Hope, one fan gleefully punned, "#Thope for the future y'all!"