Hidden Talents Of The Royal Family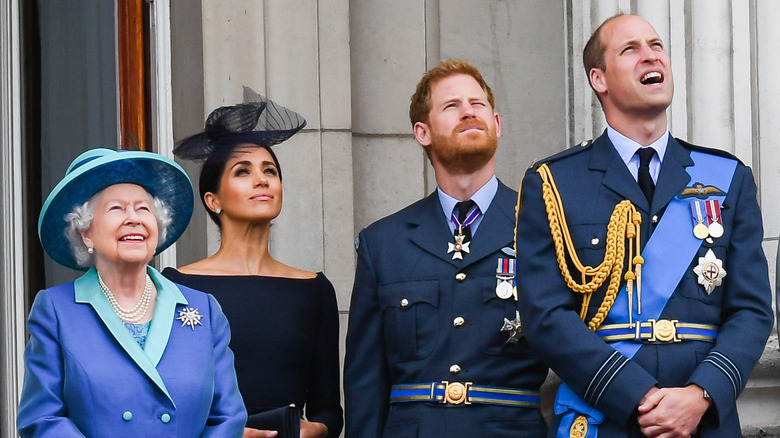 Anwar Hussein/Getty Images
With so much pomp and circumstance surrounding the British royal family, it can be easy to forget that the royals are also very much individual people with personal lives and hobbies outside of their royal titles and duties.
The late Queen Elizabeth and Prince Philip, as well as King Charles III, Princess Anne, Prince Edward, and Prince William, learned to speak French fluently. Some of the royals, like Charles, are art enthusiasts. Much like the rest of us, members of the royal family do have rich lives outside of work.
In fact, some of them have turned their interests into hobbies — and have made tangible achievements in their fields. Of course, with the kinds of connections and world-class opportunities the British royals receive, it would be almost impossible for them not to be exceptionally good at their individual crafts.
These are the hidden talents of the British royal family members.
King Charles is an artist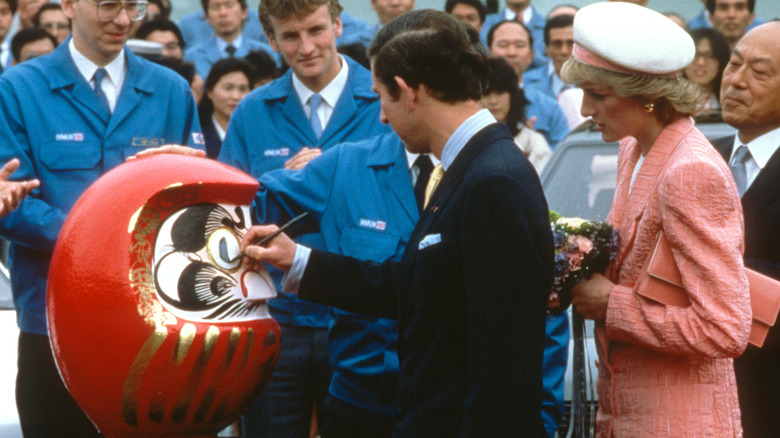 Anwar Hussein/Getty Images
Although King Charles III is a keen art collector, he is also a talented artist himself. In 1977, the then-prince's paintings were first revealed to the world in an exhibition at Windsor Castle, where his work was featured alongside the works of other royal artists like Queen Victoria. However, he started painting while still at boarding school in Scotland.
Charles went on to train under some of the greatest artists in the country like John Napper, John Ward, Hugh Casson, Edward Seago, and Derek Hill. And since 1997, he has sold over £2 million worth of his art.
The king's chosen medium is watercolor, which he often uses to create landscapes — like the banks of River Helmsdale in Sutherland. One of the reasons the king has chosen to work with watercolors is because it does not take as long as other mediums. This way, he doesn't have to make his security staff wait around while he indulges in his favorite pastime, according to The Telegraph.
Queen Elizabeth II was a skilled mechanic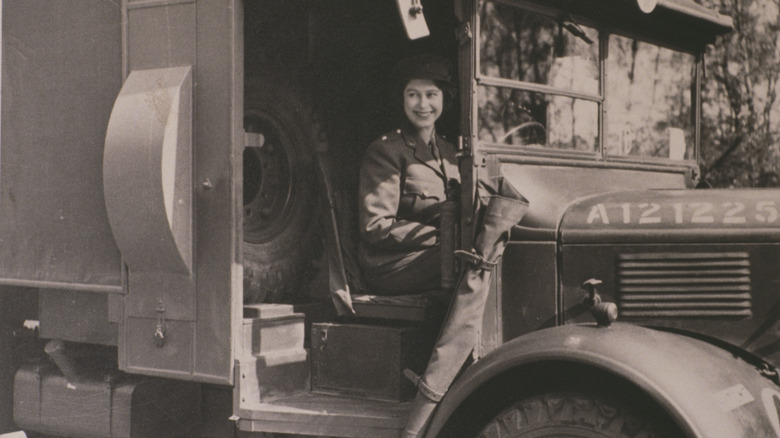 Bryn Colton/Getty Images
This might come as quite a surprise but Queen Elizabeth II was the original girl boss. At the age of 16, she registered herself in the Ministry of Labour's Youth Registration Scheme. This was run by the British government specifically for young ones interested in serving the country during World War II.
In the year 1944, at the mere age of 18, then-Princess Elizabeth became a junior officer in the women's wing of the Auxiliary Territorial Service. It was in this position that Elizabeth, given the number 230873, learned to both fix and drive trucks.
The late queen became the only female member of the royal family to have ever served in the army. She was even on the cover of the 1943 issue of Life magazine, which was dedicated to the war. Like many her age, she also celebrated the end of the fighting in Europe by partying in the streets of London.
Prince Philip was a keen gardener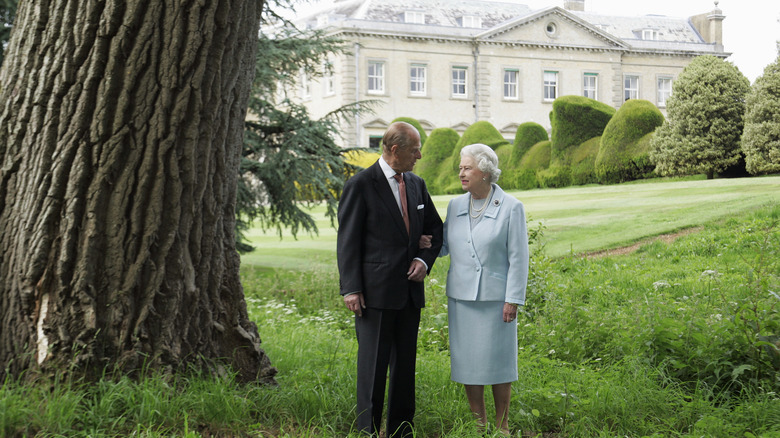 Tim Graham/Getty Images
Who knew Prince Philip was a plant dad? Not us, for sure. During his lifetime, the prince was an avid gardener. In fact, he designed the famous Rose Garden at Windsor Castle, according to the BBC One documentary, "Prince Philip: The Royal Family Remembers." It was also revealed in this documentary that the prince planted over 2 million trees at the Sandringham estate. 
Philip also spent considerable years of his later life trying to cultivate them on British soil. Apparently, the prince's obsession with this particular fungus dubbed "black diamond" started after a hunting trip to Italy. Although he took this trip back in the '60s, it was not until 2006 that he finally decided to cultivate them himself. 
In 2019, after more than 12 years of hard work, his efforts bore fruit. The 300 hazelnut and oak seedlings infused with truffle spores that he'd planted finally sprouted. This feat made him the first person to successfully cultivate this type of truffle on British soil. 
Zara Tindall is an accomplished equestrian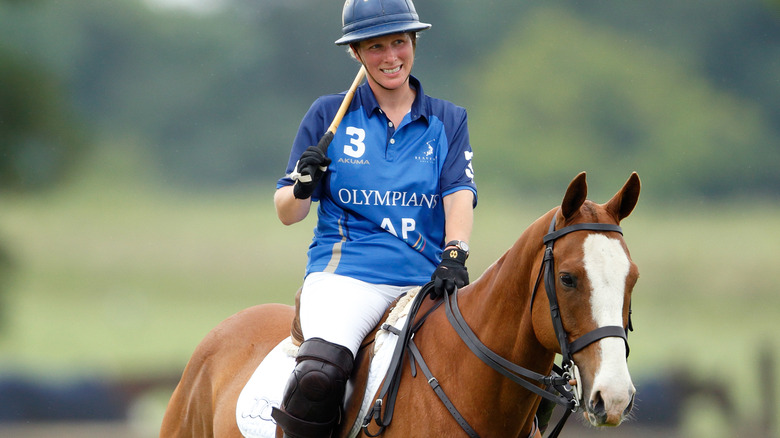 Max Mumby/indigo/Getty Images
Just like her mother Princess Anne, Zara Tindall is an Olympic equestrian. In 2012, Queen Elizabeth II's granddaughter added to royal history by being part of Great Britain's Olympic team, which placed second in the three-day equestrian event. Zara also placed eighth in the individual category. No doubt the royal family and Britons alike were excited for Zara's contributions.
The sweetest part of this event? The winning teams were honored with medals by Princess Anne herself. Unlike the ceremonial handshake that the rest of the team members received, the proud princess placed a loving kiss on her daughter's cheeks, causing Zara to remark, "Oh Mum." In the press conference that followed, Zara joked about this sweet mother-daughter moment, saying, "Whatever you do, don't ask me what it was like to have my mother present me with the medal." She continued, saying, "Obviously, it was amazing."
Princess Beatrice is the only royal to have run the London Marathon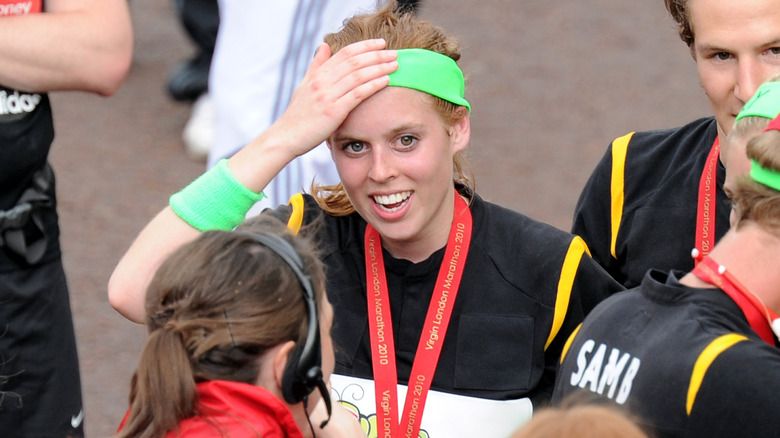 Gareth Cattermole/Getty Images
In 2010, Princess Beatrice made headlines when she successfully completed the London Marathon. The princess ran the tiring 26 miles to support her mother Sarah Ferguson's charity, Children in Crisis. The princess was one of the 34 people that ran the marathon wearing black and neon green outfits tied together to form what looked like a caterpillar. She was also joined by her then-boyfriend Dave Clarke. 
Running a marathon is no easy task — it requires physical endurance and lots of training — but this unique marathon was arguably even more challenging. By the end, the competitors broke the record for the largest group to ever finish a marathon while being tethered together.
While other royals may have a similar desire to run a marathon, security measures appear to prevent them from doing so. Princess Catherine has cited this as the reason she hasn't participated. However, in 2017, she did spectate the London Marathon to honor one of the charities that she supports. 
Prince William is a skilled juggler
From being a working royal to a hands-on father, Prince William is known to juggle many roles in life. Turns out, the prince is something of an actual juggler too. During Prince William and Princess Catherine's 2020 Ireland tour, while celebrating Galway's selection as the year's European Capital of Culture, he showcased his juggling skills publicly. An important part of the cultural capital, the Galway Community Circus, were among the performers of the night. 
The prince ended up surprising the crowds when he picked up three balls and started effortlessly juggling them like a professional. Unfortunately, he lost his balance when attempting to add a fourth ball to the lot, sending one of the balls moving directly toward the princess' face. A video of the prince was shared by the Irish Foreign Ministry with the caption, "Prince William might just have what it takes to represent Galway 2020 Capital of Culture." 
Princess Eugenie is a talented artist and art enthusiast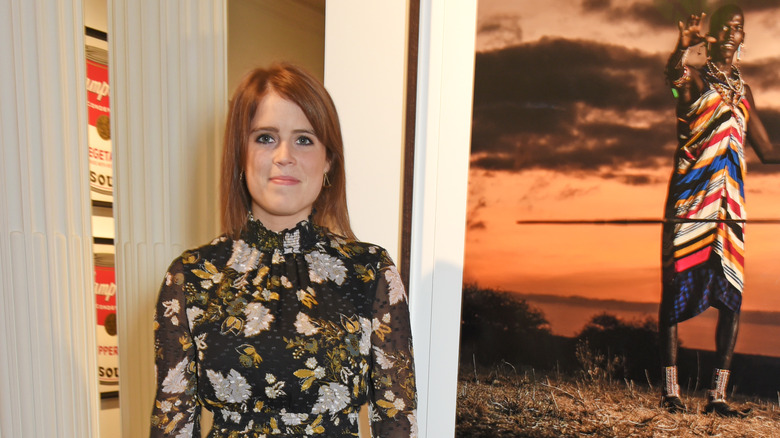 David M. Benett/Getty Images
Not unlike her uncle King Charles, Princess Eugenie is a member of the British royal family who was born with the art bug. In addition to being a talented painter, as proven by the hyperrealistic paintings she shares on Instagram, she also pursues a career in the arts. The princess is the director of Hauser & Wirth, an art gallery in London. 
In a 2016 interview with Harper's Bazaar, Eugenie explained her passion, saying, "I've loved art since I was very little. I knew I definitely wouldn't be a [professional] painter, but I knew this was the industry for me." She continued, saying that she enjoys being able to share art with others. "If someone doesn't understand something, you have the ability to suggest, 'Maybe you can look at it this way.' That is what I find most thrilling about working in a gallery," she explained. 
Meghan Markle is a martial artist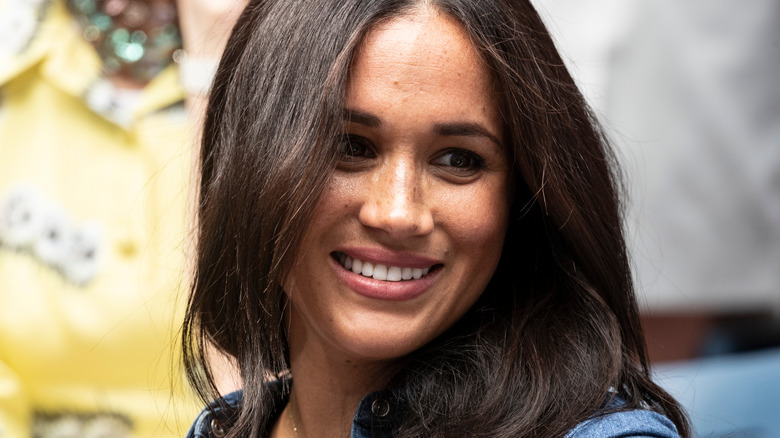 lev radin/Shutterstock
From being a skilled caligrapher to a successful actor, Meghan Markle is a multitalented queen. In 2020, The Mirror exclusively obtained a copy of her old one-sheet — essentially an actor's CV, which lists their skills, training, and acting credits.
Under special skills, many art forms were listed, including jazz dance, tap dance, ballet, and musical theater. Now, it is not uncustomary for an actor to be trained in various art forms, but the biggest revelation from this CV was that Meghan trained in martial arts!
According to Jorge Blanco, Meghan's former martial arts trainer, the duchess took up the sport while in Toronto filming "Suits." As Blanco told Vanity Fair España, "We did a little bit of martial arts, a little boxing, and sometimes kickboxing. I had a great time training with her because she's super nice and speaks Spanish, with an Argentine accent."
Queen Elizabeth II was a skilled swimmer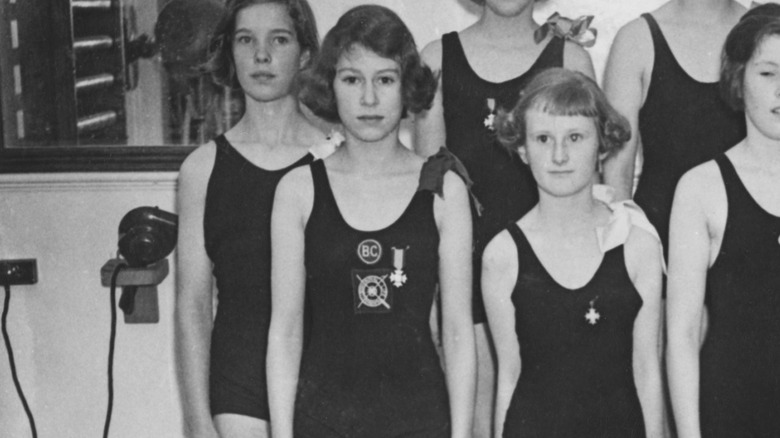 Topical Press Agency/Getty Images
Starting at a young age, Queen Elizabeth II was quite the swimming enthusiast. At 10 years old, she started swimming at the Bath Club. Throughout her teenage years and early adulthood, the queen received many accolades for her swimming skills, including the honor of being the first person in the world to be conferred with the Junior Resuscitation Bronze Medallion from the Royal Life Saving Society.
For Elizabeth, swimming was not merely a competitive sport — it was an activity that ensured the mental and physical well-being of participants. Over the course of her long reign, she was a patron of Swim England, the U.K.'s governing body for water sports. The queen's love of the water was passed on to some of her descendants, including Prince William, who was the captain of the water polo team while attending the University of St Andrews.
Prince Harry is your guitar-wielding dream man
Prince Harry and Meghan Markle's tell-all Netflix documentary series, "Harry & Meghan," made quite the splash and provided some surprising revelations about the royal family. However, the series also served us with a lovely and uncontroversial fact — Harry plays the guitar. 
In December 2022, when Netflix released the initial promotional teaser for the docuseries, fans got a glimpse of previously unseen photographs of the Sussexes. Royal watchers were quick to call out a black-and-white still of the couple in which Harry was seen playing an acoustic guitar while his wife looks at him lovingly. "Prince Harry plays acoustic guitar. Let me find out he can actually sing, too," one fan tweeted.
Metro UK even went so far as to have a guitarist recreate the chord Harry was seen striking in the shot. while others tried to figure out what kind of music he was playing. A guitarist named Luke told the publication, "The guitar is the one Ed Sheeran used to play — s Martin LX1 Little Martin Acoustic Guitar. But it's a chord you'd be unlikely to find in [a] Sheeran song."