The Most Outrageous Outfits Julia Fox Has Ever Worn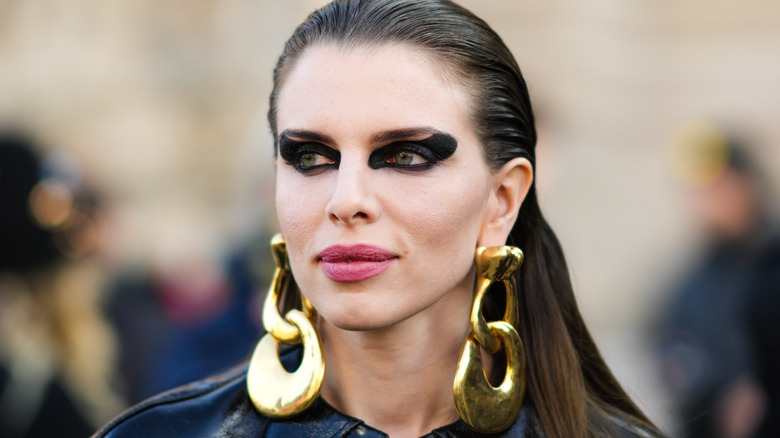 Edward Berthelot/Getty Images
Ever since she went viral for that vocal fry-filled interview in which she spoke about being "Josh Safdie's muse" in "Uncut Gems" (or as she put it, "Uncaht Jahms"), Julia Fox has been a true internet sensation. The actor-slash-woman-about-town went on to date Kanye West, which she called a "reset" in her life, and post several other viral videos on her social media channels. Throughout it all, Fox has been a true free-thinker — especially when it comes to her fashion. It's safe to say that no one can make bold, unique style choices quite like Julia Fox. 
From her incredible condom-covered dress to her underwear set made entirely out of old leaves from the streets of New York, Fox certainly knows how to push the boundaries with her fashion — and we're kind of obsessed with it. As she once said on TikTok, "Anything can be clothes." She stated in an interview with The Cut that when people have told her to tone down her style, she has replied, "F*** that narrative if I want to pop out and wear crazy s*** — which is what I want to wear."
Let's take a look back through Fox's fashion history at some of her wildest outfits to date.
When she wore this strange mermaid outfit
Mermaidcore became all the rage thanks to the live action remake of Disney's "The Little Mermaid" — but Julia Fox was, naturally, miles ahead of everyone else on the trend. In September 2022, Fox appeared at a New York Fashion Week show wearing a mermaid outfit that was more Halloween costume than couture. The eye-catching dress featured a sculptural top made with clear materials to look like a splash of water across her chest. On the bottom half, she wore a pale green, silky skirt that formed a mermaid tail in front of her legs and carried a matching handbag. To complete the bold look, Fox wore her hair slicked back to give a wet, I-just-emerged-from-under-the-sea look.
According to Page Six, the outfit was designed by Weiran, a fashion student, who is known for creating water-like clothing creations. "What an honor to have icon @juliafox to attend my first ever show in this look!" the designer wrote on Instagram. "Huge thanks to @brianaandalore [Fox's stylist] for the support and love always!" 
Love it or hate it, this striking look is bold, daring, and surprisingly artistic — and while we might not wear it out and about, there's no denying that Fox more than pulled off the outfit.
When she wore giant fur-covered boots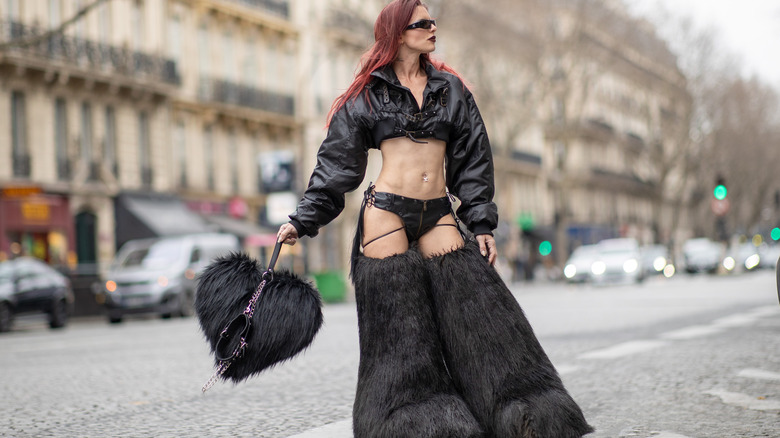 Rachpoot/bauer-griffin/Getty Images
If you haven't already guessed, Julia Fox loves to wear outfits that make big, bold statements. Often, that means straying into costume territory — and in March 2023, that's exactly what she did at Paris Fashion Week when, instead of boots, she wore giant furry monster legs. Footwear News even compared her to Bigfoot. The boots started at her upper thighs, transitioning into huge furry feet. To complete the bizarre all-black look, she wore leather underwear, a cropped leather jacket, sunglasses, and carried a heart-shaped furry purse. 
We don't know who designed Fox's eye-catching monster legs and matching bag, but it's clear that they took Fox's love of outlandish looks on board. While this look might not exactly be pretty, it is certainly unusual. And while most of us probably won't be taking inspiration from Fox's Bigfoot look, it's a great reminder that it never hurts to get a little experimental with our personal style.
When she wore men's boxer-briefs as shorts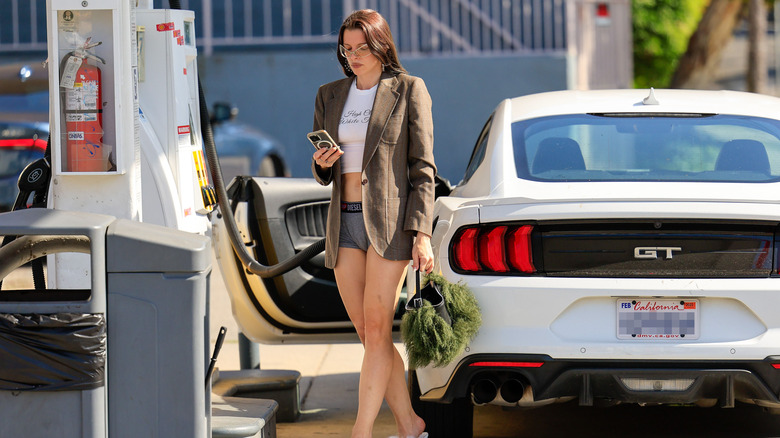 Rachpoot/bauer-griffin/Getty Images
It's clear that Julia Fox doesn't follow the standardized rules of fashion. As far as she's concerned, women should be allowed to wear — well — whatever they want. And that includes a pair of men's boxer-briefs instead of shorts. In May 2023, the actor made headlines when she was snapped running errands wearing a brown blazer, a white t-shirt, and a pair of skimpy grey Diesel boxers-briefs. She completed the look with a pair of oddly shaped sunglasses, large hoop earrings, furry slippers, and a furry bag. As People noted, it was her own take on the "no-pants" trend that'd been making the rounds.
This odd look is the opposite of minimalist chic — instead, Fox proved once again that you can throw out the rulebook and pair mismatched items together to make a truly unique outfit — even if you're just running a few errands!
When she wore a double denim look to Paris Fashion Week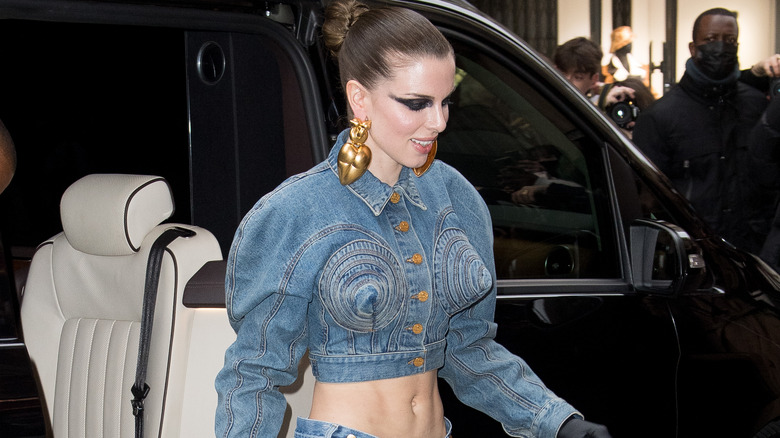 Jacopo Raule/Getty Images
One of Julia Fox's most famous looks came in January 2022 when she appeared at an event at Paris Men's Fashion Week. The appearance marked her first public outing with her then-beau Kanye West. As such, the pair naturally wore coordinated outfits. While West wore a simple double denim look, Fox took things a step further, pairing baggy cargo jeans with a bold cropped jean jacket by Schiaparelli, which featured cone-shaped breasts and puffed sleeves. She finished things off with a pair of giant gold earrings and her signature "fox eye" makeup.
Of course, Fox's appearance with West made for quite the stir online, and her wild outfit only piqued more interest. In fact, the appearance marked a new era in Fox's style. As she told Interview Magazine, West actually helped her refresh her wardrobe. "Ye had an entire hotel suite full of clothes," Fox said of their second date. "It was every girl's dream come true. It felt like a real Cinderella moment."
When she wore a shirt made of ties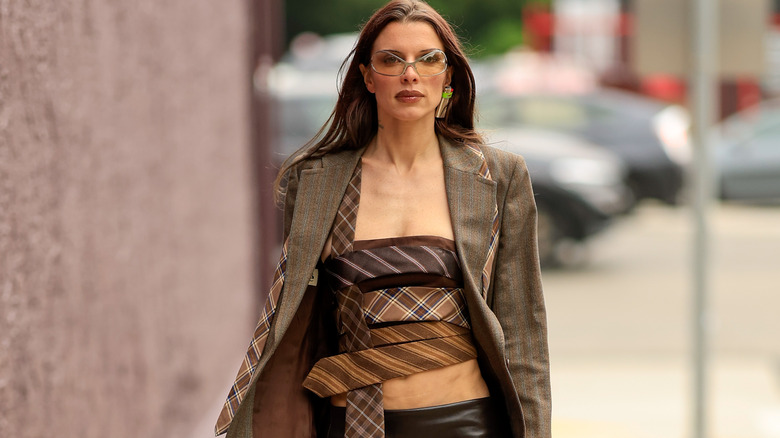 Rachpoot/bauer-griffin/Getty Images
If Julia Fox's mantra is "anything can be clothes," then this outfit certainly proved her point. In May 2023, Fox paid a visit to Universal Studios in Los Angeles wearing a hugely inventive shirt made of a series of men's ties. She paired the makeshift top with a brown tweed blazer and accessorized with another loose tie around her neck. She also wore a tiny brown leather miniskirt and brown heels.
This time, Fox's top wasn't actually a DIY look. She purchased the top from Jaded London where it was on sale for $68 at the time. As the website states, the top is part of a collection that features "a fusion of nostalgic early-2000's silhouettes and modern feminine details."
According to Fox's Instagram story, via Page Six, the actor was visiting the studio for a "really important meeting" — we have to say, we love this creative twist on business casual. 
When she wore a bra made out of jeans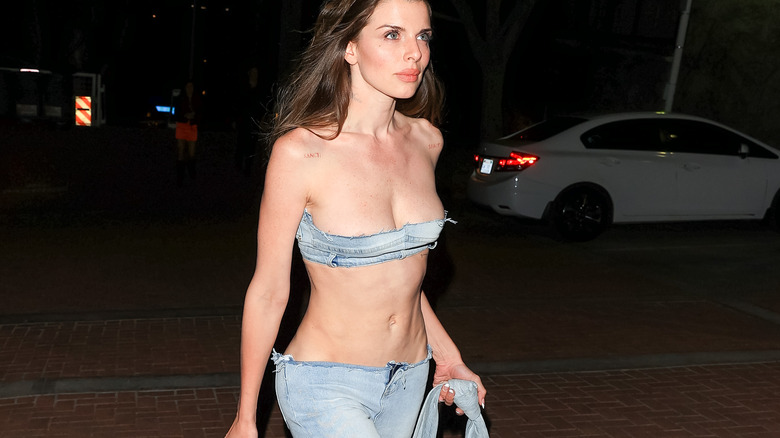 Rachpoot/bauer-griffin/Getty Images
Julia Fox loves to repurpose strange materials and use them in unexpected ways — like the time she turned her jeans into a tiny tube bra. The actor stepped out in Los Angeles in this wild ensemble in March 2022. Fox wore long jeans with the waist cut off — and, instead of a bra, she put the waistband of her jeans around her chest. She also wore denim boots and carried a makeshift bag made out of — you guessed it — another pair of jeans. Fox certainly knows how to stay on theme!
As Fox revealed in an Instagram tutorial, this is a look that she crafted all by herself. "I also used what I cut off to make the bandeau," she wrote in the caption. "It makes for a really cute set and it's easy and honestly now that latex is kinda played out, Denim, you're all I have left." In the video, Fox showed how she used a highlighter to mark where she wanted to cut the jeans on each side while wearing them. She then took off the jeans and proceeded to cut the waist off before using glue to keep the zipper in place. "They're so much cuter like this," she concluded. Once again — Fox is nothing if not inventive!
When she made an outfit out of leaves from the street
In yet another DIY outfit, Julia Fox created what she called the "fall 2022 dress" made entirely out of leaves found on the streets of New York in November 2022. The look featured a bra and underwear set made of leaves and held together by thin chains. She also created a pair of drop earrings.
The actor posted a tutorial on TikTok of how she created the unusual look. "So, I'm obsessed with leaves and I go to the park every day so I've been seeing the leaves change and I just got really inspired," she said in the video. She then explained that she enlisted the help of her friend, Emma, an artist and "resin master" who helped her "freeze these leaves in time." After painting the leaves with resin, Fox and her friend put them together using a glue gun. She then used the stems of the leaves to attach the leaves to the chains. "I kind of wanted it to be more like body jewelry more than, like, clothing, you know what I mean?" she said, adding, "I don't know if it's really wearable because my booty was all out in it, but I'm obsessed with it." As bizarre and unwearable as this look is, we're kind of obsessed with it, too! 
When she wore an outfit made out of condoms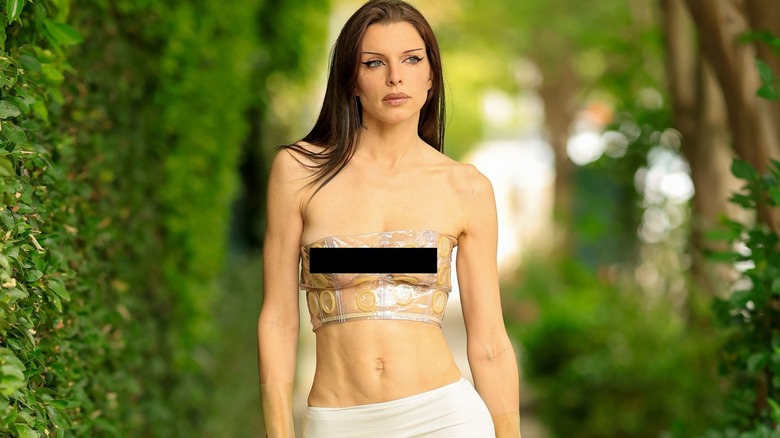 Rachpoot/bauer-griffin/Getty Images
It's hard to think anything more outrageous than wearing actual condoms all over your clothes — but we were hardly surprised when Julia Fox did just that in May 2023 while out and about on the streets of Los Angeles. The out-there outfit featured a see-through cropped tube top made of clear, plastic-like material and covered in real condoms giving it a polka dot-like pattern. And Fox didn't stop there. She also wore a matching pair of knee high condom boots and carried a matching bag, too. As Page Six noted, she had previously carried the same bag at New York Fashion Week. She completed the look with a mini white skirt and a pair of nude latex gloves.
Yet again, Fox proved that she's willing to wear just about anything as clothing if it makes a statement — and this look definitely did. 
When she styled old towels as end of the world fashion
In October 2022, Julia Fox did another TikTok outfit tutorial captioned simply "End of the world fashion." In the video, she showed her fans how she made a mini dress out of a blue and white beach towel.
"I'm going to give you guys some end of the world fashion inspo today," she said as the video began. "It's no secret that towels have made their way onto the runway, so today we're gonna cut up this towel and make it a dress." Fox proceeded to film as she cut a hole for her head and draped the towel over her body. She then cut another hole for her legs and stepped through, before looping up the back of the towel and pinning it together to create a makeshift dress. "It creates this swoop effect in the back that I really like and then from the front it just kind of looks boxy and cool," she said. 
Fox's next step was flipping the dress around so that it had a stomach cut-out. Fox ultimately styled the towel dress with a pair of knee-high leather boots, leather gloves, and a black leather bag. Somehow, she managed to turn an old beach towel into a cool outfit!
When she wore a leather dress with a hand detail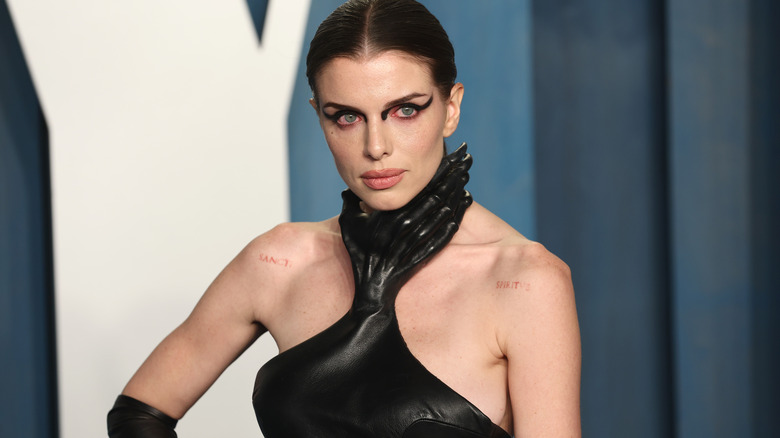 Arturo Holmes/Getty Images
One of Julia Fox's most infamous outfits to date was a bizarre black leather dress by a German designer that she wore to the 2022 Vanity Fair Oscar Party. Overall, the dress was pretty normal — that is, aside from the neckline. What at first glance appeared to be a halter neck turned out to be a sculptural hand seemingly clutching her neck. The dress featured a long, straight silhouette and was designed by, as Fox put it to Vanity Fair, "Hans. The last name is German and I can't pronounce it, unfortunately." She paired it with elbow length black gloves, a black leather coat by Balenciaga, and a slick up-do.
She also carried a black bag covered in shiny black hair — Fox told the interviewers on the red carpet that she thought it was real human hair. "I think it is. I mean, I think so. I mean, it looks like it," she said stroking her bag with wide eyes. Fox also noted that she had done her signature fox eye makeup herself.
When she wore a bra made of belts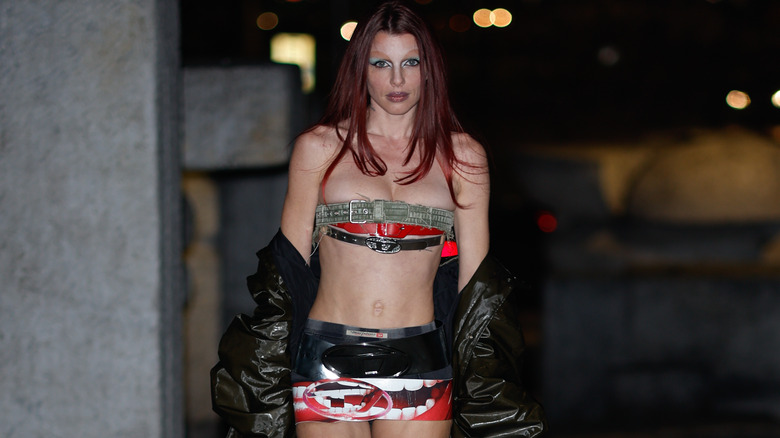 Rachpoot/bauer-griffin/Getty Images
Julia Fox definitely loves to experiment with her clothing by testing the boundaries of what goes where — and this belt bra and matching skirt set that she wore in Milan is a perfect example. After all, why should we always just wear belts around our waists? Why not wear them as a bra instead? 
In February 2023, Fox donned three belts — a black one, a red one, and a khaki one — as a bandeau. She stuck to her theme by pairing the DIY belt bra with a belt miniskirt, which she made using thicker belts — a black one and a red and white one with a smiling mouth print. 
For finishing touches, Fox draped a black maxi coat off her shoulders, grabbed her Diesel purse, and put on a pair of knee-high stilettos. She rounded out the daring look with dyed red hair and pale red eyebrows.
When she wore this all-leather belt look at Paris Fashion Week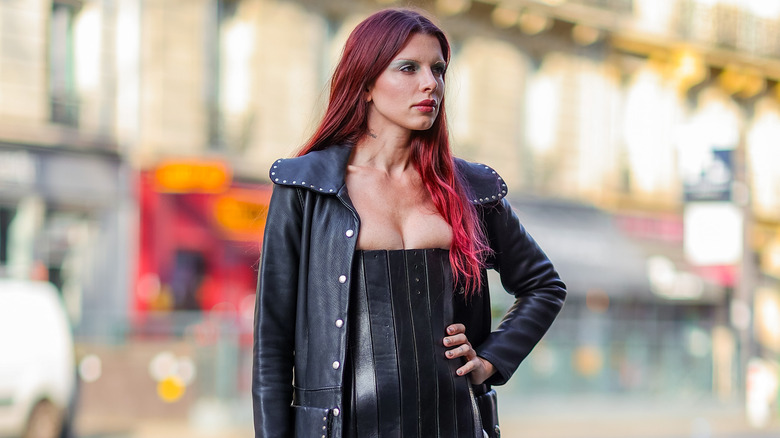 Rachpoot/bauer-griffin/Getty Images
Julia Fox donned this eye-catching leather belt dress during the Hodakova's show at Paris Fashion Week in 2023, and the look served as yet another homage to the all-powerful and practical accessory. However, this time, the belts were lined up vertically to create a dress rather than a bra, corset, or skirt set.
The strapless leather dress was designed by Hodakova and made of a row of black leather belts, with the looped silver buckles forming the miniskirt's hemline. Fox paired the dress with other matching pieces, wearing a maxi black leather coat with stud detailing, black strappy stilettos, and carrying a small black bag. Fox's shoes took the look to the next level, featuring small clock face details on the toes. Once again, Fox showed off her red hair, pale green eyeshadow, and thin red eyebrows with this outfit.
When she wore boots made of plastic wrap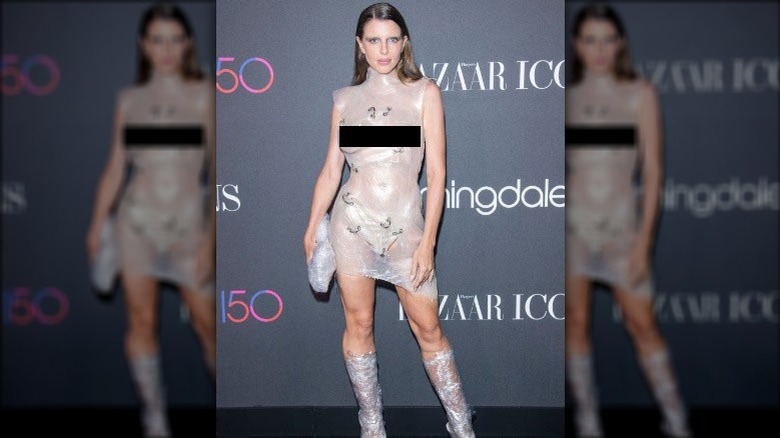 Ron Adar/Shutterstock
As far as Julia Fox is concerned, there are no rules when it comes to raw materials — anything can be used to create clothing items, and that includes plastic wrap from the kitchen. The star wore this outfit to a Harper's Bazaar event in September 2022. Along with a semi-see-through mini dress made of a plastic-like material and seemingly held together with silver metal loops, Fox wore knee-high boots covered in layers and layers of what appeared to be Saran wrap. She even completed the look with a clutch bag that was also completely covered in plastic wrap.
As Fox said to Harper's Bazaar the time, she crafted the wrapped bag and shoes herself just one hour before showing up. On the red carpet, she also told Entertainment Tonight that she might be "museless," adding, "maybe I am my own muse, honestly." Based on this unique look, we have to concur.
When she wore a dress featuring a giant poodle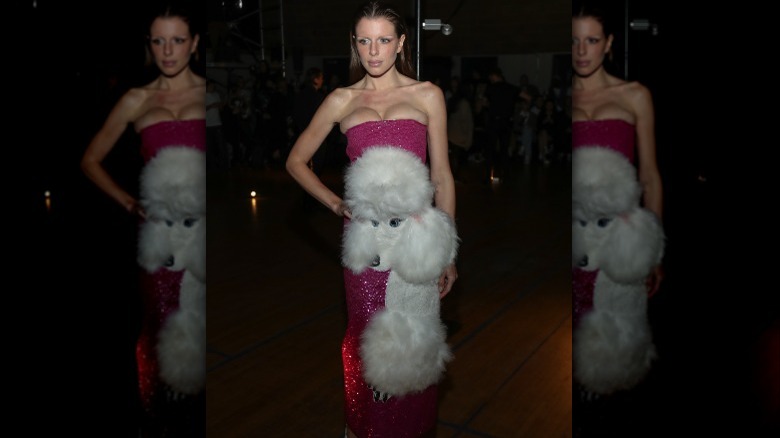 Manny Carabel/Getty Images
In one of her more outrageous looks to date, Julia Fox sported this unusual maxi tube dress during the Wiederhoeft show at New York Fashion Week in February 2023. The sparkly pink dress was a bit of a departure from her streak of black and leather looks — but it still had the classic Julia Fox feel, thanks to the massive fluffy white poodle that spanned from the chest down to the calf on one side of the dress, complete with big blue eyes, pink bows around its ears, and three-dimensional fur.
Her hair was slicked back, and the actor sported her signature super thin brows — this time, in bright pink. She also wore a chunky pair of white platform heels to really elevate the look. Trust Julia Fox to make a statement yet again with this wild outfit! And what will she dare to wear next?