Tina Turner's Profound Chat About Death With Oprah Winfrey Is Even More Touching Now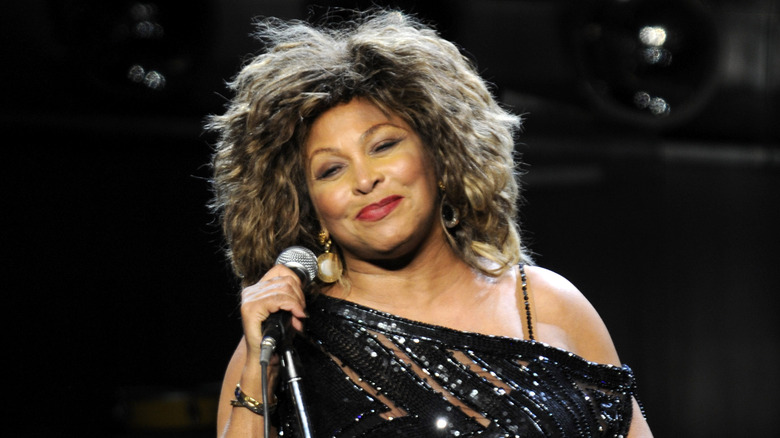 Kevin Mazur/Getty Images
On May 24, 2023, the Queen of Rock 'n' Roll Tina Turner died at 83 after a long illness. Her publicist, Bernard Doherty, confirmed that the legendary singer passed "peacefully" at her home in Switzerland. Her remarkable 60-year career was filled with massive hits like "Proud Mary" and "What's Love Got to Do with It," and she earned eight Grammys as well as a spot in the Rock 'n' Roll Hall of Fame. 
Author and talk show host Oprah Winfrey shared a close friendship with Turner, and the duo actually had a conversation about death during a 2013 episode of "Oprah's Next Chapter." At the time, Turner explained why she wouldn't "regret" it when it was her time to go — she even admitted that she was looking forward to seeing what was on the other side. The singer is already missed tremendously and loved ones and fans will grieve her always, but there's beauty in knowing that Turner felt like she'd "done what [she] came to do."
Tina was at peace with the prospect of death
When Oprah Winfrey spoke with Tina Turner on "Oprah's Next Chapter" in 2013, the beloved singer shared that she was intrigued by the idea of going to "another planet" after death. "[I'm] excited about that because I'm curious," she said with a smile. "What is it about?" Turner made sure to clarify that she wasn't "excited to die," but rather, when the time did come, she'd embrace the end with open arms.
During their conversation, Turner also revealed to Winfrey that she'd already accomplished everything she had ever wanted to. At that point, she was prioritizing pleasure in her life. "I've got great friends," she said. "I have a great man in my life . . . now, I have a great husband." She and former music executive Erwin Bach tied the knot in 2013 after 27 years together. Above all, the performer emphasized, "I'm happy." Turner leaves a truly incredible legacy behind, and her memory and music will live on.