Y&R's Eric Braeden Offers Candid Update On His Cancer Treatment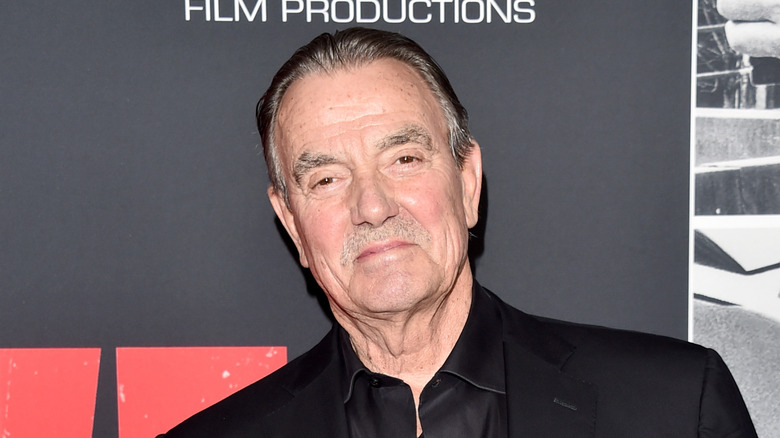 Alberto E. Rodriguez/Getty Images
On April 21, "The Young and the Restless" icon Eric Braeden stunned fans and co-workers alike when he posted an emotional video explaining his cancer diagnosis. The news came off the heels of knee surgery, and the legendary soap star was thrown for a short time before deciding to deal with his bladder cancer head-on. In an interview with Entertainment Tonight, the actor stated that hearing a doctor tell you that you have cancer was "Not good. The word cancer is scary." He went on to say, "But I try to be a good role model. I just want men to know not to be scared ... I want them to know to have your prostate examined, have your bladder examined, have your colon examined." 
Pictures of Braeden holding his fist up in strength after his knee surgery were shown on the video, and the host remarked that Braeden is still working hard on "Y&R." "I'm from the world of sports ... I don't give up easily," Braeden remarked. The host also played a video on his phone from sports journalist and fellow soap actor Stephen A. Smith, who told Braeden to continue to inspire, motivate, and educate everyone, ending with, "I love you. See you soon." This heartfelt moment brought tears to Braeden's eyes. 
The veteran actor has continued to show strength and perseverance to his fans and now has some updates for everyone.
Braeden is still shocked at Y&R's reach
The Los Angeles Times recently posted a video interview with "The Young and the Restless" star Eric Braeden. The host brought up Braeden's cancer diagnosis, explaining that his new task in life, in addition to his career, was saving lives. The actor responded, "If I do indeed do that, that would be very nice." He stated that the initial diagnosis shook him up a bit, but after talking to other people who've dealt with it, he decided to take a more calm, objective approach to possible treatments. The host brought up the fact that Braeden had been initially misdiagnosed. Braeden said a doctor told him, "Everything was fine," but explained that his frequent urination continued after that exam, so he sought a second opinion, where his bladder cancer was discovered.
Braeden happily shared the story of when his Vietnamese doctor was performing an incredibly uncomfortable procedure on him, and he told the actor that he learned English from watching "Y&R." The actor explained that the cancer was removed, but he's still undergoing immunotherapy infusions. "Is it the most pleasant?" he asked, answering, "No. But, it beats chemotherapy." When the host told him that being open about his cancer has given him the thanks and respect of "Y&R" fans as well as people worldwide, Braeden responded, "You begin to realize the reach this show has. It's extraordinary. It really is."