Before Feuding With Disney, Ron DeSantis Wed His Wife Casey Near Cinderella's Castle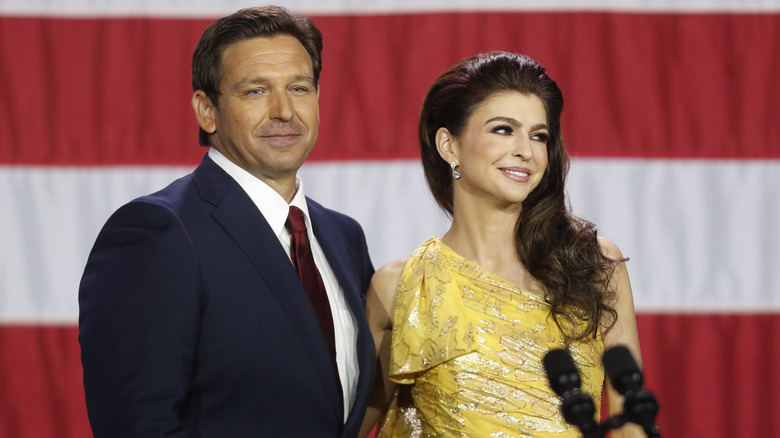 Octavio Jones/Getty Images
Florida governor Ron DeSantis and his wife, Casey DeSantis, have risen to become one of the most powerful political couples in the country. Ron's advocates have maintained that his success can be attributed to Casey's dedication to her husband and his career. In an interview with Piers Mogan (per The New York Post), Ron revealed that the couple first crossed paths on a golf course in 2006. Ron, who served in the navy, proposed to Casey when he returned home from deployment in Iraq. Ron and Casey tied the knot at Walt Disney World in Florida in 2009.
In 2022, DeSantis caused a commotion when he signed the Parental Rights Education Bill. The Walt Disney Company and its Florida theme park, Disney World, is one of the powerful institutions against the bill, which many have called out for being anti-LQBTQ+. Ultimately, this has created a nasty feud between DeSantis and Disney, leading the company to sue DeSantis and leave behind further development plans in Florida. On the other hand, DeSantis has referred to Disney as "woke," according to Fox News. He also has attempted to restrict Disney's power in Florida.
Speaking to SiriusXM Patriot radio in 2022, DeSantis discussed his wedding and his bad blood with Disney, saying (via Insider), "In looking forward to what we ended up doing as governor and some of the face-offs that we had with some major institutions in Florida, it's kind of ironic."
The Disney wedding was his in-laws' idea
Ron DeSantis married former news reporter Casey DeSantis at Disney's wedding pavilion at the Grand Floridian Resort on September 26, 2009. Sources told Insider that Casey chose the venue because she "wanted something all-inclusive and put together." 
However, in an interview with SiriusXM Patriot radio, Casey revealed that her parents proposed the idea of getting married at Disney World. In his 2023 book, "The Courage to Be Free," Ron provided more insight into this decision. According to The Hill, he wrote, "Casey's family was what one might call a family of Disney enthusiasts. They loved going to Disney World."
He continued, "Being the dutiful groom, I deferred to her." Nevertheless, Casey seems to have no regrets about the big day. She said (via Insider) that she liked that the theme park did most of the "planning for you." Casey added, "So it was I could just show up sort of thing. And it was really a lot of fun." In "The Courage to Be Free," Ron also praised his Disney wedding. The couple had 150 guests and celebrated their nuptials at Italy Isola in Epcot. While Casey donned a traditional white wedding dress, Ron wore a naval uniform.
Ron DeSantis' stipulation for his Disney wedding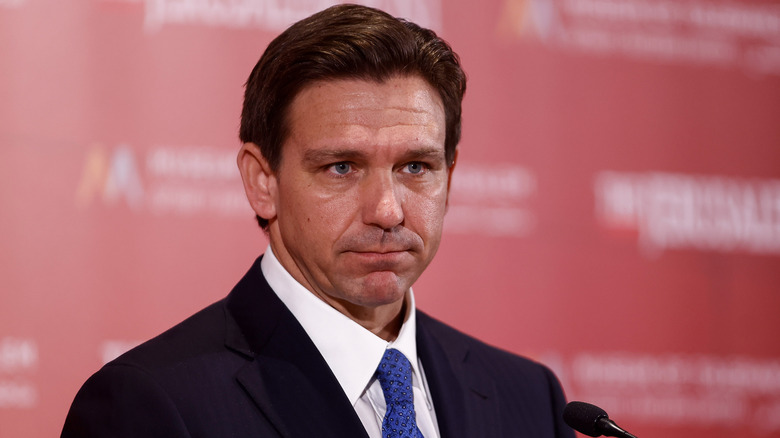 Bloomberg/Getty Images
In his interview with SiriusXM Patriot radio, Ron DeSantis discussed his "ironic" Disney nuptials and said that he was unaware that they hosted weddings. In "The Courage to Be Free," DeSantis wrote that he had some concerns about having a theme park ceremony and reception. The Hill reports that he wrote, "My only condition was that no Disney characters could be part of our wedding. I wanted our special day to look and feel like a traditional wedding." He noted, "I didn't want Mickey Mouse or Donald Duck in our wedding photos."
Addressing his feud with Disney, DeSantis told SiriusXM Patriot radio, "We never would have thought that how many years later we would be tussling with Disney in a political office. But life can be unpredictable." Besides their Disney fallout, the couple has also grappled with Casey's breast cancer diagnosis.
Her breast cancer journey ended in March 2022 when it was announced that she was in remission. Ron and Casey are also the parents of three children: two daughters, Madison and Mamie, and a son named Mason. In light of the Disney debacle, Casey disclosed on SiriusXM Patriot that her kids would not be going to Disney World anytime soon.