The Best Jean Cuts To Pair With Your Favorite Chelsea Boots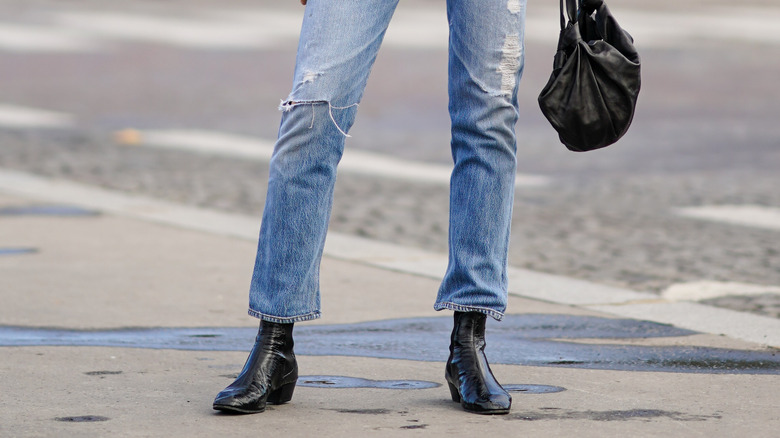 Edward Berthelot/Getty Images
If there's one go-to style of boot you probably have in your wardrobe, it's the Chelsea boot. A firm fashion favorite, the boot's sleek look and versatility make it a must-have in any closet. "A Chelsea boot is a great ankle boot that tends to have a more casual design," stylist Sarah Nearis explained to Marie Claire. "These are great everyday boots and usually have elastic panels, which make them easy to take on and off."
However, you may be unsure about which jean style to pair with your boots. VIP Nordstrom stylist Sandy Koszarek shared with Who What Wear that she recommends wearing Chelsea boots with wide or straight-leg jeans. As Chelsea boots have a slimmer, more refined look than the edgy heavy boot trend we've been seeing lately, you'll probably want to opt for a jean cut that finishes slightly above the ankle. If you're not a fan of cropped jeans, a cut that hits just above or on the ankle bone will still show off your boots. However, if your boots feature a heel, you might want to opt for longer jeans, especially if you're a fan of wide-leg styles. 
Here are the styles of jeans that will look amazing with your Chelsea boots, flat or heeled.
Your Chelsea boots will look better than ever with these jeans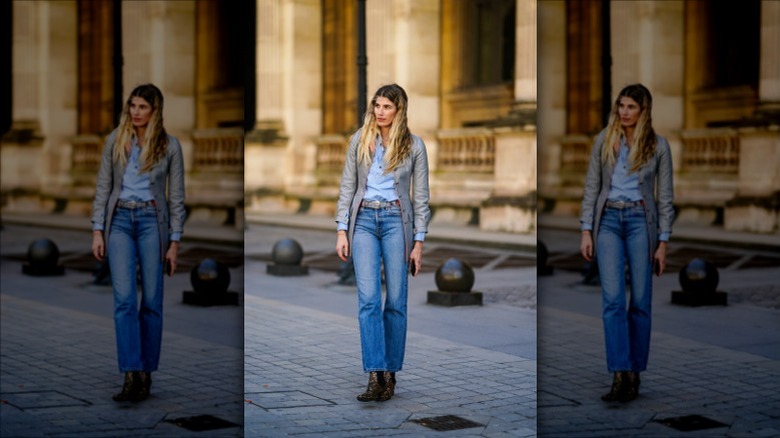 Edward Berthelot/Getty Images
Flared jeans are huge right now, and they'll look great with Chelsea boots due to their wide-legged silhouette. These flared high-waist jeans from & Other Stories tick all the boxes. The high-waist style is super flattering, and we love the retro-inspired patch pocket detail at the front. Plus, the stretchy fit means you won't have to sacrifice comfort for looking cute. 
If you're not a flared jean fan, straight-leg jeans truly are the wardrobe staple you've been searching for. They can have a looser fit, but generally, when pairing them with Chelsea boots, you'll want to pick ones with a tighter, slimmer fit and a subtle flare out at the leg. Levi's ribcage straight jeans are popular for a reason. The ankle-length cut, high rise, and rigid denim construction all make them the perfect choice for Chelsea boots. They're available in 15 colors and three leg lengths, so there's something for everyone.
Avoid these jean styles if you want a polished look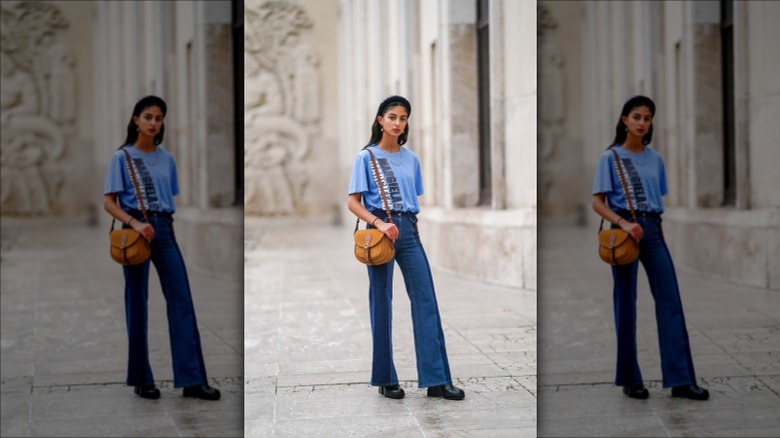 Edward Berthelot/Getty Images
Chelsea boots go with more styles than just straight and wide-leg jeans, but not all jeans will look great with the shoe style. One of these styles is skinny jeans. Trend-wise, skinny jeans have been on the way out for a while now. While you should continue to wear them if you like the style, the ultra-slim cut of skinny jeans means they don't look the best with already-slim Chelsea boots. This important contrast is also why the subtle volume of straight-leg jeans and the wider bottoms of flared jeans look so good with Chelsea boots.
Similar to straight-leg jeans are mom jeans. Again, you can find mom jeans with a super loose fit, but most have a slightly looser fit around the legs and then taper in at the bottom like barrel jeans do. Mom jeans are still trending for 2023, and their often cropped silhouette makes them another contender to wear with Chelsea boots.
No matter the outfit, any of the jean cuts above will take your Chelsea boot looks to the next level.