Reese Witherspoon Mixes Up Her Look Post-Divorce With Bangs
The need for a post-break-up makeover or style change seems to be universal, and apparently celebrities are no exception. At least this appears to be the case for Reese Witherspoon, who recently debuted a new pair of bangs via social media.
The fresh look follows the announcement of her divorce from Jim Toth, a talent agent and producer who was married to the actor and producer for nearly twelve years. The couple revealed their decision to call it quits in a now-deleted Instagram post shared by Unilad, writing that they are "moving forward with deep love, kindness, and mutual respect for everything we have created together."
Based on the couple's statement, the relationship appears to have ended amicably. Even so, we don't blame the "Legally Blonde" icon for opting for a different look to mark the next chapter of her life. In fact, we're big fans of the new, wispy hairstyle.
Witherspoon showed off wispy bangs on Instagram
Reese Witherspoon first debuted her bangs in a social media photo with fellow actresses Laura Dern and Diane Ladd, but you can really see them shine in her Instagram post celebrating Mother's day. The "Big Little Lies" star was pictured with her son Tennessee Toth at a brunch shared with her oldest son Deacon Phillipe and her mother Betty. She wears a pink dress from Draper James, the clothing line you didn't know she started, and gold hoop earrings, but the wispy bangs are the real star of the show.
A closer look at the "Hello Sunshine" founder's new do can be seen in a more recent photo, in which she poses next to a giant magnolia flower. Captioned "I love the South" with a white heart emoji, the Instagram post features Witherspoon in black spaghetti straps and gold earrings. Her wispy fringe is eye-brow length, drawing attention to her blue eyes.
While the star has sported bangs in the past, this is the first time in several years that she's opted for any fringe, adding a new stage in the evolution of Witherspoon's hair. Personally, we think it's one of her best looks yet.
The new look follows an amicable divorce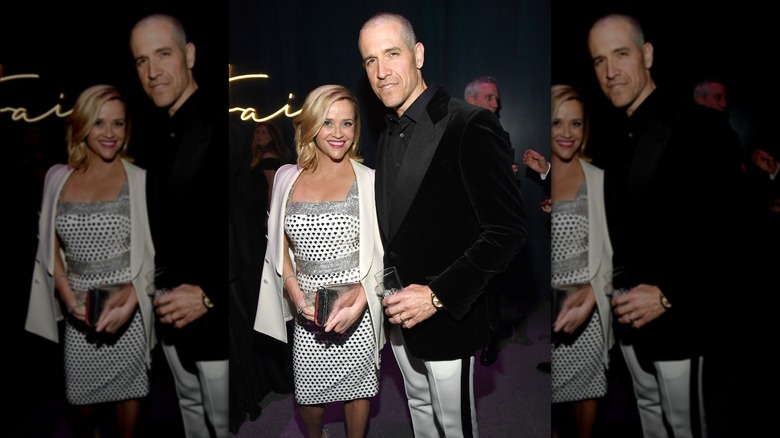 Kevin Mazur/VF20/Getty Images
As mentioned, Reese Witherspoon's new look comes in the wake of her break-up announcement, a post-divorce move that we can definitely sympathize with. Witherspoon and Jim Toth have chosen to keep the details of their divorce private, but they have shared that the end of their relationship was good-natured.
A source close to the couple told People, "They really are the best of friends and this is such an amicable decision. They are so committed to co-parenting together. They are invested in their whole family and making this as smooth as possible for everyone."
Toth and Witherspoon have one child together, a son named Tennessee Toth who was born in 2012. Witherspoon also has two children, Ava Phillippe and Deacon Phillippe, from her previous marriage to Ryan Phillippe. While we're sad to see the couple separate, we wish their entire family the best in the aftermath of the divorce.