Care For Your Hair The Right Away After A Dip In The Ocean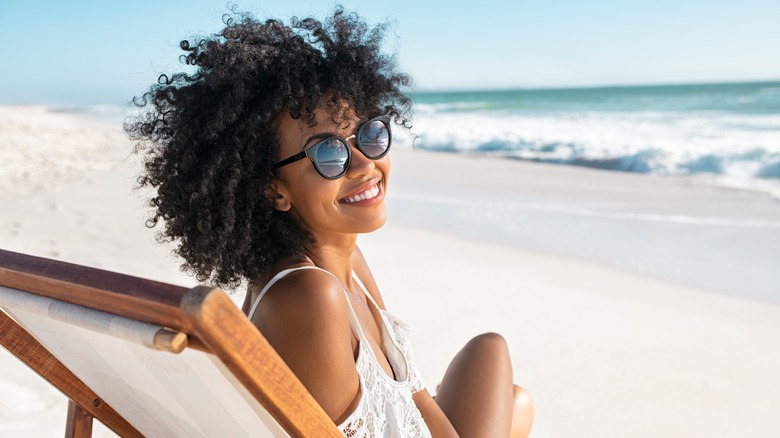 Ground Picture/Shutterstock
You're soaking up every moment of the sun, sand, and glorious waves that you can on your beach vacation. While your skin's got a warm bronze glow, your hair might be looking a little worse for the wear. Sure, the salt is great for the scalp, but combined with chlorine, it makes your tresses crunchy.
One option is to throw on a swim cap, but that would really kill the whole "beach hair don't care vibe" you've got going on. Plus, there's a reason they call them beach waves, right? Since you aren't willing to hide your locks from the harshness of the water, you're going to need to give them a little bit of extra TLC before and after swimming. 
First off, before diving into the waves, make sure to get your hair wet — saturated hair is less likely to soak up more chlorine than necessary. To make sure your hair comes out of the beach looking bouncy and radiant, you should follow a few tips from experts that hit the waves on the daily. There are also a few tips to ensure those dangles don't ruin your day and cause breakage you don't need.
Give your hair a nourishing oil soak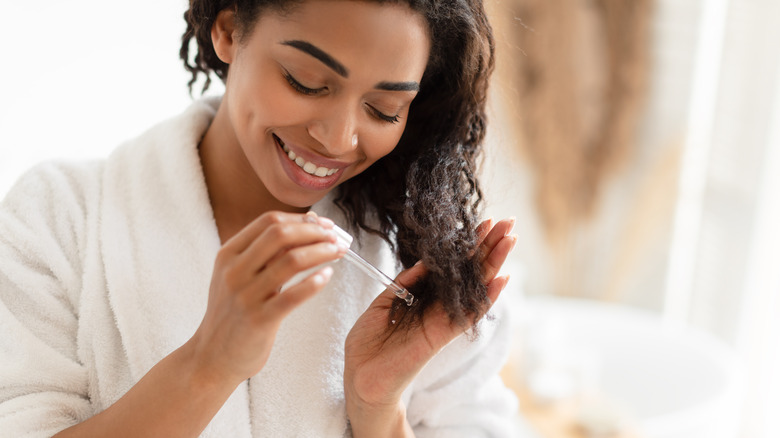 Prostock-studio/Shutterstock
A beautiful day at the ocean can feel fabulous for your mental health and skin, with the soothing sounds of the waves and all that vitamin D soaking into your pores. However, all that salt and chlorine isn't the perfect combination for your hair, so as soon as you can, rinse the sand and salt out of your hair with some plain water.
When it comes time to shower, rather than reaching for the shampoo, consider doing an oil mask first. Hawaiian native Oleema Miller told Vogue, "When my hair is feeling a bit dry, I do an hour-long coconut oil mask." So, you might want to consider adding coconut oil or olive oil treatment to your hair before washing. While you can leave it in for the whole hour, you might only need 15 minutes or so to replenish your hair, depending on how much fun you've had at the beach.
Another pro tip is to braid oil into your hair before you even head to the beach, giving your hair a bit of added protection before you hit the waves. Not only is the great for combating the chlorine in the water, but it also gives your hair a bit of protection from the harmful rays of the sun. Just remember to use natural oil on your hair that's not going to harm the sea life. With the moisture problem taken care of, it's time to think about shampooing.
Skip the sulfates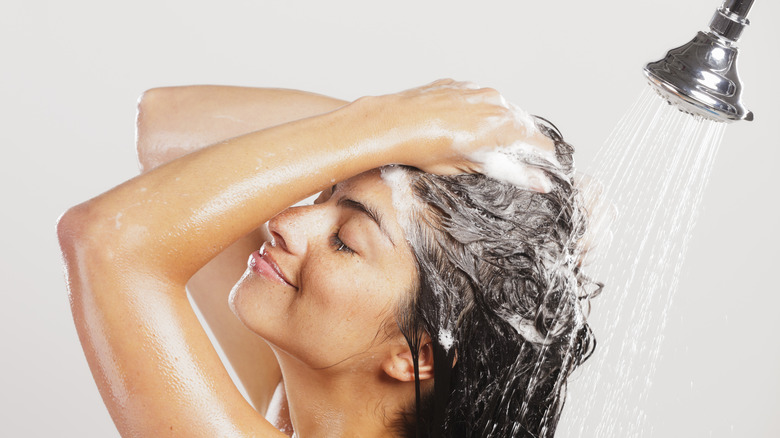 Richlegg/Getty Images
You made a lot of effort to keep your hair from drying and breaking with the pre-shower oil mask, so you don't want to negate all that hydrating goodness by using a shampoo with sulfates. Typical sulfate-laden shampoos will further exacerbate the dryness created by the sun and water, which is why they aren't recommended for those with dry or frizzy hair.
Instead, opt for a moisturizing shampoo clearly marked as sulfate and silicon free. To get the best shampoo, look for those that have added ingredients like vitamin B5, aloe vera, and oils that are known to add shine and luster back into your hair. Your scalp will get clean, and your hair will feel refreshed and ready to take on your next day of fun.
Additionally, if you aren't prone to greasy hair, you might even want to skip the shampooing step altogether and opt for a rinse and a deep condition. If your hair comes out a little too oily, try applying dry shampoo to help curb the issue and allow your hair to bask in all those much-needed hydrators and oils. Because when it comes to ocean-kissed hair, it can't get enough conditioning.
Use a moisturizing conditioner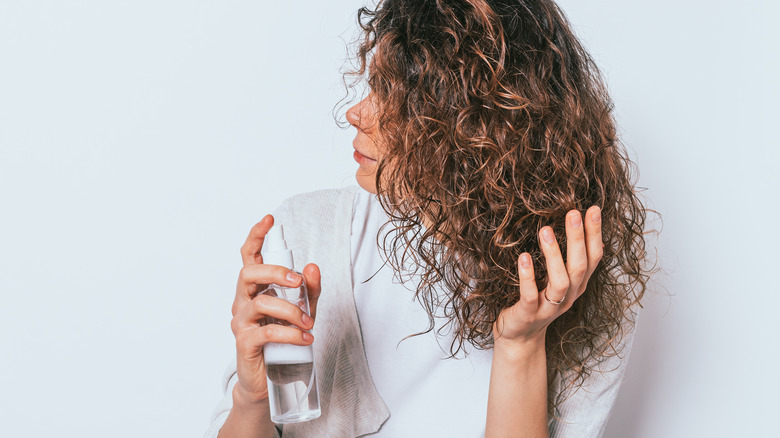 progressman/Shutterstock
More important than shampooing is conditioning. Once you've cleaned your hair with shampoo, it's vital to use a moisturizing conditioner to double down on hydrating your ocean-swept locks. Consider leaving your conditioner in for a few extra minutes rather than just rinsing it out immediately. For example, many of the experts on Vogue recommended three minutes or so for extra hydration.
While your standard conditioner might be enough for a few days in the water, repeated ocean dwellings can require additional hydrating conditioning treatments. Therefore, try adding a leave-in conditioner with sun protection on top of your regular conditioning regime. This will help to soothe flyaways and combat any remaining dryness the elements have caused.
It's also important to consider using a deep conditioner or mask once a week for your hair, especially for those with colored or treated hair. Packed with nourishing vitamins and hydration, the mask ensures your hair gets everything it needs to look its absolute best. Conditioning your hair for all it's worth will get you a few steps ahead when it comes time for detangling.
Detangle hair with care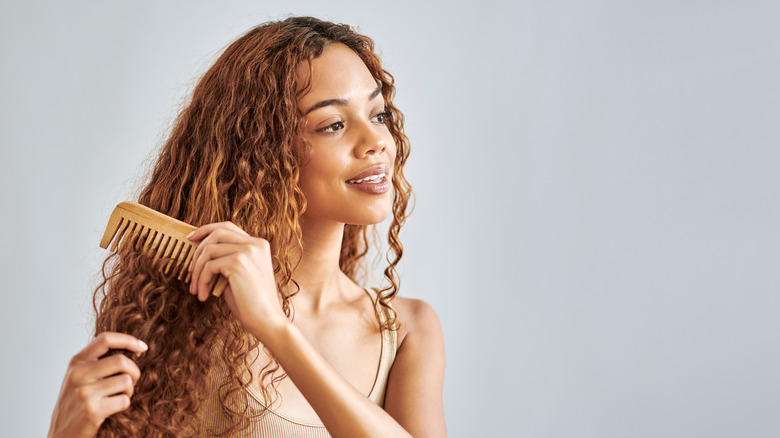 Delmaine Donson/Getty Images
You've given your hair an extra dose of conditioner through your leave-in treatment and detangler, but using the right tools is essential when attacking that ocean hairdo. The wind and the water make even the most nourished hair a matted mess, so you'll want to use a wide-tooth comb to avoid damage and breakage when combing out those snarls.
The key to detangling hair is to take it slow and steady by sectioning off your hair and working each part from the tip to the root. Make sure to spritz on more detangler as needed for those really stubborn areas. Once one section is complete, put it up in a clip and work through the next section, gently pulling all the hair free. Once you've detangled everything, give your hair a few strokes with a boar bristle brush to help evenly disperse the detangler through your follicles.
Additionally, the process of detangling your hair can start when you're working the conditioner through it in the shower. Use your fingers to help get the conditioner onto each different strand and work out the most prominent knots, which will make the detangling process much easier when you've squeezed all the water out and started in with the comb. Patience is vital to this process — you don't want to pull out your hair or break it off by being too harsh. With your locks free of tangles, it's time to talk about drying.
Break the heat cycle by air drying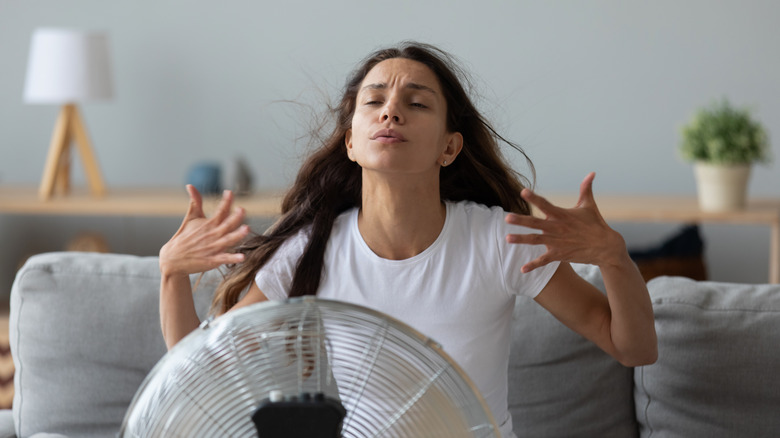 fizkes/Shutterstock
With those crashing waves and fun in the ocean water comes the heat of the sun basking down on your hair. So, your hair has seen its share of damaging dryness and heat during the day. You've done a lot of work to hydrate and smooth everything back out. Now it's time to just let it air dry rather than pumping more heat onto it.
Sure, air drying is going to take a bit more time, but it will be worth it at the end of the day. It can also be beneficial to lock even more moisture in by adding a hydrating mousse or gel to your hair — a spritz of a shine oil isn't going to hurt either. Not only will your tresses thank you for their spa-like treatment, but they will also absolutely glow as you step out for a little beach nightlife.