Why Taylor Swift Fans Aren't Happy About Her Romance With Matty Healy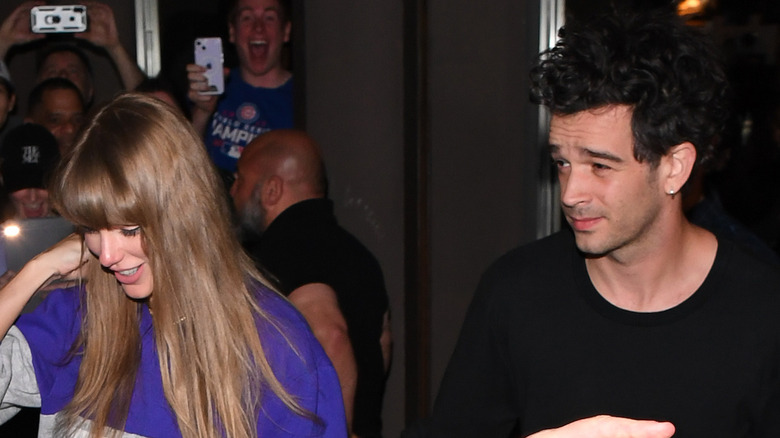 Robert Kamau/Getty Images
After dating for over six years, Taylor Swift and Joe Alwyn split in April 2023. The two met at the Met Gala in 2016 and instantly hit it off. However, after several years together, they were apparently just too different from each other in ways that made it unworkable for the couple to stay together. Although the songstress is quite popular for penning songs about her relationships, she remained tight-lipped about the actor, resulting in shocked reactions from fans when the breakup was announced.
Soon after the separation, Taylor rallied her girl squad back together, leading people to believe that she was revisiting her "Reputation" era. But in a startling twist, she was soon spotted out with Matty Healy, frontman of The 1975. If there's anything that "Daisy Jones and the Six," aka the fictionalized Fleetwood Mac, has taught us, it's that a relationship between two artists always serves as inspiration for the best album releases.
Although the relationship between the two is yet to be confirmed, fans were less than excited regarding the pairing after learning about all the controversies that Healy has been embroiled in.
Why is Matty Healy controversial?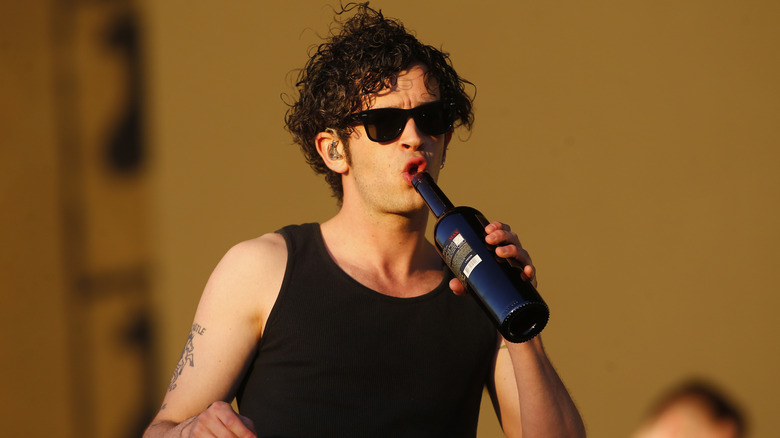 Marcelo Hernandez/Getty Images
Healy's band, The 1975, was formed back in 2002, but rose to prominence in 2013. In the past decade, the singer has fostered a strange, questionable image. On stage, he's been known to incite controversy, notably when he ate raw meat while stroking his crotch in the middle of a performance. While some onstage antics can be boiled down to seeking attention, Healy has also engaged in multiple acts of racism, making his behavior much more insidious.
In January 2023, Healy appeared to mimic a Nazi salute (via The Independent) while marching on stage. Not long after this antisemitic stunt, Healy appeared on "The Adam Friedland Show" podcast, where he joked about the negative treatment of Black women.
In the now-deleted episode, he discussed how he pleasured himself to videos on Ghetto Gaggers, a pornographic platform with depictions of Black women being harmed violently by white men. In one clip, he described the women in the pornography as being "brutalized" to the laughter of the hosts. Later in the episode, the trio broached the topic of up-and-coming rapper Ice Spice. While the hosts referred to Ice Spice by fat-shaming her and mocking Chinese and Indigenous people and accents, Healy laughed along, commenting "Yeah, that's what Ice Spice is like."
What are Taylor Swift fans saying about the controversy?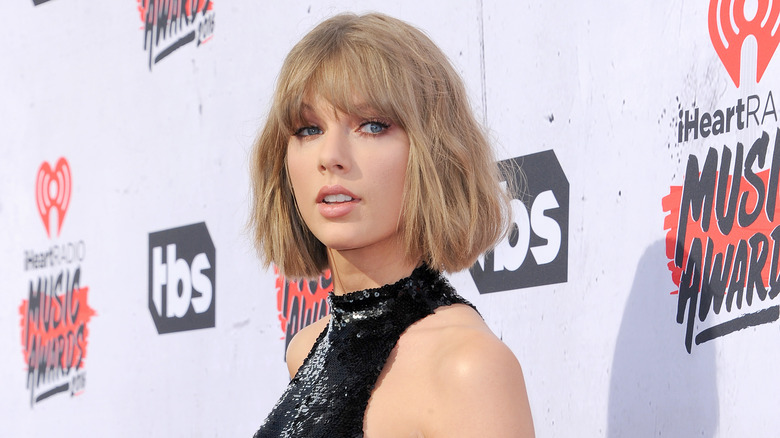 Tinseltown/Shutterstock
While Swift continues to remain silent, her fans have taken it upon themselves to say something. Dubbing it the #SpeakUpNow campaign, the open letter that's been circulating around Twitter pleads to Swift, "We urge you to reflect on the impact of your own and your associates' behavior."
In a move that many Taylor Swift fans are calling problematic, the "Midnight Rains" songstress has released a collaboration with Ice Spice, the young rapper whom Healy was heard denigrating. Although the 23-year-old had nothing but praise for Swift when referring to their collaboration on Swift's hit song "Karma," people are saying the verse is nothing more than a PR move.
One TikTok user said, "Putting a Black artist on your album ... to distract people from the fact that you're dating a racist white guy is like peak white feminism." With Swift's history of rarely speaking on politics and racism throughout her career, the internet doesn't seem to be surprised by this recent career move. While fans continue to get fed up by Swift's silence, it seems as if "Karma" may not be her boyfriend, after all.