Here's What To Know About Jennifer Aniston's Friendship With Cher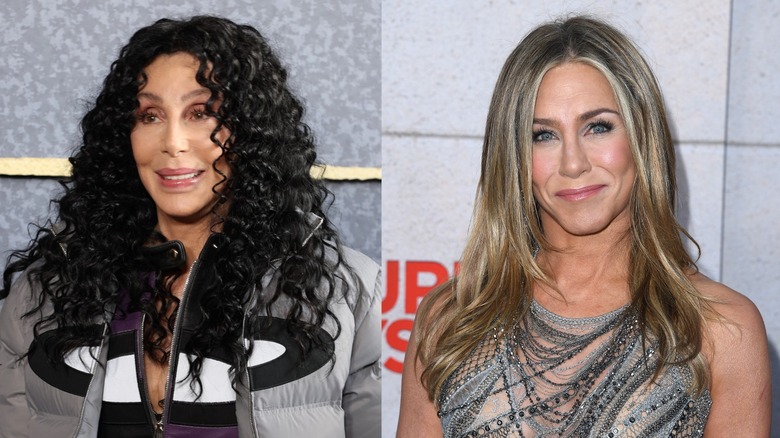 Steve Granitz & Robin L Marshall/Getty & undefined
Before Jennifer Aniston was an A-list actress with projects like "Friends" and "The Morning Show" on her resume, she was a hopeful teenager attending LaGuardia High School of Music & Art And Performing Arts in New York City. There, she just so happened to befriend fellow student Chaz Bono, the son of legendary singer and actress Cher, who was at that time one half of the legendary act Sonny & Cher.
Because of Aniston's coincidental friendship with Bono, she and Cher have actually known each other since the late 1970s. The "Believe" singer knew that Aniston was studying acting in school but could not have predicted who Aniston would eventually become. Both women have discussed their history together in interviews, and their stories are pretty hilarious. They each have their own accounts of Aniston hanging out at Cher's house which, according to the "Friends" star, had stunning windows and chiffon curtains. Not to mention, it was right next to the home of Rolling Stones guitarist Keith Richards. And that's just one story from their nearly 50-year friendship.
Cher says Aniston ate her out of house and home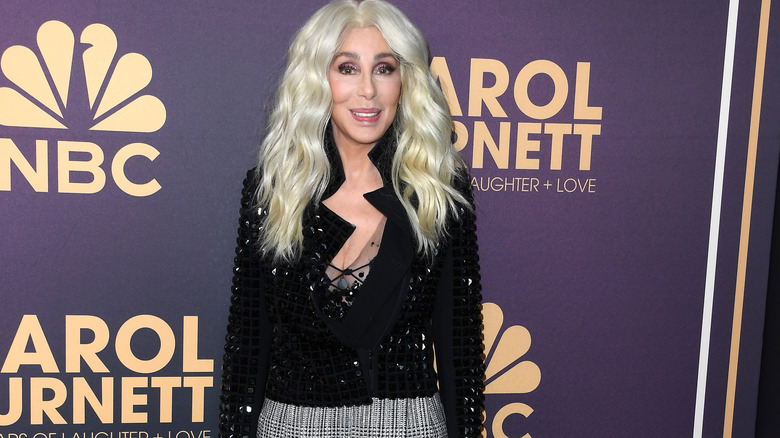 Steve Granitz/Getty Images
During a December 2022 appearance on "The Kelly Clarkson Show," Cher reminisced about the times Jennifer Aniston and her group of girls would come over. The "Moonlight" actress joked that Aniston would "eat [her] out of house and home." Cher remembered that the kids would always go to the local grocery store, Balducci's, and then "they would just show up and just chow down." According to the singer, Aniston was a particularly "big chow down-er."
Per People, Aniston referenced her old snacking habits on the "Live With Kelly and Ryan" show in March 2023. "Yes, she had food, from Belduccis, as she likes to say," the actress confirmed, responding to Cher's comments from a few months prior. "She would always go, 'Yeah, you ate me out of house and home.'" Aniston added, "And I was like, 'How was I the only one partaking in the cold cuts?'"
Aniston calls those times wild and wonderful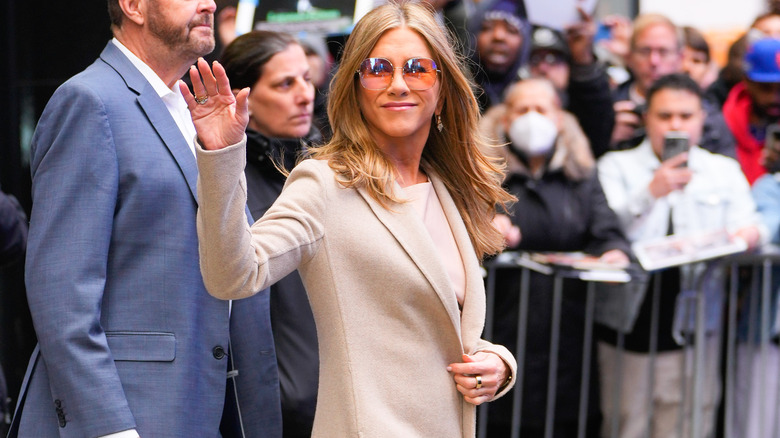 Gotham/Getty Images
Jennifer Aniston remembers her time at Cher's house fondly, and she reminisced about those days on "Live With Kelly and Ryan." "It was just wild and wonderful 'cause we didn't really know Cher," she admitted. "We were little kids in high school, though I guess you understand a little bit at that point." The actress added that it was "just fun to be able to hang out with Cher."
Host Kelly Ripa was curious whether or not Aniston ever got to see Cher's closet. The "Murder Mystery" star replied that she and her group of girls "might have taken a peek." Of course, Aniston ended up becoming a fashion icon herself. Vogue even labeled her "the poster girl for low-key '90s style" in May 2021, noting her trendy minimalist aesthetic. The two icons have yet to costar in a film, but they likely won't have to work too hard at having chemistry if they ever do.