Fashion Rules British Royals Don't Actually Have To Follow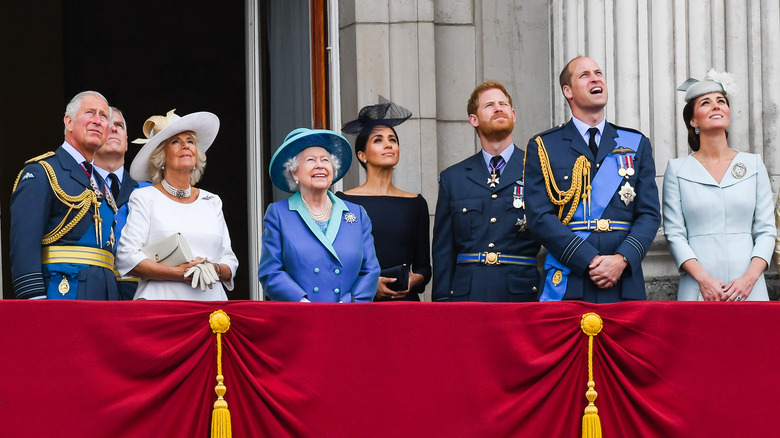 Anwar Hussein/Getty Images
The British Royal Family, undeniably one of the world's most revered families, owes much of its allure to its influential and unforgettable women. However, despite their popularity and influence, these royal ladies have not been immune to the overbearing scrutiny of fashion critics — an ordeal women in all social classes face. Surprisingly, the public's fascination doesn't lie in these women's remarkable contributions to society but in dissecting their fashion choices, constantly seeking deviations from protocol.
It is disheartening to witness how deeply ingrained the objectification of women remains, persisting even within the ranks of the most renowned family. Countless women in Britain and beyond regard these royal figures as role models, yet the relentless critique of their fashion choices is an unfortunate habit that can only be attributed to patriarchy. More astonishingly, numerous articles and blog posts asserting the royals' fashion blunders are simply inaccurate.
While fashion guidelines and protocols exist for formal and official events, they are not publicly documented or readily available. Instead, they are passed down through generations or communicated internally within the royal household. To determine what truly breaks protocol, one must rely on the expertise of royal insiders like Victoria Arbiter and Elizabeth Holmes, who possess invaluable knowledge about royal fashion customs. What these women have to say about fashion rules British royals don't actually have to follow will surprise you.
Nude pantyhose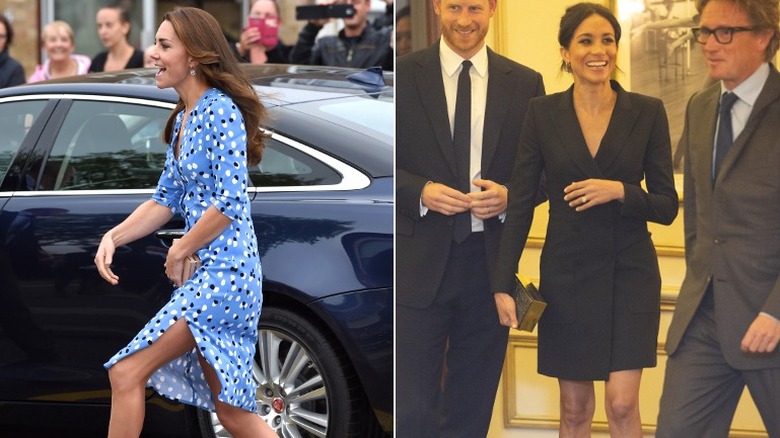 Wpa Pool/Getty & Karwai Tang/Getty Images
Traditionally, Queen Elizabeth II was known for wearing pantyhose or stockings as part of her royal attire. It has been a longstanding sartorial choice for her, so people assumed this was an unwritten royal rule. This is probably why the internet broke when Megan Markle donned outfits — like her stylish tuxedo dress — without pantyhoses. Allure reports that it was a consensus that the Duchess of Sussex broke protocol by wearing the gorgeous outfit to a charity performance of Hamilton hosted in London.
However, in her book "HRH: So Many Thoughts on Royal Style," journalist Elizabeth Holmes explains that pantyhose were the queen's personal style and not protocol (via Insider). She also explains that nude pantyhose are so common with royal women because they choose to emulate the queen's style out of respect.
What's more? Kate Middleton has also worn her fair share of outfits without pantyhose. One stunning example was when she and Prince William visited Stewards Academy for their Heads Together mental health campaign. Kate stunned in a dazzling blue dress with white and black polka dots and no pantyhose. So, it's safe to say that royals do not have to wear nude pantyhose — or any pantyhose at all.
Thigh-length dresses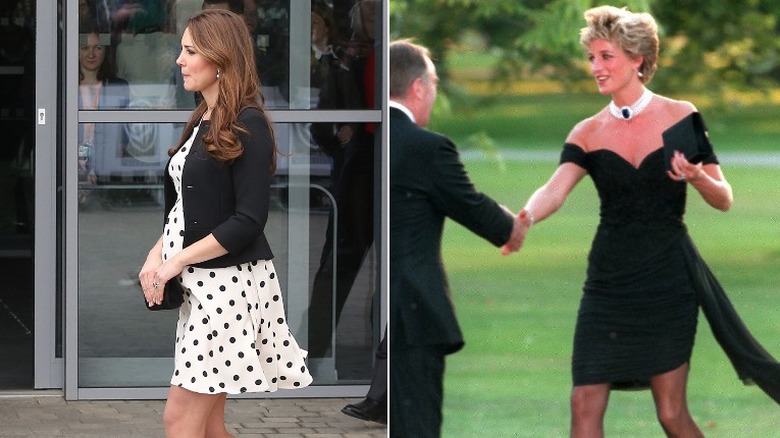 Anwar Hussein/Getty & Featureflash Photo Agency/Shutterstock
It's no secret that the slightest glimpse of the royal women's thighs sets gossip blogs abuzz. However, royals are indeed allowed to show a bit of thigh as long as it adheres to the rules of decency. Misleading reports claimed that Meghan Markle broke protocol with her thigh-length tuxedo dress, but in reality, other royal women have also embraced similar dress lengths.
In 2013, Kate Middleton attended the opening of Warner Bros. Studios in Leavesden, accompanied by Prince William and Harry. She looked stunning in a white dress adorned with black polka dots, which stopped at her thighs. Paired with a stylish black jacket, Kate, pregnant at the time, effortlessly stunned and even playfully posed with a "Harry Potter" wand. Similarly, Princess Diana, a beloved figure, was known for her thigh-baring dresses. One of her most iconic looks was a blue dress she wore to the Royal Albert Hall in 1997 for a presentation of "Swan Lake." The revenge dress — a Princess Diana outfit that meant way more than you realized — was also thigh-length.
Furthermore, a royal expert, Victoria Arbiter, explains in a Twitter post that there is "no royal fashion police," and that instances of royal women breaking protocol are more likely false than not. Royal women are also permitted to wear dresses that offer a decent glimpse of their cleavage. However, in such cases, they must carry a clutch purse, enabling them to discreetly cover their chests as they bend forward.
Thigh-high slits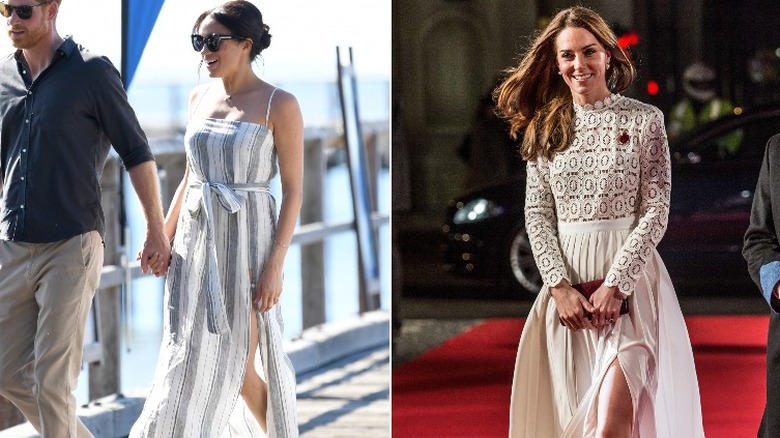 Karwai Tang & Wpa Pool/Getty
Thigh-high slits make a bold fashion statement for numerous reasons. They exude confidence, femininity, and a sense of daring. However, due to the royal family's emphasis on modesty, many assume that thigh-high slits are strictly off-limits. This belief gained traction when one of Meghan Markle's best fashion moments ever consisted of a blue and white dress with a thigh-high slit while visiting Fraser Island with Prince Harry. But in reality, this assumption is far from accurate.
The truth is that thigh-high slits can be both elegant and respectable, depending on their length and design. Meghan Markle's dress featured a mid-thigh slit, which was decent and comfortable, considering her pregnancy at the time. It's worth noting that the Duchess of Sussex isn't the only royal to embrace this style.
One of Princess Kate's most iconic and jaw-dropping looks featured a long white evening dress with a side slit that reached her midthigh. She confidently flaunted this outfit at the premiere of "A Street Cat Named Bob," proving that royal fashion codes don't prohibit decent thigh-high slits. In her book on royal fashion, author Holmes also emphasizes that there are no explicit rules against clothing with thigh-high slits. This is buttressed by the fact that Meghan Markle and Princess Kate have both elegantly demonstrated that these slits can be tastefully incorporated into royal attire while adhering to the principles of modesty.
Nail polish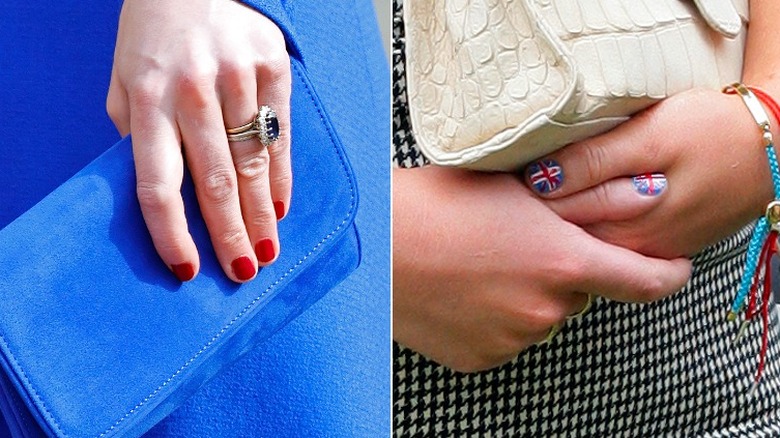 Max Mumby & Max Mumby/indigo/Getty
A surprising misconception surrounding British royal women is that they are only permitted to wear nude nail polish. This notion stems from the queen's preference for Essie's ballet slippers, a beautiful nude shade available for just $10. But it's important to note that this preference is specific to the queen and not an unwritten rule, as many other British royals have sported different nail colors.
An excellent example is Kate, who has repeatedly worn red nail polish. One notable instance was during Easter Sunday service in 2023 when she wore an electric blue outfit. Her bright red nails created a striking contrast against her ensemble and handbag. This outfit was so chic that it made Kate Middleton's mom decide to be her fashion look-alike at King Charles' coronation. Princess Eugenie is another royal known for embracing various nail colors and experimenting with nail art, such as the flag of England. Duchess Sophie of Edinburgh has also been spotted with dark red nails on more than one occasion.
Similarly, Meghan Markle opted for deep plum nails at the British Fashion Awards in 2018 during her pregnancy with Archie. While some reports suggest that etiquette experts like William Hanson disapprove of colored nails, we're willing to stick with the experienced women of the royal family on this. However, it's worth noting that despite trying out other colors, these royal ladies wore a nude pink shade on their wedding days.
Pantsuits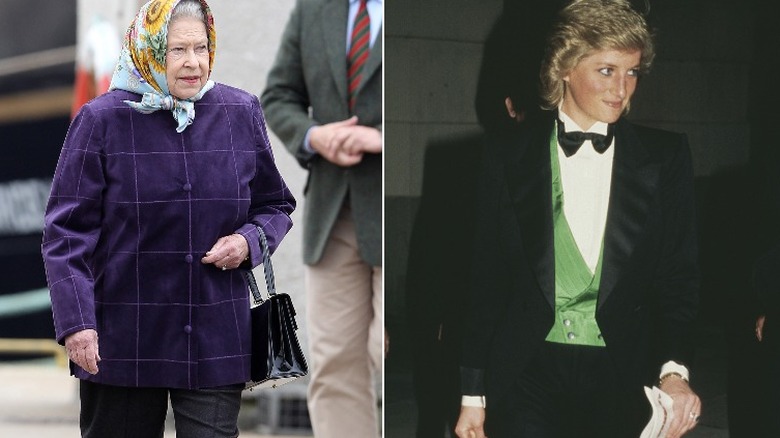 Chris Jackson & Princess Diana Archive/Getty
One of the most prevalent fashion myths surrounding the royal family is that women are prohibited from wearing pants or trouser suits. Not only is this perspective incredibly outdated, but it has also been proven false by numerous royal women, including Queen Elizabeth II herself. While the late monarch favored bright-colored dresses and skirts, she was photographed in pantsuits on multiple occasions. Although Queen Elizabeth primarily chose pantsuits for informal events, other royal family members have confidently sported chic pantsuits even for formal occasions.
Princess Diana, known for her fashion-forward choices, frequently embraced pantsuits. One of her iconic looks was the tuxedo and green vest ensemble she wore to a Greyhound charity event at Wembley Stadium in 1988, showcasing her timeless sense of style. Meghan Markle, too, has elegantly worn pantsuits. In 2018, she donned a stunning Alexander McQueen suit with a tuxedo blouse at the Endeavour Fund Gala, exuding confidence and grace.
Similarly, Kate Middleton has also embraced pantsuits, with one of her most notable appearances being in a red two-piece ensemble she debuted at the launch of Shaping Us, a new initiative she launched earlier this year.