How King Charles Paid Tribute To Tina Turner (The Two Go Back Decades)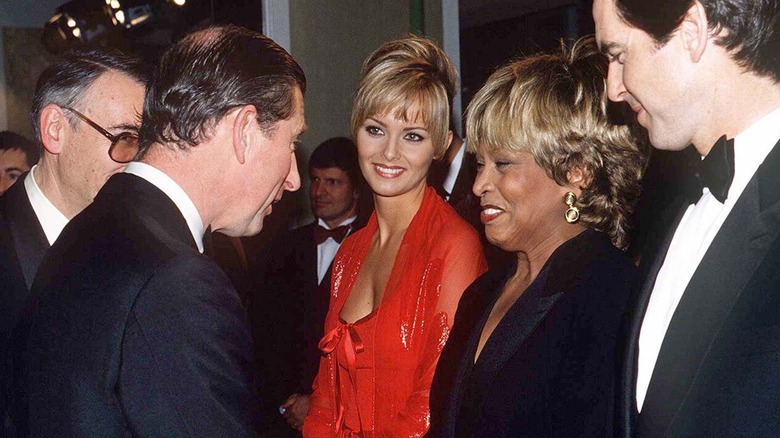 Tim Graham/Getty Images
The heartbreaking death of Tina Turner came as a shock to all her friends and fans. Although the iconic singer was 83 and had been in poor health, she was such a larger-than-life personality that nothing seemed to keep her down for long. It was an especially poignant loss for all those who grew up with Turner's music, including prominent members of the British royal family. 
As The Mirror reported, Prince William gave an interview to Apple Fitness+ two years before Turner's death in which he explained his fondness for her music. His mother, the late Princess Diana, used to play upbeat music when she drove him and brother Prince Harry to their boarding school. "And one of the songs I massively remember and has stuck with me all this time, and I still, to this day, still quite enjoy secretly, is Tina Turner's 'The Best' because sitting in the backseat, singing away, it felt like a real family moment," he recalled. 
Another Buckingham Palace fan was King Charles III. His Majesty is well known for his wide-ranging love of music, from classical pieces to torch songs and disco. In 1974, when he was still prince, he welcomed Turner and other A-list performers to The Prince's Trust All-Star Rock Concert. Fifteen years later, Turner joined another distinguished group of performers at the Royal Variety Charity, before Queen Elizabeth and Prince Philip. The king returned the favor with a memorable tribute. 
A King paid tribute to a Queen
King Charles soaked up every moment of his May 6 coronation, and he's barely slowed down since. The weeks following his crowning have been crammed with garden parties, guests at Buckingham Palace, awards presentations, and a tour of Northern Ireland. But when news of Tina Turner's death reached the palace, the new monarch wasn't too busy to honor the woman whose music inspired both him and his sons. 
On May 27, the Twitter account of Forces News, which covers the British armed forces, posted a video from that day's Changing of the Guard at Buckingham Palace. The daily ceremony, which takes place at 11:00 AM, is an elaborate ritual in which a new set of guardsmen trade places with the current troop as they conclude their day-long shift. A regimental band plays music during the exchange. Normally, the tunes are military in nature, but on this day, visitors heard something quite different. The Welsh Guards Band launched into Turner's hit "The Best."
Twitter followers agreed this was a fitting way for the King of England to pay tribute to the Queen of Rock 'n' Roll. Comments included "Awesome," "Brilliant," and "Very cool." One writer recalled the song being one of Prince William's favorites because of its association with Princess Diana, adding, "So wonderful!! Thank you, King Charles."