How Many Children Does Donald Trump Jr. Have?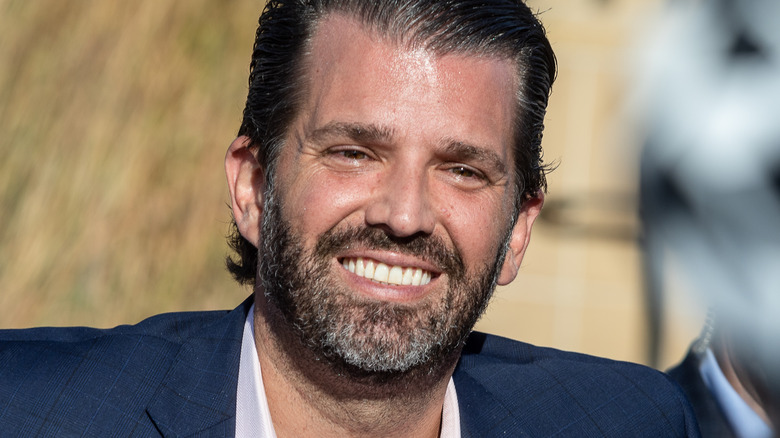 Chris Manning/Shutterstock
As the namesake and oldest child of former president Donald Trump and his first wife, Ivana Trump, Donald Trump Jr. is undoubtedly primarily associated with his father as a son, political activist, and businessman. However, Trump Jr. hasn't only carried the weight of his father's highly ubiquitous family name. He's continued its legacy with a large family of his own. 
In fact, Trump Jr. has wasted no time in his endeavors to forge his own legacy. He now has the same number of children as his father, despite being 31 years his junior. But unlike Trump, whose children range in age across a span of nearly 30 years, Trump Jr.'s children share a much closer age range. Trump Jr. has also continued a family trend of handing down pomp-filled namesakes from both his father's and wife's sides. 
Between the time of his Floridian wedding to model Vanessa Kay Haydon to their subsequent divorce 12 years later, Trump Jr. has grown a sizable family in his own right to carry on his — and the Trump family's — legacy.
A family born at Mar-a-Lago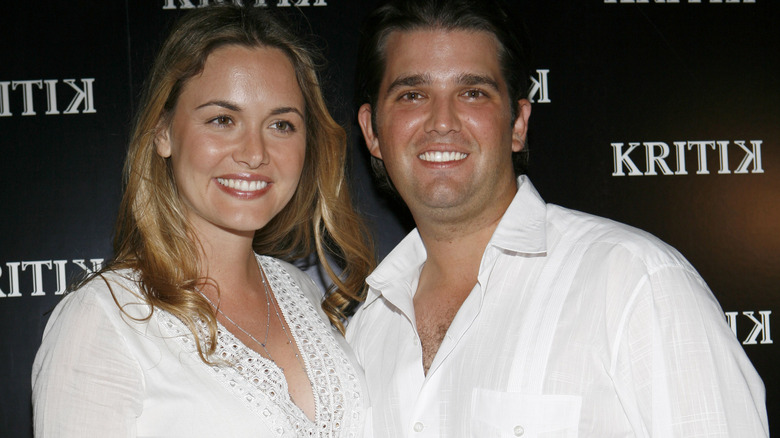 Rodrigo Varela/Getty Images
Trump Jr. would meet the future mother of his children at the behest of his father, per GQ. Trump reportedly suggested his son meet (and, more forwardly, marry) Vanessa Haydon after seeing her at a fashion event. The model later recounted to The New York Times that the business magnate actually introduced his son to her more than once. Still, the awkward social flub wasn't enough to deter the two from sparking a relationship. 
Two years later, the couple married in Palm Beach, Florida, at Mar-a-Lago, Trump's beloved and lavish beach resort. Ever the influential father-in-law, the wedding's officiant was Trump's sister, Judge Maryanne Trump Barry (via the couple's wedding announcement in The New York Times). Both the bride and groom were 27 years old at the time. 
The affluent couple was married for two years before the birth of their first child, a daughter named Kai Madison. According to the Danish Broadcasting Corporation, Trump Jr. and Haydon named their eldest after Haydon's maternal grandfather, Kai Ewans, a notable Danish jazz musician.
Donald Trump Jr.'s legacies
Following the birth of their first daughter, the couple would go on to have four more children. Their next child, a son, would bear his father and grandfather's name as Donald John III. Trump III was born in February 2009. Next, they had a son in October 2011 named Tristan Milos, whose middle name came from Ivana Trump's father and Tristan's great-grandfather (via US Magazine). 
Their youngest son, Spencer Frederick, was born a year later, in October 2012. Finally, the couple's last child, a daughter named Chloe Sophia, was born in June 2014. Four years after the family grew to a bustling party of five, the couple released a statement announcing their decision to separate. "We will always have tremendous respect for each other and our families," the statement read via The New York Times. "We have five beautiful children together and they remain our top priority." 
Trump Jr. and Haydon continue to be vocal about the importance of their identities as parents to their five children, with Trump Jr. including "dad" among other accolades in his Instagram bio. Haydon's Twitter bio reads, "I'm a Mother of 5 amazing kids. My children are my life!" Trump Jr. is now engaged to TV news personality Kimberly Guilfoyle.