Diamond Expert Weighs In On Kimberly Guilfoyle's Engagement Ring From Donald Trump Jr. - Exclusive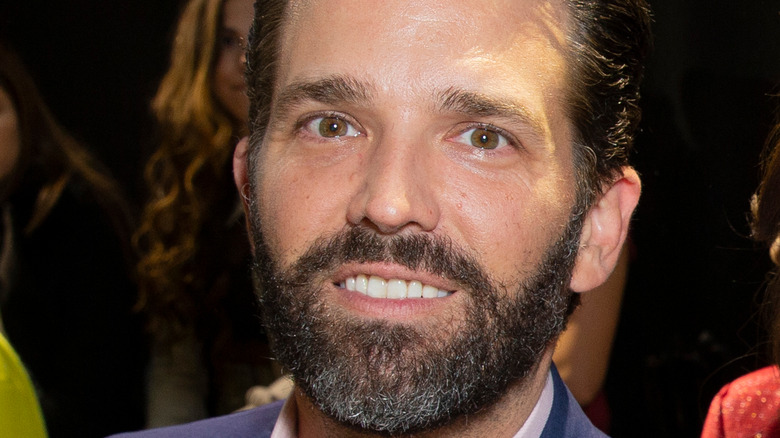 lev radin/Shutterstock
New Year's Eve 2021 saw many members of the Trump family celebrating in style at the former president's Mar-a-Lago resort. However, as The Daily Mail reported, the highlight of the night was the revelation that Donald Trump Jr. and Kimberly Guilfoyle are engaged. The British tabloid revealed that the couple had actually been engaged since December 2020, but chose to make the news official a year later. Guilfoyle posted an Instagram message confirming her engagement to Don Jr. the next day, which read, "I can't wait to spend the rest of my life with you."
The couple has been dating for the last four years, but have known each other much longer. Guilfoyle was previously married to Gavin Newsom, the governor of California, and to the furniture heir, Eric Villency. She was friendly with Don Jr.'s first wife, Vanessa, and the two are still cordial today (via South China Morning Post). The couple hasn't yet announced their wedding date or location, but a Mar-a-Lago reception would certainly seem logical, and they would have to choose a date that didn't conflict with any political rallies. The father of the groom is, after all, said to be planning another run for president in 2024. 
Sources told the Daily Mail that Guilfoyle has been showing her ring openly to friends, but only at the New Year's bash did she let her left hand show for photos. So, what do we know about the sparkler?
Kimberly Guilfoyle's engagement ring could have cost six figures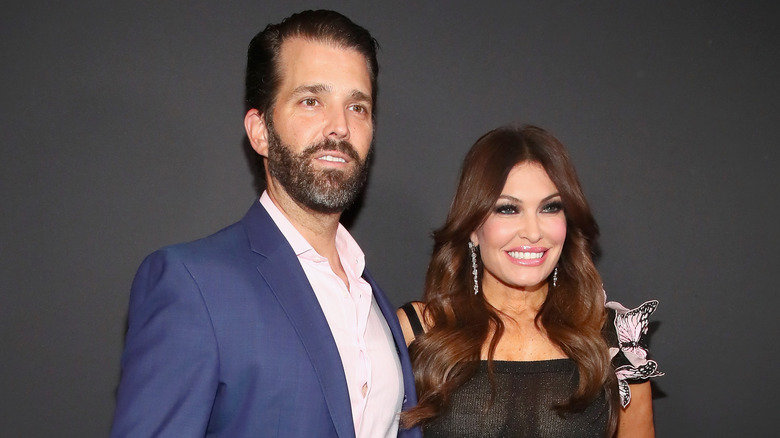 Astrid Stawiarz/Getty Images
The List spoke exclusively to Olivia Landau, a 4th-generation diamond expert, a G.I.A. Graduate Gemologist (GG), and the founder and CEO of The Clear Cut. She examined the photos of Kimberly Guilfoyle's engagement ring and offered her professional opinion on its style and cost.
Of the huge center diamond, Landau says, "It looks like an emerald cut, perhaps around 5 carats. It looks like there may be trapezoid side stones. This is a very classic design." Indeed, it's a far more simple style than the two-stone emerald and diamond ring that Machine Gun Kelly just gave to Megan Fox. According to Brides, an emerald-cut stone is rectangular in shape, with cropped corners that give it a softer look. It also has fewer facets (angles) than a round or cushion cut, so "clarity is of the utmost importance" to ensure that it sparkles. 
Landau also estimates that, depending on its quality, Guilfoyle's ring could have cost anywhere from $65,000 to $250,000 — but knowing the Trump family, it's not likely that Don Jr. went for a bargain.