Sylvester Stallone Gets Hilariously Overprotective When His Daughters Bring Home Dates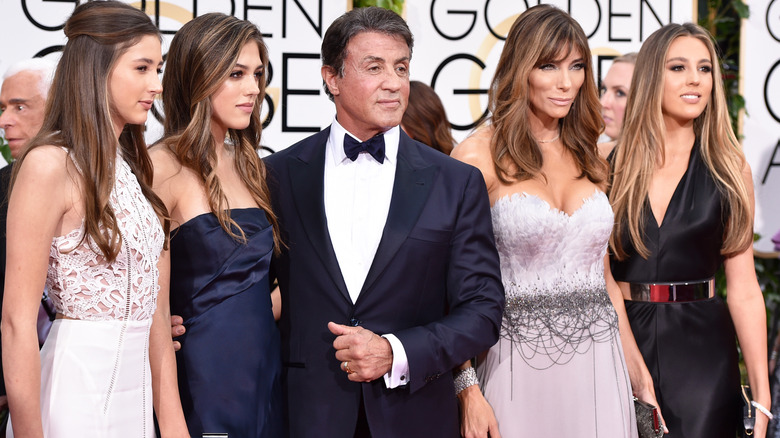 John Shearer/Getty Images
Sylvester Stallone has embodied characters that inspire courage and determination. However, beyond the big screen, Stallone's role as a father has been equally impactful and inspiring. Through the highs and lows of his personal life, Stallone has exemplified unwavering love, dedication, and resilience as a father. Despite his efforts, the actor admitted that he regrets being an absent father at some point.  However, he has since approached his role with a deep sense of responsibility and commitment. With the demands of being one of the biggest stars in Hollywood, Stallone makes sure he gives his children time. He values his children so much that he was so protective of them, especially his daughters.
The new docuseries "The Family Stallone" featuring Stallone and his family just premiered May 17, 2023, on Paramount+. During the first episode, the actor's daughters discussed what it's like having him as a father. The sisters revealed that the actor makes it extremely hard for them to explore the dating scene. His eldest daughter Sophia even said that he "becomes full-on Rambo with guns" when it comes to their dating life (per People).
Stallone's dramatic behavior guarding his daughters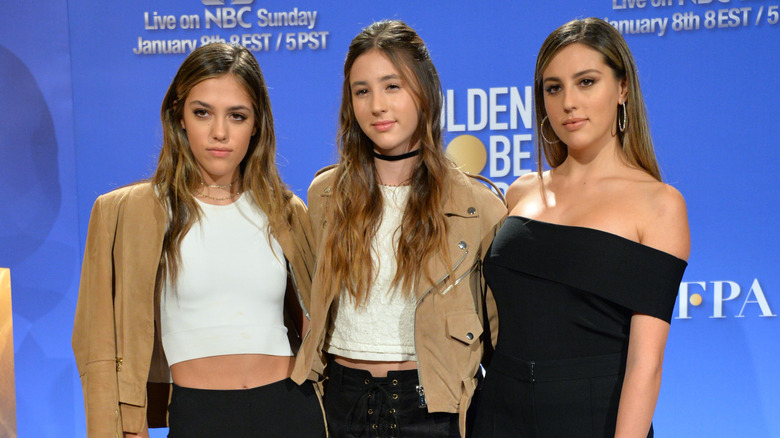 Featureflash Photo Agency/Shutterstock
Sylvester Stallone has two sons from his first marriage to Sasha Czack, unfortunately, his eldest, Sage, passed away due to a heart attack in 2012. He also shares three daughters with his wife Jennifer Flavin — Sophia, Sistine, and Scarlet. With three daughters, he's very protective, so much so that Stallone even wants to keep celebrities away from his daughters, refusing to introduce celebrities to them.
That's not the only thing he does to protect his daughters. Sistine details what it's like dating as a child of the action star. She told People, "Dating when we have the dad that we do is rough." She then recalled a hilarious moment when she had her first kiss, adding, "The first time a boy came over to meet my parents he's going in for the first kiss and I was so nervous but I was excited, and he looks up at the balcony and he goes, 'Oh my God. What is that? And it was my dad standing on the second floor balcony backlight so just see a silhouette."
It seems like Stallone couldn't help but bring in the theatrics on-screen to his daily life. Sistine also noted that her father is "so cinematic in the most unnecessary [ways]. And let me tell you this kid jumped in the car, went down the driveway — never saw him again."
Stallone tells daughters not to get married until they're 45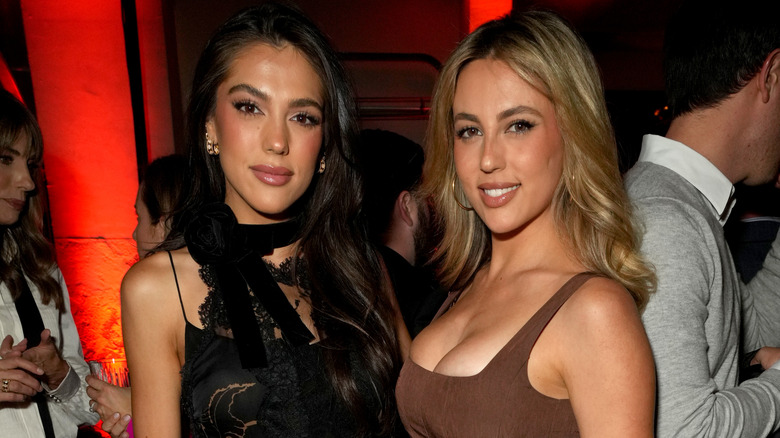 Kevin Mazur/Getty Images
In one of the episodes of Sistine and Sophia Stallone's UNWAXED podcast, the sisters interviewed their dad, Sylvester Stallone. While they were talking about love and dating, his daughters revealed what Sylvester did to prevent them from marrying young, explaining, "When we were growing up, you would always tell us as young girls that we weren't allowed to get married until we were 45. And I honestly believed that."
For Stallone, there's nothing wrong with instilling in his daughters not to get married young. The actor explained that it's a pretty reasonable age. While it may seem like a pain having to guard three girls, Stallone said he loved being their dad. He explained, "Listen, I love my girls. They're almost trouble free, they've been nothing but a pleasure. They've inherited luckily from their mother, their morality and their sense of humor."
In addition to having an extremely difficult dating life, Sistine also shared the discipline they had to endure as Stallone's daughters. The actor apparently raised them as "macho men." Growing up, they had to wake up at 6 a.m. and do push-ups, sit-ups, and other military training of some sort. As middle schoolers, the sisters already had four-pack abs. Sistine further added she liked that they were raised differently and no one from her girlfriends would probably be able to relate to that.