Catherine Zeta-Jones 'Hates' Sharing A Birthday With Husband Michael Douglas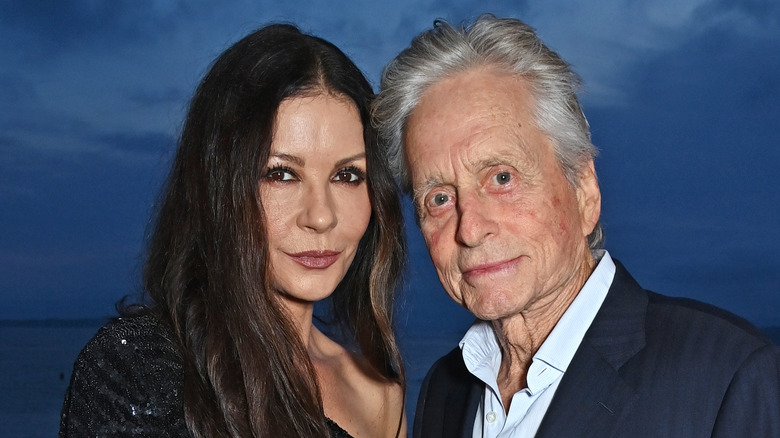 David M. Benett/Getty Images
Michael Douglas and Catherine Zeta-Jones might have become one of the most successful age-gap relationships among Hollywood's stars when the pair first got together in the late '90s. But according to Douglas, their birthdays have become a bit of a sore spot for Zeta-Jones — and no, it's not the 25-year age difference that's starting to rub her the wrong way. 
Douglas was first taken by Zeta-Jones after watching her in "The Mask of Zorro." After asking his assistant to set up a meeting with Zeta-Jones, Douglas wasted no time in laying his cards on the table, telling her, "I'm going to be the father of your children," following their first date. "I thought I had completely blown it," Douglas recalled in a 2020 Instagram post. 
As it turns out, it wasn't just a forward pass — it was the truth. In 2000, the couple welcomed their first son, Dylan Michael, followed by a daughter, Carys Zeta, in 2003. A decades-long partnership like theirs is bound to have its fair share of ups and downs, and in a 2018 interview, Douglas revealed a new sweet-turned-sour tidbit of their relationship: sharing a birthday.
Bonding over a shared birthday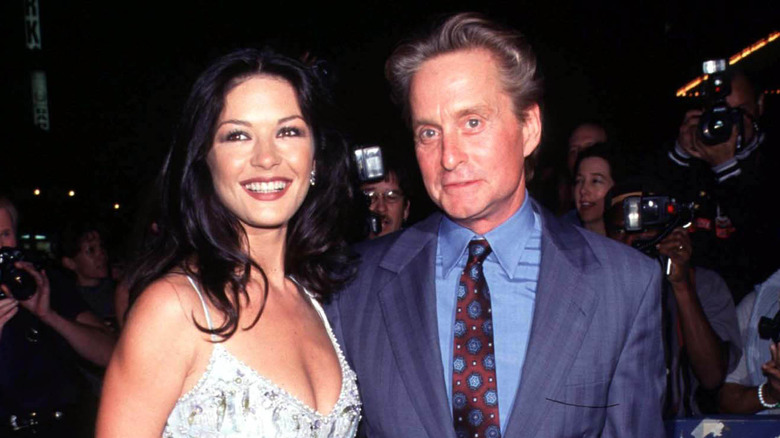 Evan Agostini/Getty Images
The iconic Hollywood couple married in November 2000, which BBC Home described as a nearly $2 million affair at the Plaza Hotel in New York City. And while their 25-year age gap might have turned some heads, it's not the only remarkable thing about the pair's birthdays. Douglas and Zeta-Jones were born on September 25, 1944, and 1969, respectively.
In an appearance on "LIVE with Kelly and Ryan" (via Youtube), Douglas said, "It sounded very romantic at the time when we first got together. That was the closer — the same birthday." Indeed, when you're an A-list power couple, sharing a birthday can have plenty of perks. 
In 2022, Zeta-Jones shared an Instagram video of the pair flying to their lavish birthday getaway in a private helicopter. "All smiles as we start our birthdays!" The "Wednesday" actress wrote in the caption. "Let the games begin!" But of course, even the best games can get tiresome after a while.
Two aren't always better than one
According to Douglas, sharing a birthday hasn't remained the romantic fun fact about their relationship that it once was. "Now she hates it," he said to Ripa and Seacrest with a smile. "She wants her own day, her own time." And who can blame her? Sharing a birthday is tough, celeb status or not. 
Luckily, the couple seems to have made the most out of their two-for-one festivities since he first shared her pet peeve with the "LWKAR" hosts. Two days after Zeta-Jones posted her private helicopter video, Douglas shared a photo on Instagram of the duo blowing out candles on a massive, three-tier chocolate cake decked with multi-colored flowers. 
And if private getaways and towering layers of birthday cake aren't enough to soothe any joint birthday woes, perhaps the couple can start splitting up birthday celebrations across their several homes and apartments in the U.S. and U.K. — maybe their new neighbors, King Charles and Queen Camilla, could even show up for the party.