The Royal Titles You Forgot Meghan Markle Still Holds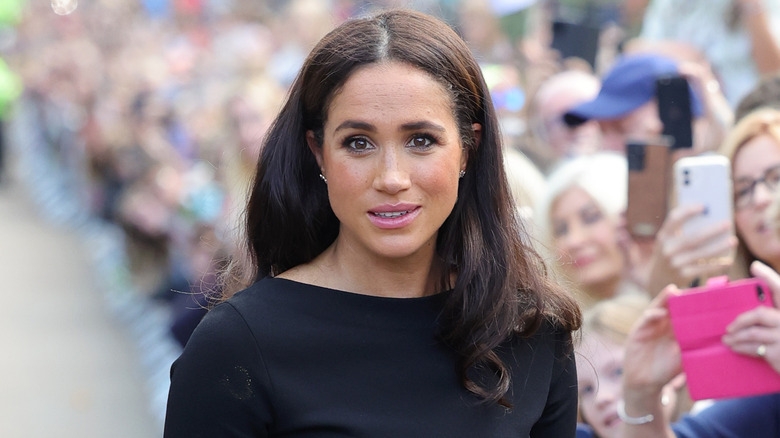 Chris Jackson/Getty Images
Meghan Markle officially holds three royal titles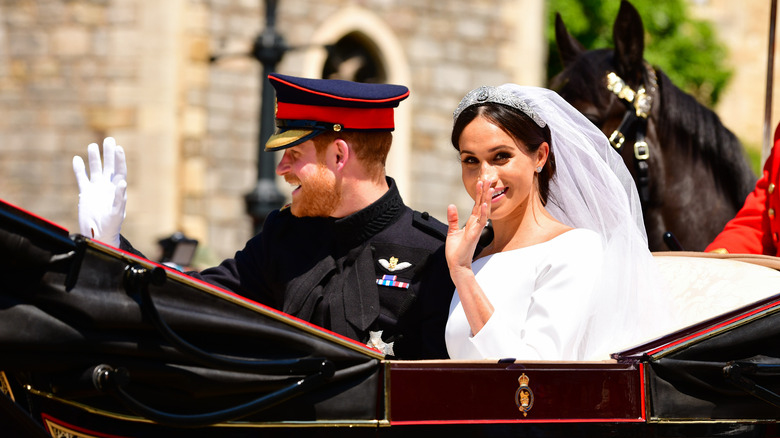 James Devaney/Getty Images
You do not have to be a full-time royal to retain royal titles, it seems. According to Buckingham Palace's official biography of the Duchess of Sussex, Meghan Markle has three official titles: Duchess of Sussex (obviously), Countess of Dumbarton, and Baroness Kilkeel. For the average fan of the monarchy, those titles may not carry much weight. However, these titles — referred to as "peerage"— were created by the monarchy and distinguished the nobility from commoners.
As a commoner prior to her marriage to Prince Harry, Meghan Markle obtained these distinctions by marrying into the royal family. Compare that to Princess Diana, who came from a family of nobility since her father was the Earl of Sunderland. While not as big of a deal now as it was in previous centuries, the concept of "good breeding" — referring to being born into a noble family — often crept into conversations concerning royal matches, which it seemed to do with the Duke and Duchess of Sussex. And even though Meghan Markle is no longer an official member of the senior royal family and does not have any official duties, she has maintained those three royal titles. 
Why didn't Meghan lose her royal titles?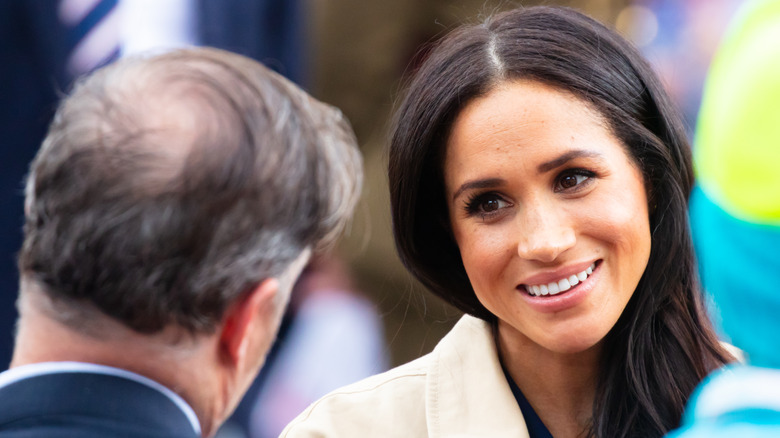 FiledIMAGE/Shutterstock
Meghan Markle and Prince Harry would have to renounce their royal titles in order to lose them, according to Today. However, since they are no longer senior members of the royal family, they do not get to be addressed by the honorific of HRH, meaning "His/Her Royal Highness," as noted by a Buckingham Palace official statement. Nonetheless, they continued to hold onto their titles as Duke and Duchess of Sussex, Count and Countess of Dumbarton, and Baron and Baroness Kilkeel until affirmatively renounced.
When asked why they held onto their titles, Prince Harry questioned what difference it would make (via 60 Minutes). Peerage is not a hot topic of conversation when it comes to news about the royal family; most people are not interested in nobility, instead keeping their attention focused on the monarchy. Though Meghan and Harry have retained their titles, they have made it clear that they do not want to work as royal members of the crown.