Who Is Joe Biden's Granddaughter, Natalie?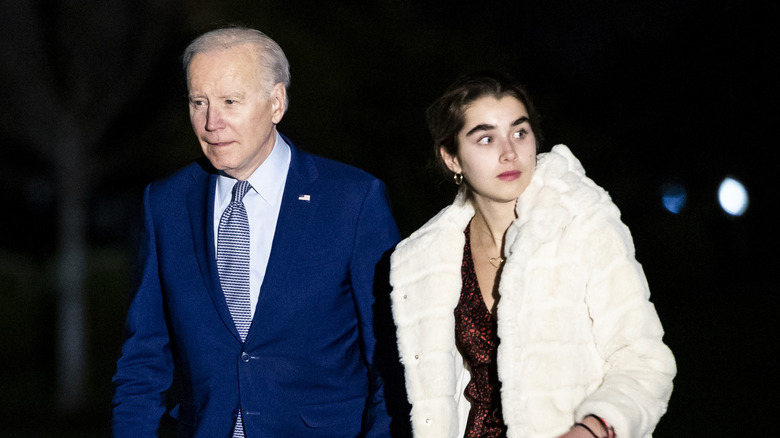 Anna Moneymaker/Getty Images
Even though he's pretty busy being Commander-In-Chief and running for reelection against Republican candidates like Governor Ron DeSantis, Nikki Haley, and Donald Trump, President Joe Biden still makes time for his grandchildren — and ice cream. "He's always eating ice cream," the President's granddaughter, Maisy Biden, told PBS News Hour. As Finnegan, Naomi, and Natalie Biden (the President's other granddaughters) explain, he likes the classics: half chocolate and half vanilla. Usually, he eats it behind the freezer door so that their grandmother, First Lady Dr. Jill Biden, can't see.
Especially during the early days of the pandemic, the 46th President made sure to check in with his five (now seven) grandchildren daily via text or call. "Beau's children [Natalie and Robert Hunter II] live a mile as the crow flies from our home [in Wilmington, DE] and they come walking through the woods," he revealed to Anderson Cooper in a CNN Town Hall conversation, adding, "We sit on our back porch and they sit out on the lawn with two chairs there, and we talk about everything that is going on in their day."
The President has even included his grandchildren on the campaign trail. In 2020, they read the Pledge of Allegiance (virtually) at the Democratic National Convention. The President also accompanied Natalie, the eldest child of the late Beau Biden, to the polls when she turned 18. Here's what you need to know about Joe Biden's grandchild.
Natalie Biden has appeared on TikTok with her grandfather
Natalie Biden was just four years old when her grandfather entered The White House in 2008 alongside President Obama. In the 15 years since, she and her family have faced their share of public scrutiny, especially after Joe Biden announced his 2020 presidential campaign. In November 2022, Natalie Biden documented her first trip to the polls alongside her "Pop" on TikTok. "I'm so excited for her. It's the first time, the first vote. God love her," said the President. "Everyone's voices matter no matter what our age is," added Natalie. Of course, the pair celebrated the occasion with a milkshake.
Despite growing up in the limelight, Natalie maintains a relatively private life, enjoying vacations with her cousins and grandparents. "Thanksgiving I think is all of our favorite holiday[s]," she shared in an interview with Jenna Bush Hager on The Today Show, explaining that the family will typically travel to Nantucket where she, Maisy Biden, Joe Biden, her uncle, and her late father, Beau, would commit to an annual Polar Bear Plunge. Beau Biden sadly passed away from brain cancer in 2015. In fall 2023, Natalie will begin her freshman year at the University of Pennsylvania, his alma mater.
Although Natalie once had a public TikTok with 1.5 million followers, it's now been set to private. "Whenever I talk about my TikTok [the President] gets so scared," she told Bush Hager — the president worries about his family's safety. Fortunately, they all have secret service members looking out for them.
Joe Biden took cues from Gen-Z to develop his own social media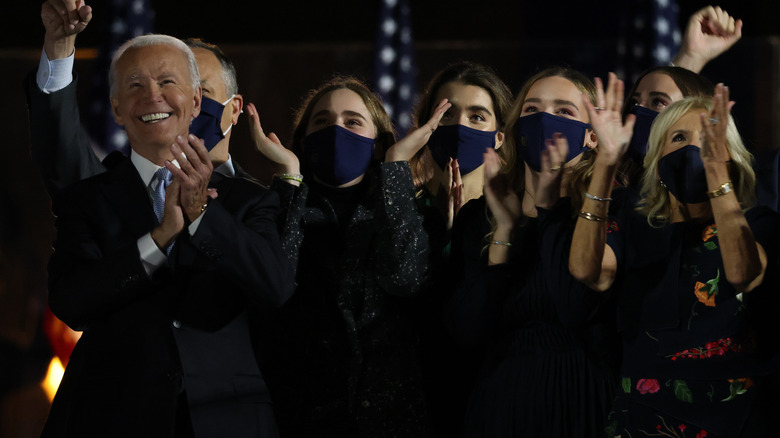 Win Mcnamee/Getty Images
Although Joe Biden isn't familiar TikTok like his Gen-Z grandchildren, he does have over 37 million followers on Twitter. In a May 2023 post, he poked fun at Florida Governor Ron DeSantis' glitch-filled campaign announcement. "This link works" he wrote, sharing a page where supporters could donate to his 2024 campaign. President Biden and his team also run an active Instagram.
According to Natalie Biden, her grandfather was concerned about the attention that comes with running for public office. "He was worried about how it would affect his kids [and grandkids]," she told PBS. Knowing this, Naomi Biden, the eldest of the grandchildren, called a family meeting. They told their "Pop" to go for it. "We just knew that he had to run and we weren't gonna take no as an answer."
As President Biden prepares for another election year in 2024, his grandchildren continue to show their public support. Naomi Biden regularly retweets her grandfather on Twitter and thanked him for hosting her wedding at The White House. The Commander in Chief's youngest grandchild, Beau Jr., attended his grandfather's 2021 inauguration at just one year old. Only time will tell how this election year impacts the Bidens' family life, but whatever the case, they'll have ice cream to get them through the hard days.