Jim Bob And Michelle Duggar's Parents Were Disapproving Of Their Lifestyle (They Didn't Hide It Either)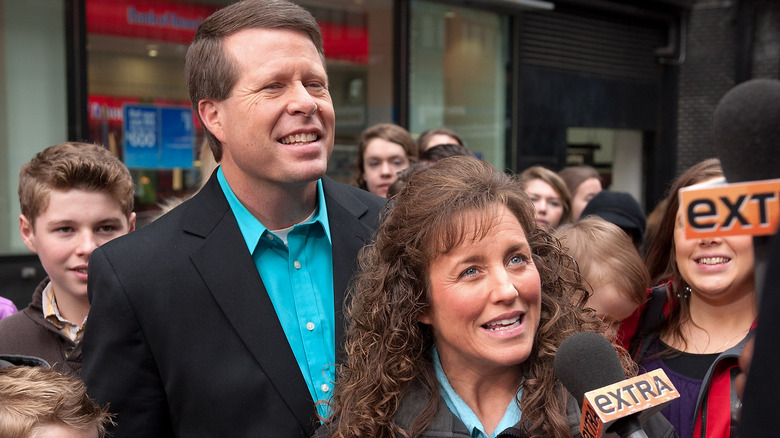 D Dipasupil/Getty Images
The following article includes references to sexual abuse of children.
The Duggar family is a reality TV phenomenon that first seized the public imagination when a one-hour special, "14 Children and Pregnant Again," aired on the Discovery Health channel back in 2004. Soon, TLC began building an evolving series of shows, beginning in 2008 with "17 Kids and Counting," all featuring Jim Bob and Michelle Duggar and their growing Christian family. For its many fans — each episode captured at least a couple million viewers, per Variety — the Duggars embodied an aspirational lifestyle upholding righteous morals, clean living, and family values.
Yet a new docuseries, "Shiny Happy People: Duggar Family Secrets," digs beneath that wholesome exterior to reveal abuses and a possible cause for them. Olivia Crist, an executive producer on the series, believes The Institute in Basic Life Principles (IBLP), a "non-denominational Christian organization with a focus on affirming God's Word and its principles," negatively impacted the family. As she told People, "There are so many thousands of families that have been hurt by this and have not had a voice." 
The docuseries includes interviews with former members who detail the organization's insidious practices. "The takeaway is really hearing the survivors, hearing what they've been through. And then, I think also for people still in, trapped in a fundamentalist or IBLP group, that hopefully this is a chance for them to say, 'Hey, it is possible to get out and that they're not alone,'" said Crist. Along with the survivors, Jill Duggar Dillard is risking everything to tell her truth.
Jill Duggar Dillard revealed her grandparents' stance
Jill Duggar Dillard is no stranger to sharing the reality of her fundamentalist upbringing. In 2015, reports surfaced alleging that Josh, the eldest Duggar son, had molested several girls as a teenager. Months later, Jill and her sister, Jessa Duggar Seewald, revealed in a "Kelly File" interview that their brother had abused them too (via Us Weekly). Jill ultimately forgave him. Maybe witnessing challenges to her parents' belief system helped her develop a good strength of character. 
She indicated in the first episode of the docuseries that her grandparents made their disapproval of her parents' lifestyle known. In particular, her grandparents disliked how the IBLP doctrine directly affected their family life. Jill shared, "My parents believed you should have as many kids as you're capable of having until your body tells you to stop. My grandparents, neither one on either side agreed with my parents having a million kids." 
Jill continued, "They were, like, concerned about my mom's health, and like they would always say 'Oh is this your last one?'" The docuseries could help provide some insight into the limits of organized religious groups for the Duggars and families like them. Executive producer Julia Willoughby Nason told People that she and her team "Hope our series encourages people to find their voice and to speak out and be brave and take the risk and have a new type of faith." 
The possible root of their family troubles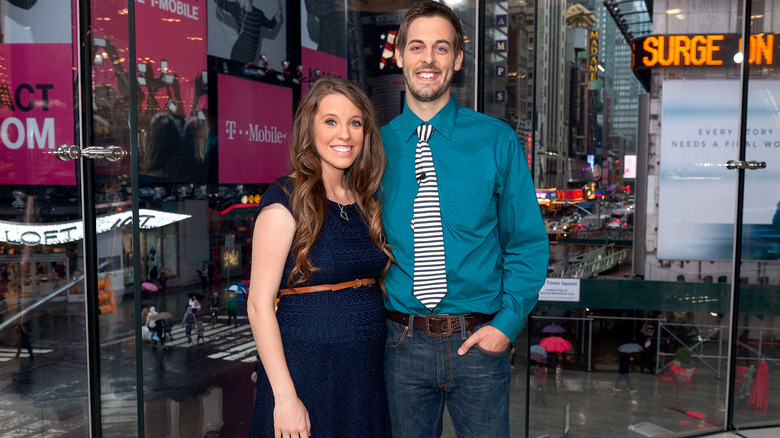 D Dipasupil/Getty Images
Jill Duggar Dillard's decision to speak out is noteworthy because she's arguably the most famous Duggar. A ratings-busting 4.4 million viewers tuned in to watch her wedding to husband Derick Dillard, in "19 Kids and Counting," per Deadline. Yet a role other than bride may explain her popularity. During the "Kelly File" interview, Jill admitted, "We didn't know about it until he went and confessed it to my parents and they shared [it] with us." Jessa Duggar Seewald elaborated: "He was a boy, a young boy in puberty, who was a little too curious about girls and that got him into trouble."  
Josh Duggar was later sentenced to 12 years in prison, according to U.S. Immigration and Customs Enforcement. Olivia Crist, who refers to IBLP as a cult, told People that the environment Josh grew up in "breeds abuse" since their doctrine lays out that "'men have all the control and women and children have to be submissive to that control' — I think that is just a recipe for absolute disaster." Given what Jill revealed about her grandparents, it stands to reason that Jim Bob and Michelle Duggar weren't going to be swayed from their faith even by fellow family members. 
If you or anyone you know has been a victim of sexual assault, help is available. Visit the Rape, Abuse & Incest National Network website or contact RAINN's National Helpline at 1-800-656-HOPE (4673).