Swap Your Dated High-Low Skirts Out For A Sophisticated Alternative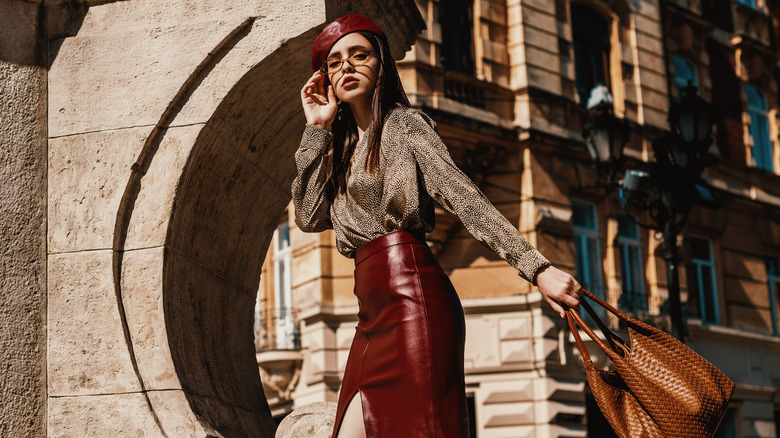 Victoria Chudinova/Shutterstock
We all remember when high-low skirts were all the rage. Then, as quickly as this asymmetrical garment broke into the fashion world, it disappeared and was deemed dated and overdone. Well, as we've come to realize as of late, the devil works hard, but the trend cycle works harder. As one skirt style goes out, another comes in just as quickly to fill its spot. Consequently, as we keep our high-low skirts packed in storage for their inevitable renaissance in the years to come, we have a welcome replacement for those occasions that the high-low skirt would have been the go-to pick.  
Believe it or not, the skirt that should be filling the high-low shaped hole in your wardrobe is the classic pencil skirt. We know what you're thinking: pencil skirts are exclusively for important business meetings and political hopefuls. Yet, high-end brands' Spring/Summer runways, like Miu Miu and Prada, Miu Miu, have proved that the pencil skirt of today is not what it used to be. So, if you're looking to spice up your wardrobe with a piece that you definitely didn't think would be adding any spice to anything, it's time to open your mind and broaden your closet horizons. The pencil skirt is back, and there are some key elements to making this look work in 2023. This is not your grandma's pencil skirt.
A sleek and simple star of the show
A pencil skirt may seem like a neutral staple, and it certainly can work well in that capacity. Yet these days, choosing a pencil skirt that adds a bit of a pop to your ensemble can be a perfectly unexpected way of adding detail to your look. Instead of thinking of a pencil skirt as a business casual suit piece, turn this staple on its head. Invest in a pencil skirt that can be the focal point of many different ensembles when styled with different pieces. A faux leather option like this one or something in a bold, eye-catching print like this unique midi skirt are great pieces to add to your wardrobe to mix and match to build many different easy-to-wear outfits. 
Pair your bold pencil skirt with anything from a crop top or tank to an oversized tucked-in tee or collared shirt. The styling options are much broader than you might think, and pairing this skirt style with unexpected tops and accessories can give it the fresh, updated vibe that we're all looking to impart on resurrected retro trends.
Simply styled
While a bold, unexpected style of pencil skirt can really help to bring this piece into 2023, that doesn't mean that you can't look modern and on-trend in a more neutral pencil skirt. Try something like this high-waisted black midi skirt or this funky Y2K cargo skirt. Instead of styling a unique outfit with one of these skirts as the centerpiece, challenge yourself to swap in the skirt for your go-to pair of jeans or wide-leg pants. Subbing in a pencil skirt with a normal, everyday go-to outfit is so modern and cool, and it will leave your favorite outfits feeling elevated and inspired.
While you may have something very specific in mind when you picture a pencil skirt, sleek, straight skirts actually come in many lengths, ranging from above the knee to above the ankle. Consequently, it's easier than you may think to style a pencil skirt any time of year. You can pair a longer pencil skirt with some chunky boots and a leather jacket for the fall or a knee-length skirt with sneakers and an oversized tee for a casual, warm weather look. Denim maxi skirts are in for summer 2023, and a denim pencil skirt like this one is such a cool option to wear in place of your favorite jeans all summer long. Once you have a go-to, staple pencil skirt in your closet, you'll see just how versatile this piece really is. And, with some simple styling, the pencil skirt is sure to become one of your most-worn pieces.