Tina Turner Was One Of Elvis Presley's Favorite Performers According To Priscilla Presley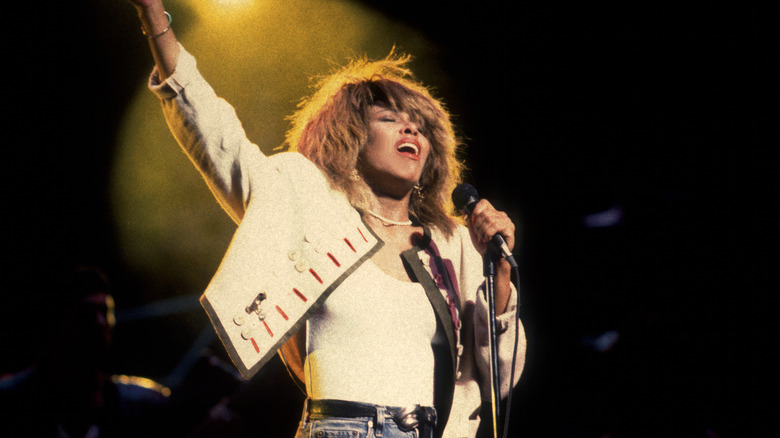 Paul Natkin/Getty Images
Elvis Presley might have been called the king of rock and roll, but Tina Turner was the queen — and Presley never lost sight of that fact. Presley's premature death in 1977 and Turner's skyrocketing solo career starting in the 1980s make it easy to forget that the two musicians were, in fact, contemporaries who cut their teeth and dominated Billboard charts at the same time.
Born four years apart in a post-Depression, blues-laden South, Presley and Turner witnessed the burgeoning rock and roll movement as children. By the time Presley was cutting his first tracks at what would later become Sun Records, Turner was frequenting nightclubs that would eventually lead her to her future collaborator, Ike Turner, with whom she also shared a turbulent marriage. 
Though Presley and Turner planted their roots within the same musical genres, the King's ascent to fame was far swifter and steeper — thanks in no small part to a still-segregated America that flocked toward music performed by white musicians, even if that music was originally written and performed by a Black artist. Still, it didn't take long for Turner to rise to stardom in her own way, taking over the ears, hearts, and souls of the country, including the king of rock and roll himself.
Kindred in spirit and performance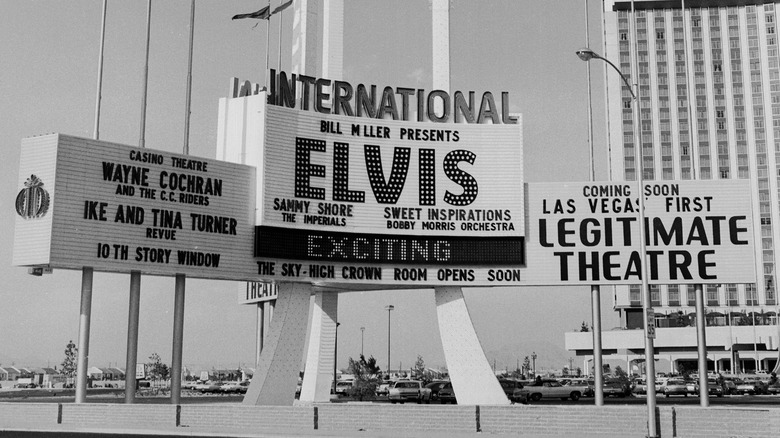 Fotos International/Getty Images
Elvis Presley and Tina Turner's trajectories began crisscrossing at a young age. Presley was born in Mississippi and later relocated to Tennessee, whereas Turner (born Anna Mae Bullock) was born in Tennessee and later relocated west of the Mississippi River in St. Louis, Missouri. The corridors the two musicians traveled were rich with musical history, from the jazz of New Orleans to the various blues traditions spreading from the Mississippi Delta to the Appalachian Mountains of East Tennessee. 
Both artists seemed to internalize the soul of their surroundings and transform it into something larger than life onstage. For Presley, it was a vibrating croon and gyrating hips. For Turner, it was fierce, unapologetic energy and a voice rich with feeling. Eventually, the pair would literally cross paths in the form of Las Vegas musical revues, which featured musical guests like the Turners, Janis Joplin, James Brown, and Presley. 
Presley's ex-wife, Priscilla Presley, detailed the impact that Turner had on Elvis during these Vegas performances in her memoir. "If Elvis liked the show, he patronized the club, encouraging the entertainers to pursue their careers, infusing them with confidence and enthusiasm," she wrote in "Elvis and Me" (via KTNV Las Vegas). "Some of his favorites were Ike and Tina Turner...talented people deserving acknowledging in their craft."
Royalty recognizes royalty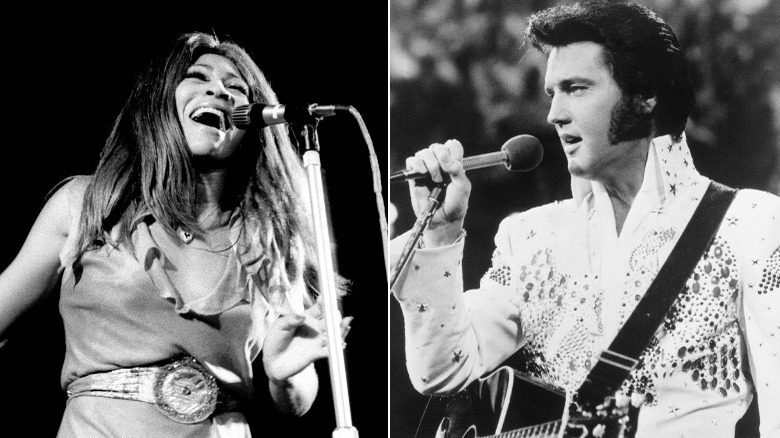 Bettmann & Jorgen Angel/Getty
Elvis Presley and Tina Turner — like most other artists in the '60s and '70s — performed as many covers as they did originals. A particularly well-known example is "Proud Mary," written by John Fogerty of Creedence Clearwater Revival but later known as one of Turner's signature songs. Presley's rendition of the song, complete with Turner-style big band arrangement, was included in MGM's 1972 "Elvis on Tour" concert film. 
Two blazing stars in their own right, the musicians forged their respective careers while orbiting the same airspace. Presley and Turner won multiple Grammy Awards (three and eight, respectively) and a Grammy Lifetime Achievement Award. Both musicians are also members of the Rock and Roll Hall of Fame, with Presley being inducted posthumously in 1986 and Turner inducted once in 1991 with Ike Turner and again as a solo artist in 2021. 
When Turner died in her Switzerland home at 83 in May 2023, Priscilla Presley reiterated the late king's respect for the queen. "Tina Turner was one of Elvis' favorite performers," she wrote in an Instagram post. "When she took the stage, it was pure magic. I remember how she held an audience with an energy that was undeniably pure Tina! She has left a remarkable legacy and will be sorely missed by all."