Michael Douglas Saw Children In His Future With Catherine Zeta-Jones The Night They Met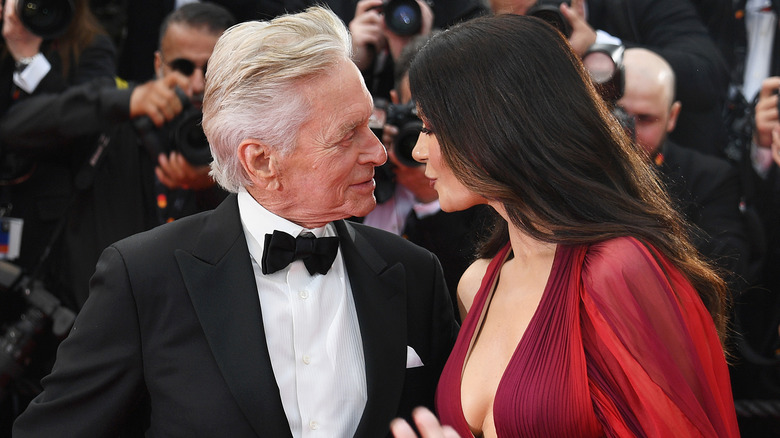 David M. Benett/Getty Images
Like many long-term couples, Michael Douglas and Catherine Zeta-Jones have a romance that has endured trials and tribulations. Yet after over two decades, they are still together — that's no small feat, especially when it comes to Hollywood marriages.
The couple first met in August 1998 after Douglas requested a meeting with the actress."I had been told Michael Douglas wanted to meet me," Zeta-Jones explained while on "The Larry King Show" in 2001 (via People). She admitted she found it a little intimidating at first. "I was a little nervous because I didn't quite know what he wanted to meet me about."
Soon after their initial meeting, they began dating. A little over a year later, Douglas and Zeta-Jones married at New York City's Plaza Hotel in an elaborate celebration that totaled $1.5 million. Some might say it was love at first sight. According to Douglas, he knew right away that he would have children with Zeta-Jones but that declaration didn't go as smoothly as planned.
At their first meeting, Michael Douglas was pretty forward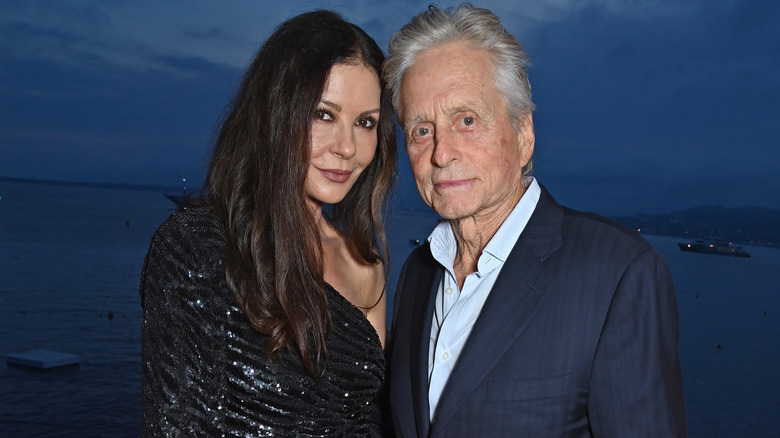 David M. Benett/Getty Images
In a sweet Instagram video, Michael Douglas shared for his 20th wedding anniversary in 2020, the "Fatal Attraction" actor shared the story of how the couple met. Douglas said he was first enamored with Catherine Zeta-Jones while watching her in "The Mask of Zorro" and when he found himself at a film festival in France the following month where they showed the movie, he asked around to see if she might be there. Zeta-Jones was there but was only staying for more night.
"So I have a drink with her and it was everything I hoped for, then she invited me for dinner with the company and I'm thinking, this is looking good," said Douglas. Later on in the night, Douglas may have been a little too confident when he blurted out, "I'm gonna be the father of your children." Zeta-Jones didn't take kindly to the statement and responded, "I've heard a lot about you and I guess it's all true, good night."
Though the actress walked out and left France the next morning, they somehow got past the incident. "I thought I had completely blown it," said Douglas, "but I am happy to say we made contact and the rest is history."
Marriage and a family soon followed for the couple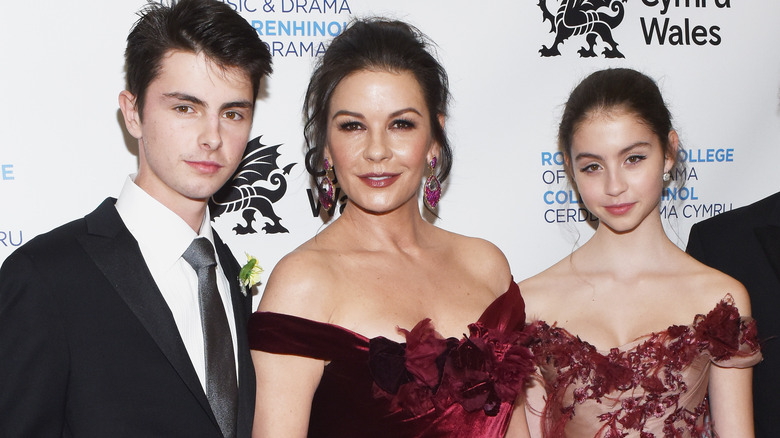 Bonnie Biess/Getty Images
Ironically, what Michael Douglas said to Catherine Zeta-Jones in their initial meeting not only turned out to be true, but it happened quite fast.
The couple were engaged by December 1999 and in early 2000 announced that Zeta-Jones was pregnant. In August of the same year, they welcomed a son, Dylan. Three months later, the couple married. In 2003, the couple welcomed their daughter, Carys.
While their meeting and even their age gap may not be traditional, it works for the couple who, oddly enough, share a birthday. "We were born on the same day, 25 years apart," Zeta-Jones told The Telegraph. "We're just very good with one another, we respect each other, and I never really feel that he's 25 years older than me." The actress is not one to listen to what others have to say, "I remember people saying, "When you're 50, he's going to be 75," she said. "Well, that's just maths."