The Classic Color Combo You'll Want On Your Nails For Summer Vacation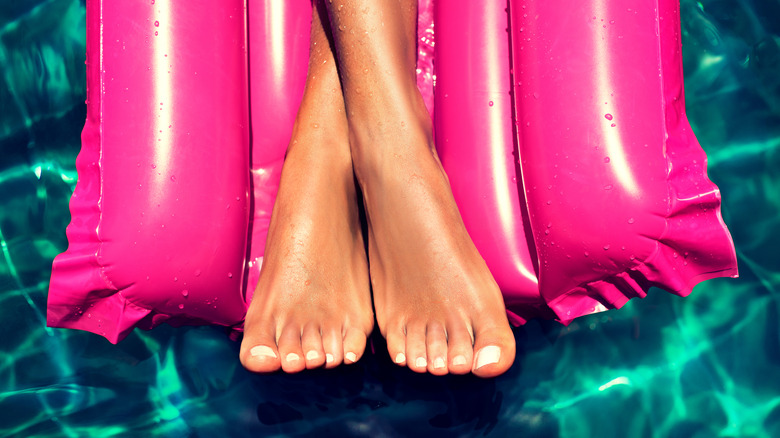 Sofia Zhuravetc/Shutterstock
When it comes to curating a vacation-ready look this summer, the beauty is in the details, all the way down to your fingertips. Short or long, round or square, gel or acrylic: no matter which type of nails you prefer, we could all use a good manicure before heading off on some much-needed PTO.
It can be easy to forget about your monthly mani when you're getting ready to head out on holiday. Between shopping for new swimsuits and making sure all your besties got their passports in time, your to-do list is long enough already. But getting your nails done is essential for your vacation photo goals — think of all the Instagram stories that feature you holding out a fun cocktail or flipping the page of your current beachside read. Even if you need to DIY an at-home manicure to save some much-needed money for your trip, slapping a coat of paint over those nails can make or break your vacay aesthetic.
But once you've found the time to give your nails a summertime makeover, which colors do you choose? While you may have to consult your zodiac sign to figure out the best vacation destination to jet off to this summer, your destination-worthy manicure isn't written in the stars ... in fact, the perfect color combination may have been right in front of you all along.
Black and white nails will perfectly compliment all your vacation looks
Most passing manicure trends can quickly turn into outdated styles that we look back on and totally cringe at years later (we're looking at you, crackle nails). But some trends evolve into instant classics that work at any time, with practically any outfit. No matter the vacation destination, black and white nails are sure to enhance all your summertime looks.
Black and white is a color combination that fashionistas keep coming back to time and time again. These neutrals are quite literally on the opposite ends of the color spectrum, but somehow the combination of black and white is always a good choice. Whether you pack your suitcase full of vibrantly colored bikinis or funky maxi dresses, black and white nails will compliment even the busiest looks. Alternately paint each nail a solid coat of black and white for a simple and classic look. You can also pull inspiration from nail artists online, like the stunning design that user @lightslacquer shared on Instagram, creating a trendy take on classic French tips using black and white polish. Paint most of your nails a shade of midnight and allow your favorite fingernail a chance to shine by painting it your favorite shade of eggshell or cream so it can really stand out. No matter how you decide to decorate your nails, black and white is a timeless color combination worthy of the most lavish summer vacation destinations.
For a more intricate manicure, try these trendy black and white nail designs
If you prefer a touch of trendy detailing in your manicures, look no further than your bottles of black and white polish. The monochrome color combo does not need to be totally solid to keep from clashing with your vacation 'fits.
If you're headed on a romantic getaway, wear your heart on your sleeve (or more specifically, your nails) with a black-and-white heart nail design. Place both black and white hearts on your nails with negative space in between, or alternate larger designs on each finger. For a more tropical destination, channel your inner animal with a stripe pattern inspired by white tigers. For our country music lovers, cow print designs are also a super fun and trendy way to express your personal style and remind your followers that you're channeling your inner cowgirl on vacation.
Relax poolside with a yin and yang design, or show off your clean aesthetic with a simple white crease across your dark-painted nails. Wherever you're headed this summer, consider taking the ultimate vacay nail polish combination with you by rocking a black and white manicure.