Jill Duggar Dillard Exposes 'Damage Control' For Brother Josh In Past Megyn Kelly Interview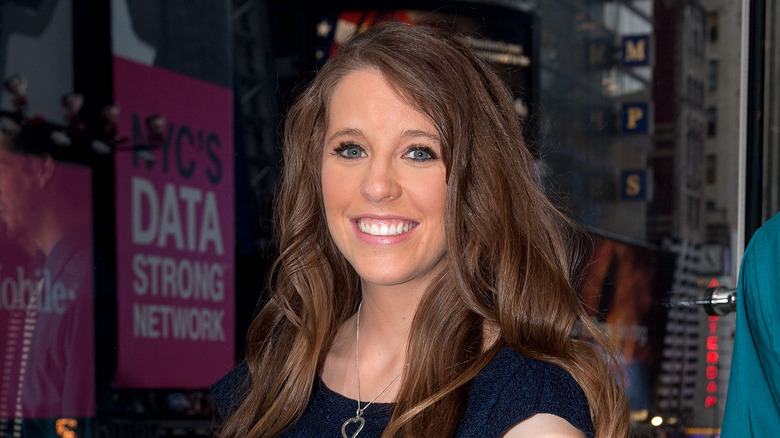 D Dipasupil/Getty Images
This article contains references to the sexual abuse of children.
Jill Duggar Dillard was once best known for being part of a famously devout, conservative Christian TV family. As part of the TLC "19 Kids & Counting" clan, she followed her father's lifestyle rules, was trained for a life of at-home motherhood, and met her husband, Derick Dillard, through her church's approved courtship process. Now Jill is risking everything to tell her truth at last through the Amazon Prime docuseries "Shiny Happy People: Duggar Family Secrets." Already estranged from her father, Jim Bob Duggar, Jill will be revealing how her father sacrificed her emotional well-being for the sake of fame. 
In 2015, the bombshell news broke that Jill's oldest brother, Josh, had confessed to molesting five children — four of them his sisters. Trying to keep their reality show afloat, Jim Bob and Michelle arranged an interview with Fox's Megyn Kelly to tell their side of the story. It had happened years ago, they explained. "He said he was just curious about girls," Jim Bob said (via Salon). Josh was a sheep who had strayed from the fold, the Duggar dad added, but he had gone to a "Christian-based" program and was back on the right path.
Jill and her sister Jessa also appeared on Kelly's show. They echoed the "curious boy" narrative, insisted they had forgiven their brother, and said they felt more victimized by having their family secret made public. But Jill is telling a different story now.
Jill's husband Derick says his wife was forced to 'take the fall'
The directors of "Shiny Happy People" told The List exclusively that their goal in making the docuseries was to expose the "darker elements" of the Duggars' church, the Institute in Basic Life Principles. To that end, Jill Duggar Dillard agreed to be interviewed about her family's involvement in the church and the lengths to which her parents went to promote it. As the Daily Mail reports, Jill attests she regrets doing the famous Megyn Kelly interview and defending her brother Josh on-air, but she had little choice in the matter: Raised to obey her father's will without question, she also felt pressured to save her parents' reputation and the future of their TV show. "As far as recovery and damage control, you just feel like a burden and the weight falls on you to help because you're the only one who can [help]," she tearfully says in the documentary. 
Jill's husband, Derick Dillard, puts it even more harshly. Jill and her sister Jessa were essentially asked to fall on the sword to keep the "19 Kids" franchise going. "Like, 'You're gonna destroy yourself, but we need you to take the fall so we can carry the show forward because the show cannot fail,'" he tells the directors. The emotional interview suggests Jill is still healing from the pain Derick says she suffered as a result.
If you or anyone you know has been a victim of sexual assault, help is available. Visit the Rape, Abuse & Incest National Network website or contact RAINN's National Helpline at 1-800-656-HOPE (4673).