Whatever Happened To Candice Olson From Divine Design?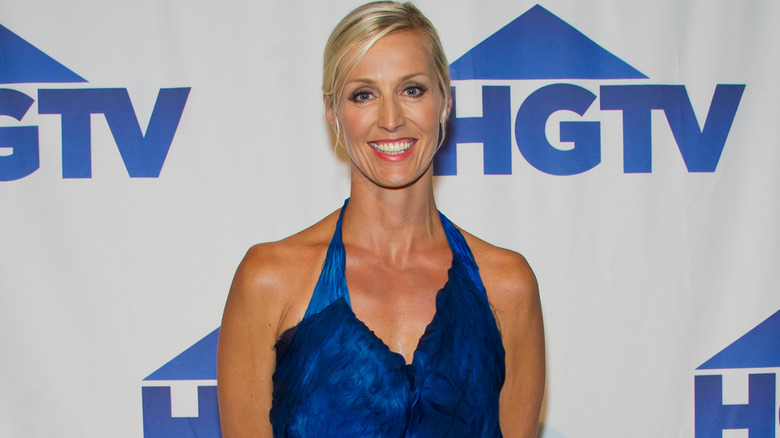 Michael Stewart/Getty Images
Whose name is synonymous with elegant, nature-inspired home design? Candice Olson's, of course. Fans of HGTV will remember her as the outgoing and vivacious host of "Divine Design." But after the HGTV show concluded in 2011, many lost track of Olson, missing her weekly forays into clients' homes, as well as her stunning room transformations.
In an era cluttered with industrial shelving, chalkboard walls, and motivational kitchen signage, Olson was a calming influence. Her softly muted barely-there blues, greens, and grays, combined with elegant furnishings and oh-so-luxurious textiles were the stuff of all our dreams.
But what happened to Olson after the show wound down? Does she still work with clients to design homes they adore? Or has she gone the way of other celebrity television hosts, fading from the spotlight and retiring to a less high-profile lifestyle away from the eyes of adoring fans? Let's see whatever happened to Candice Olson from "Divine Design."
Candice Olson went on to host a second series for HGTV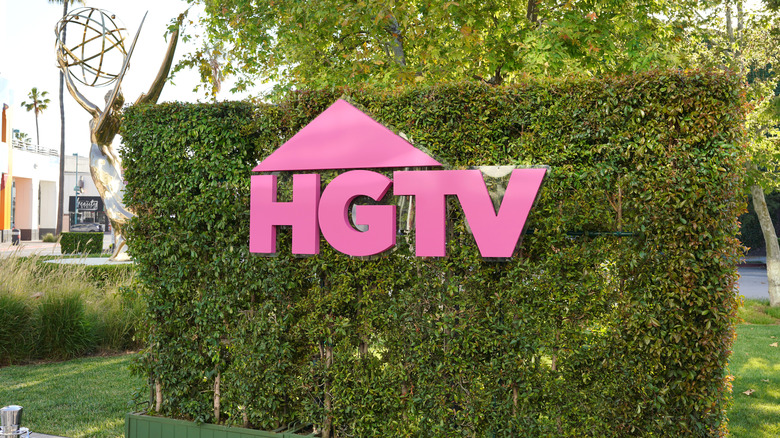 Gonzalo Marroquin/Getty Images
After "Divine Design" concluded, Candice Olson hosted a second show, titled "Candice Tells All," which dealt more with the nuts and bolts of design, or as Olson told the Chicago Tribune at the time: "The why behind the choices and selections." She went on to poke good-natured fun at the show's title, which she described as both "provocative and salacious" but said its intent was actually to explain more about the basics of design.
"So, every week we take a principle, whether it's skill or proportion or balance or harmonious color scheme, and we delve into the deeper inner meaning of that principle."
And apparently, the premise worked. The new show aired on both HGTV and in Canada on The W Network and lasted for six seasons and 100 episodes. The shows were broadcast in 75 countries around the globe, introducing new fans to Olson's signature understated-posh design style and refreshing sense of humor.
The television host also found success as a non-fiction author
Candice Olson is also the author of six home design books, several of which she penned following the conclusion of "Candice Tells All."
"Candice Olson Kitchens & Baths," "Candice Olson Bedrooms," "Candice Olson Family Spaces," "Candice Olson Favorite Design Challenges," "Candice Olson on Design," and her most recent, "Candice Olson Everyday Elegance," are all available at major book retailers around the world. Additionally, they've all garnered enthusiastic responses from fans and reviewers alike. Sarasota's Herald-Tribune described the designs in Olson's "Kitchens & Baths" book as representative of "a diversity of styles for a variety of occupants, but all bear the Candice Olson stamp of traditional shapes and designs tweaked with a contemporary flair."
Moreover, Bridget A. Otto, writing for The Oregonian, summed up "Candice Olson: Favorite Design Challenges" as helpful for homeowners facing difficult challenges such as odd window placement or unusually shaped rooms. "The book goes project by project, setting up 24 room transformations — all their bad before-ness and glorious after-hood," Otto noted.
Candice Olson has been mistaken, more than once, for actress Jane Lynch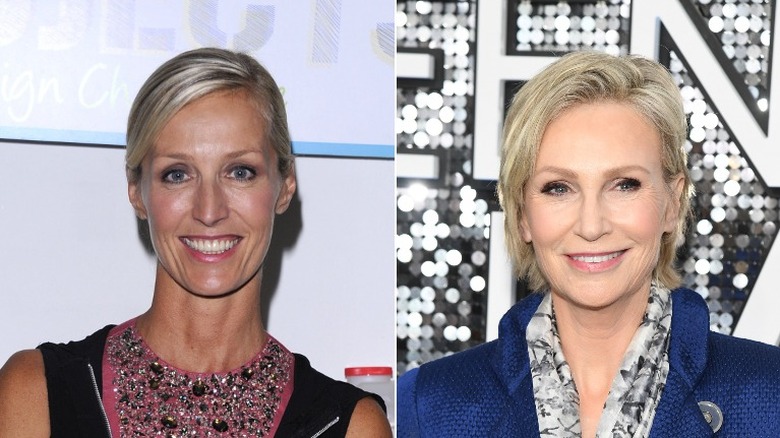 Andrew H. Walker/Getty Images & Kevin Mazur/Getty Images
Both Candice Olson and actress Jane Lynch have stories of fans mistaking them for one another. On her Facebook page in 2015, the designer posted an excerpt from the television show "Late Night with Seth Meyers." It was a segment containing an interview with actress Jane Lynch, of "Glee" fame. In the clip, Lynch jokingly tells the story of how she's sometimes mistaken for "a six-foot-tall blond who does a design show."
In the Facebook post, Olson explained that both she and her daughter were huge fans of the hit show "Glee" and that she felt "pretty darn flattered by the comparison." She also tossed out a veiled reference to her college years, playing for the Canada Women's National Volleyball Team by admitting she had been known to "sport a matching sweat-suit with the best of the jock-ettes."
In 2015, the designer launched the Candice Olson Outdoor Furniture Line for Century
Throughout her career, Candice Olson has intermittently partnered with other brands to help bring her signature style to the masses. After "Divine Design" ended, one of her early collaborations was a line of outdoor furniture for Century, an upscale residential furniture manufacturer headquartered in Hickory, NC.
The line featured a neutral color palette, curved lines, and contrasting textures in pieces that included outdoor seating, side tables, coffee tables, and a beverage cart. The collection was elegant and very understated, providing the perfect backdrop to whatever accessories, colors, or themes homeowners wanted to add.
In an interview with Robb & Stucky, Olson explained the ideas behind her outdoor pieces, stating they were designed to blend seamlessly both inside and outside the house and that her pieces were not only designed with Mother Nature in mind but with mothers in general. "Being a mom, I know first-hand how to design for sticky fingers, active bodies and gatherings full of food, drink and all kinds of messy fun!"
She also collaborated with Princess Cruises to dress their Princess Luxury Bed
But while her outdoor furniture line was built for easy-clean convenience, Candice Olson had other projects in the works at the time that focused on sheer comforts, like the Princess Luxury Bed for Princess Cruises.
In 2015, the designer had the opportunity to partner with Princess Cruises on the comfort and appearance of the luxury cruise line's signature bed. It was intended to provide one of the most comfortable sleep-at-sea experiences available, including features such as a two-inch pillow top, combined with a nine-inch mattress, and completed with deluxe pillows and Olson's combination of luxury linens. In 2018, she announced in a Facebook post that another Princess Cruise ship was decked out in her designs as a result of the partnership. 
While the Princess Luxury Bed combined the science of sleep with modern comfort and promised a relaxing and rejuvenating night aboard ship, it was Olson's European-inspired bedding, made from luxurious long-staple cotton and woven jacquard, that offered up the crowning moment. 
Candice Olson once admitted she'd like to design a space for former President Donald Trump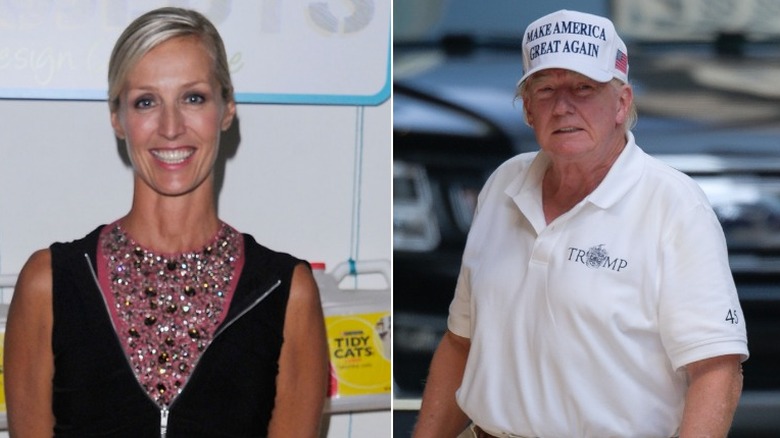 James Devaney/Getty Images & Andrew H. Walker/Getty Images
Candice Olson often shares her off-beat sense of humor with those fortunate enough to interview her. And she once told HGTV that she'd enjoy the opportunity to design a space for former POTUS Donald Trump.
When the interviewer posed the question: "If you could design for anyone, who would you pick?" Olson jokingly shot back: "Donald Trump. I would like to show him how to live elegantly and graciously while practicing a little restraint!"
The remark alluded to Trump's penchant for what some might consider over-the-top design, as evidenced in his 17-acre Palm Beach estate known as The Mar-a-Lago Club. According to Homes & Gardens, which named it a "World's Best Home," the space features 58 beds and 33 baths, along with a ballroom that encompasses 20,000 square feet. The home features high design but also an abundance of gold finishes, large statuary, and dark, moody spaces that could be called the antithesis of Candice Olson Design.
The celebrity designer stays active on social media, citing her love for cookie bars, Mother's Day, and her dogs
Candice Olson routinely takes to Instagram and Facebook to share adorable snippets of her attempts to balance life as a mom, wife, pet parent, and premiere designer. Her posts are down-to-earth and relatable and her life outside of design is seemingly as normal as those of her fans.
On Mother's Day, she posted a photo on Facebook of her go-to browned butter blondies with a caption that read: "What says 'I Love You!' or 'Thank You!' better than chocolate?" ⁠And earlier in the year, she shared an Instagram video of herself with pets Shatzie (whose name, she says, rhymes with Fatsy) and Fritzie. Holding Fritzie up to the camera, she told fans to look closely to discern his celebrity lookalike — Owen Wilson!
Olson's posts make her seem like a real person who might live across from you in the cul-de-sac or who might partner with you on the PTA bake sale, only funnier. And they're a large part of the reason why her fanbase remains so loyal, years after her television shows concluded.
She enjoys spending time in the great outdoors
The former athlete admittedly has an active family life, and numerous Instagram and Facebook posts back up her claim. When she's not busy collaborating and liaising with clients, writing books, and embarking on renovation projects, Candice Olson heads to the great outdoors to find both inspiration and relaxation.
According to many of her Instagram posts, Olson is as much a beach-lover as she is an ardent skier. There may be as many photos of her on ice skates as there are of her in the woods in summer and fall, basking in the beauty of nature. Those long walks and communion with grass, sky, and sea seep into her designs as well, and she'll be the first to admit it.
"I get some of my best inspiration from the great outdoors," she once told The Seattle Times. "Whether it's the shade of a flower, the pattern on a leaf or the texture of a strip of bark, I'm a big fan of Mother Nature." And truly, her collections show it, especially those that center around wallpapers and textiles.
Today, the designer creates signature collections for several high-end manufacturers
Outdoor furniture may have been one of Candice Olson's earliest efforts at collaboration, but it certainly wasn't her last. Today, she has partnerships with a variety of brands, including York Wallcoverings, MDC, Surya, and Kravet Inc. Her contributions include wallpapers, rugs, textiles, and furniture pieces.
All of her collections are carefully curated, using the same style and color of elements used in her famous room designs. "The driving force behind these unique designs is the fact that cool modern styles love to be tempered with the warmth of nature," she explained to Phoenix Home & Garden. "For example, you'll find beautiful natural materials, such as grass cloth, married with bold contemporary patterns, executed with state-of-the-art modern-day techniques."
Olson was referring to her 2019 line of wallcoverings for Kravet Inc. but her statement embodies the vast majority of her work, both past and present — understated, elegant, and inspired by many of the colors and elements that occur in nature.
Candice Olson travels extensively for both work and pleasure
When time permits, Candice Olson enjoys traveling, both with her family and on business. Her social media feeds are filled with intriguing photographs snapped in a variety of locations, including Paris, the Canadian Rockies, Kenya, Nashville, and Moscow.
In college, her volleyball career took her to such worldly locales as Italy, France, and Japan. Later, however, vacations with her husband Jurij Sennecke and children Pyper and Beckett would take her skiing in the Swiss Alps and the Rocky Mountains or swimming in Costa Rica.
Today, work takes her to the Carolinas. Though she admits to being an unenthusiastic flyer, Olson is dedicated to her family and to her art. She told Chris Ryall for Dreamscapes Travel and Lifestyle Magazine one of the biggest challenges she faces with air travel. "I have size 11 feet and they swell on any flight over five hours."
Today, the popular personality spearheads the Toronto-based Candice Olson Design and has an impressive net worth
Far from retired, Candice Olson is still designing spaces in which we all would love to linger. She also routinely serves as a keynote speaker for events like those held at the Shaw Flooring Network and the Boston Design Center.
Her company, Candice Olson Design, was founded in 1994 and is still in business today. Olson's time, though, is now a bit more divided as she works on her product line collaborations and adds new pieces to her signature catalogs. By any measure, she's a tremendously successful designer and businesswoman, which is made all the more surprising by the fact she initially studied medicine at the University of Calgary in Alberta. 
Many of the pieces Olson designs can only be purchased through authorized dealers, which makes them highly valued and sought after. Pieces that are available for purchase by the public often range in the thousands of dollars. Regardless, all are representative of the classically elegant design style and down-to-earth image that's helped to boost her net worth into the $10 million range.