How Should You Style A Low-Rise Mini Skirt?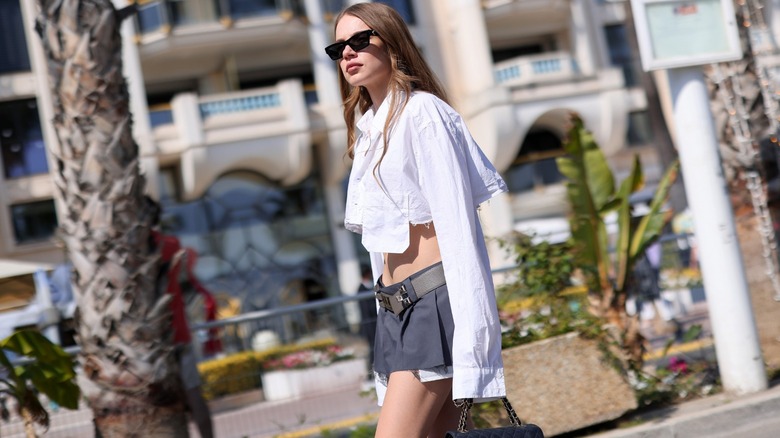 Jacopo Raule/Getty
Fashionistas of the world know all the fresh ways to style an oversized sweater. But if you want to try styling with something old-yet-new and hop on a trend that is coming back into fashion, you can try a low-rise mini skirt, also known as a micro-mini skirt.
Mini skirts first became a trend back in the late '50s and '60s. They were called "above the knee" skirts, since at the start, a super-modest knee-length skirt was considered mini (via Victoria & Albert Museum). Fashion designer Mary Quant helped popularize mini skirts in that era. Over time, mini skirts continued to shorten, and in the 2000s, the low-rise element was added to many mini skirts.
Miu Miu re-popularized low-rise mini skirts at their runway show for Spring 2022 fashions. Nicole Kidman posed in a mini skirt and crop top set from Miu Miu on the cover of Vanity Fair in 2022, but the following outfit ideas will show that you do not need to be a celebrity to rock a low-rise mini skirt for yourself! 
Double crop
If you want to evoke the mini skirts Miu Miu debuted on the runway, find a pleated skirt and add a nice belt to it to accessorize. @ella_elbells does this with a white skirt and black belt, but it would also work with a denim skirt. For the top, you can choose a cropped t-shirt or a cropped button-up — either pre-cropped, or you can do a DIY project and crop it yourself. Wearing both a low-rise skirt and cropped top can be very flattering if you want to give it a try.
Something blue
If you're feeling blue and want the world to know it — or if blue is your signature color and you can rock it like no one else can — style your miniskirt around all shades of blue. Find a blue micro-mini skirt with a jacket that matches in color. Then, add a top and sneakers in a paler shade of blue, and throw on some blue and white accessories for a cohesive look. Layering on belts also adds some fun dimension to your mini skirt. 
Denim micro-mini, three ways
One skirt can be transformed for multiple different outfits depending on what you combine it with, making it a versatile closet staple. @tho_ph25 shares how to do this with a distressed denim micro-mini skirt. To achieve the first look, pair your denim skirt with a ruffly, corset-type for something fresh and feminine. Next, you can go for something casual by wearing an oversized graphic tee with your skirt. Lastly, wear a crop top to embrace a summery aesthetic.
Y2K style
Through fashion, it is easy to time travel to the era of Y2K and pay homage to the styles and looks of the 2000s. Choose a denim mini skirt and a tank top to go with it. To evoke the feel of a slip dress, a silky tank top with lace trimming on the neckline is the best choice. You'll finish the look by adding some decade-hopping accessories. What Y2K outfit is complete without a miniature purse to match your miniature skirt?
All-black ensemble
Denim not your friend? There are still multiple mini skirt options for you. @tayhage shares how to style a sleek black mini skirt. Get the look by wearing the skirt with sheer black tights. Then, add a black crop top, a black-and-white patterned jacket, a black purse, and black shoes. Hage also wears white socks with the shoes to add a preppy touch. If you don't want your abdomen showing, you can replace the crop top with one that covers more. Fashion is most fun when you're comfortable in what you're rocking!
Cowgirl dreams
If you're itching to style a trendy pair of cowboy boots, why not wear them with your low-rise mini skirt? Choose a boot color and skirt color that contrast — like the classic white and black combination — and then add a blouse, halter top, or tube top. Or for something more casual, wear a graphic tee and tuck it into the skirt. But can a pair of cowboy boots truly be complete without a cowboy hat? Throw one on to complete the look (or if it's a bad hair day and you can't be bothered).
Mini skirt outfit sandwich
You can never go wrong with the sandwich dressing rule. You can use colors to make an outfit sandwich with your mini skirt. For your look's "bread," choose a top and tall, knee-length boots in one color. For the middle element of your outfit, choose a low-rise mini skirt in a different color, either in a much darker or much lighter shade. The overall effect once your outfit is completed is really striking with a nice contrast.
Styling an oversized cardigan with a mini skirt
Choose a slouchy cardigan to wear with your skirt for a neat juxtaposition between the tight skirt and oversized top. To recreate this look, you'll need a black micro-mini skirt, a white tank top, and a patterned cardigan. Have the cardigan hang off your shoulder slightly and cover part of the skirt to make it look more mini than it is. Finish off this look with sheer black tights and platform black boots if you are styling your mini skirt for cooler weather. If not, sneakers are a good shoe choice.
Pair with platform shoes
Your micro mini skirt is short, but your shoes do not have to be. You can play around with dimensions and proportions by wearing your mini skirt with platform heels. First, pick your mini skirt and then find a coordinating pair of platform shoes. You can choose a high-heel-esque platform shoe or more of a chunky sandal depending on your style preference and what is most comfortable for you. Then, finish off the outfit with a tank top, halter top, or blouse. 
Sparkly skirt
If you're looking for something eye-catching and reminiscent of the sequined purses that were all the rage in the aughts, you can try a sequined low-rise mini skirt. Pair your sparkling skirt with a solid-colored top and accessories. If you go with a skirt in silver or gold, black is a great option for the other elements. Add an oversized blazer for the outfit's outerwear, or forgo that and just combine the skirt with a tank top or other blouse if you prefer.
Combining two colors
You can create a duo-chromatic look by picking two signature colors to feature in your outfit. If you like earthy tones, style a dark brown, corduroy mini skirt with a black tank top, a striped brown shrug, and black and silver accessories in the form of shoes and jewelry. If you want a brighter color palette, change things up — instead of brown and black, try two complementary colors, like shades of green and red or blue and orange. 
Business with a blazer
Need an outfit idea for casual Friday? You can pair a belted low-rise mini skirt with a matching top and blazer. For colors, you can go with something neutral and monochromatic or mix things up with a brighter-colored blazer and skirt and neutral top. You can even try a patterned set for something really fun. If you go with the neutral color palette, you should accessorize with big, eye-catching jewelry, like a pearl necklace or shiny bangles. 
Styling with a button-up top
One way to elevate your low-rise mini-skirt is by wearing it with a collared, button-up top. @elenatea_ styles two oversized button-ups with her acid-wish mini skirt — one shirt is a shade of bright red and the other is white, but any color will do. For some visual interest, you should leave the last few buttons on the shirt unbuttoned. Tuck one side of the shirt into the skirt and let the other side hang down. Then, finalize the outfit with some stylish accessories of your choice.