Move Over Dark Denim, Brown Jeans Are Making A Comeback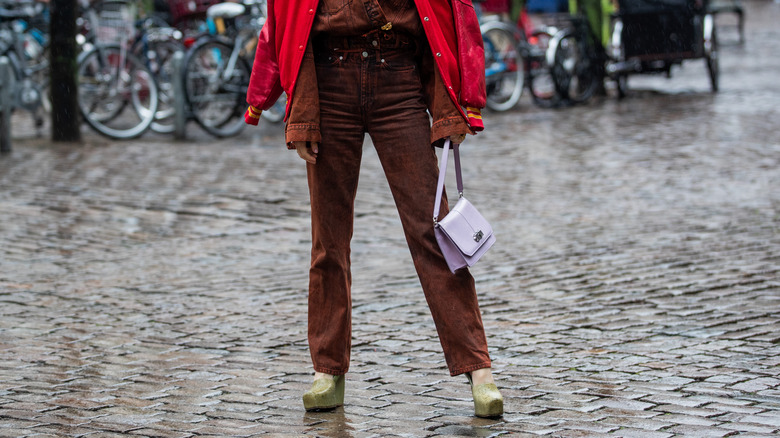 Christian Vierig/Getty Images
When you picture a pair of jeans, there's no doubt you think of classic blue denim. The fashion staple is one of the most popular items of clothing, and for good reason. The durability of denim allows for long-time wear, while the light style and color provides comfort and style to the wearer. According to a 2010 ShopSmart study, the average American woman owns seven pairs of jeans. The blue hue dominates the jean market (and most of our wardrobes), and dark denim and black jeans have especially become staple basics in everyone's closet. But lately, the popularity of blue and black denim seems to be cooling off, and another, warmer denim trend is here to take its place. The return of Y2K era fashion continues with the rise of brown jeans.
As fashion blogger New York Gal declared, "every woman should own a pair of brown jeans." She said they're a great option for casual, everyday looks that work well with a variety of patterns and colors. The warm, neutral hue never goes out of style, and works well no matter the season. Brown pants easily work in a variety of styles, from skinny jeggings to baggy flare jeans, constantly evolving with the current fashion trends. If you're considering investing in a pair of brown jeans, this is your sign to add that trendy pair of denim to your shopping cart.
Styling brown denim with your summer wardrobe has never been easier
You may be hesitant to fill your summer wardrobe with warm tones and long pants, but the brown denim trend can be a warm weather staple when styled correctly. Who What Wear editor Indya Brown shared her recent rediscovery of brown jeans, saying, "I don't think I've worn a pair of brown-tinted denim since 2005, but fast-forward to 2023, and I'm intrigued ... it's a nice break from my dark denim during those times when I want a moodier pair of jeans."
All over social media, influencers and fashions experts are sharing their favorite ways to style brown jeans just in time for summer. TikTok user Priyabopz compiled video clips of her favorite outfits that feature her favorite pair of light brown denim. From a multicolored strapless top to an oversized sporty sweater and a brown flannel over a graphic tee, the outfit inspiration is endless.
Another TikTok user shared the versatility of styling brown denim on a mid-size body, creating a stunning look by pairing her jeans with a sheer brown corset-style top. This monochrome outfit is perfect for a date night or girl's night out during the warm summer days to come. In the video, the user also pairs the jeans first with a cream colored cropped sweater and then with an oversized blue and brown flannel, giving a wide variety of silhouette options for when summer nights cool down.
Where to find your next favorite pair of brown jeans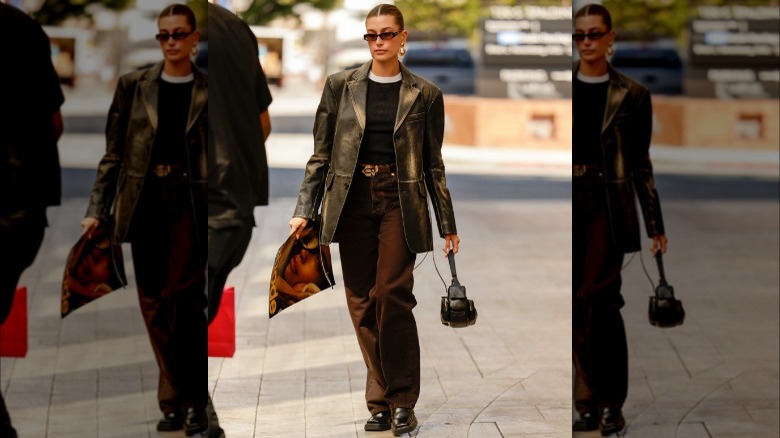 Rachpoot/bauer-griffin
We may be used to blue jeans in the 21st century, but one of the oldest pairs of jeans was actually made with brown fabric back in the 1800s. According to Smithsonian, Levi Strauss and Jacob Taylor created a pair of heavy cotton fabric called brown duck, and manufactured the brown "waist trousers" — along with the indigo blue jeans we see today. The Levi-Strauss jean company is still going strong, mass producing everyone's favorite pair of jeans in all styles and colors, including trendy shades of brown. You can find a pair of high-rise flare jeans in brown on Levi's website for just over $100.
If you don't quite have the budget to drop a Benjamin and some change on a pair of new jeans, you're in luck. Retailers do their best to keep up with the latest trends, and with the news that chocolate-colored jeans are the new dark wash of the summer, there are brown jeans available at multiple price points that won't break the bank. For a traditional dark wash brown jean that hugs your curves in all the right places, try Abercrombie's curve love ultra high-rise straight leg jeans, on sale at time of publication for less than $30. Old Navy also has a great budget option, selling $15 corduroy flare jeans in multiple shades of brown. PacSun combined trendy styles and colors to create the low rise brown dad jean of our dreams for around $50.