Cindy Crawford Was Thrilled To See Margot Robbie In Her Past Look At The Met Gala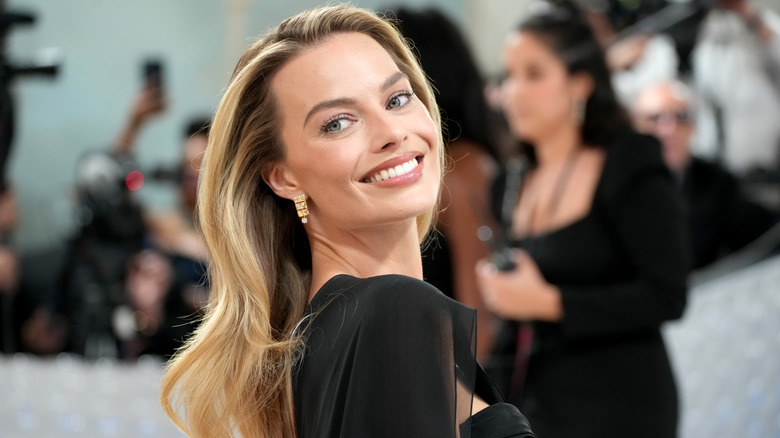 Jeff Kravitz/Getty Images
The annual Met Gala is no stranger to elaborate themes and jaw-dropping designs, but for 2023, the Costume Institute exhibition upped the ante to create a new level of haute couture. With a theme of "Karl Lagerfeld: A Line of Beauty," the star-studded fashion event's attendees were directed to have their outfits pay homage to the man behind fashion houses like Balmain, Fendi, Chloé, and Chanel. 
While the 2023 Met Gala theme was not without controversy, the looks featured on the white, orange, and blue carpeted steps were undeniably stunning — and, for many attendees, relatively sustainable. Some of the met gala's best looks were recycled, including gowns worn by Nicole Kidman, Gisele Bündchen, Naomi Campbell, Dua Lipa, and Margot Robbie. Indeed, there were plenty of repeat looks to choose from when honoring a man whose fashion dynasty stretches back to the 1950s. 
For supermodel Cindy Crawford, who was forging her own fashion legacy in the '80s and '90s, this meant witnessing past looks she modeled reborn for the 2023 event. And she did not hold back her feelings on seeing Australian "Barbie" actress Margot Robbie in a Chanel gown Crawford modeled for the house's Spring-Summer 1993 couture collection.
Margot Robbie's tribute to Karl Lagerfeld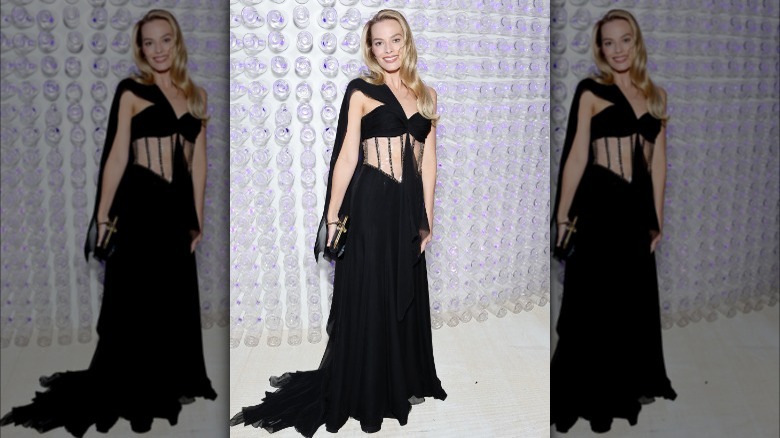 Cindy Ord/mg23
Robbie's vintage Chanel pick was a gorgeous black gown with a flowy, draping one-shoulder feature and a bandeau-style bodice. The bodice was connected to the skirt and train by a sheer corset with gold chain boning, a subtle nod to one of Chanel's trademark design elements. She accessorized the look with simple gold earrings and soft, romantic curls.
In an interview with La La Anthony for Vogue, Robbie explained that the dress was originally worn on the runway by Crawford in 1993. "They remade it for me, and it's obviously a Karl design, and I feel really great in it, actually," the actor said, beaming. Robbie went on to describe her brief relationship with Lagerfeld before his passing in 2019. 
"The Met's always an exciting night, but I had the privilege to know Karl to an extent. I was the last Chanel ambassador that he picked. It is an honor. I'm thrilled that they're honoring him tonight because he was exceptional."
Women supporting women in the world of fashion
While not many of us have the experience of seeing haute couture we once wore being worn by someone else, it's worth wondering if the situation is ever odd for the celebrities who have. But Crawford couldn't have been more excited to see the dress revitalized for the 2023 Met Gala. 
The supermodel posted two photos to her Instagram, one of her wearing the gown on the runway in 1993 and another of Robbie posing in the same ensemble on her way into the gala. "Ode to Karl," Crawford wrote. "Love seeing this look come back to life." She added a black heart emoji before tagging Robbie and Chanel's official Instagram page. 
Fellow supermodel Naomi Campbell commented on the post with a string of heart emojis, while thousands of other commenters noted how both women looked equally fantastic in the gown. As designer Phillip Bloch put it in his comment, "What's old is new, what goes around comes around, the circle of life and the circle of fashion."