Swap Out Fringe For An Edgy Alternative All Summer Long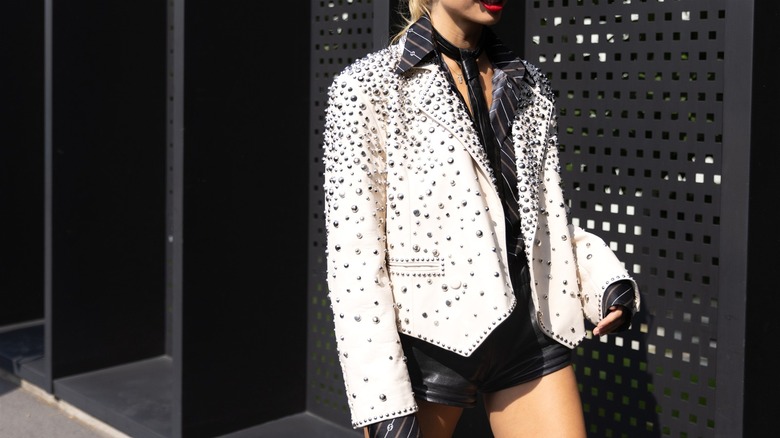 Valentina Frugiuele/Getty Images
Studs are happening again, so buckle up. They say to dress for the life you want, so if you've ever wanted to be a rock star, this trend is for you. The aesthetic of '90s grunge rock is coming back, so it's no wonder we're dabbling into garments that are more and more rock 'n' roll inspired.
The small metal embellishments are an edgy alternative to the romantic fringe we've been seeing everywhere, and they're more versatile than one might think. Studs don't necessarily have to be silver and round, nor are they limited to certain pieces. Anything goes — clothing, accessories, footwear — but they're far from a fashion discovery. Studs in jewelry first gained traction back in 1970s London during the original punk movement, which translated well into fashion and other forms of expression, according to Fashion Era.
Wanting to look loud to make a statement, the punk subculture approached fashion like no one before them — they deliberately tore their clothing apart and added various embellishments, including studs, to show they were anti-fashion, Fashion Era reports. Paradoxically, many of their signature anti-establishment pieces, like torn jeans and studded leather jackets, became fashion staples in the modern world. Here are some options to rock the studded look.
Studded clothing can be DIYed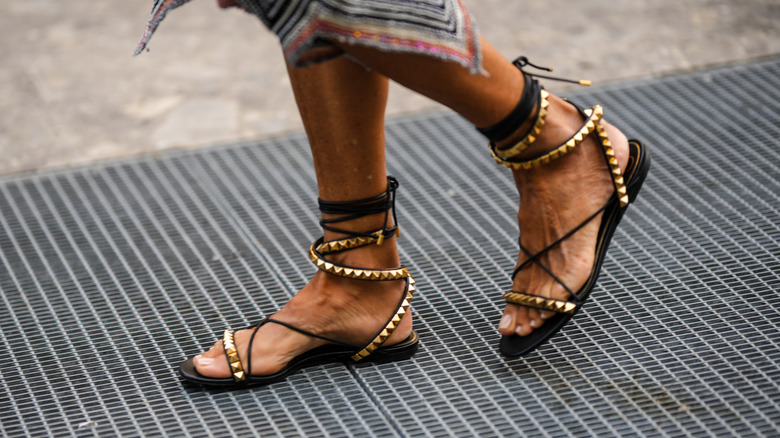 Edward Berthelot/Getty Images
Studded embellishments that we know today have long transcended their punk origins, and everyone from trend-setting fashionistas to adventurous dressers can incorporate them into their look. There isn't a piece of clothing or an accessory that doesn't come in a studded version — from denim jackets to belt buckles to clogs, studs have infiltrated the world of fashion.
Studs come in different shapes, sizes, and colors, so if the common silver stud doesn't match your skin's undertone, don't worry. You can opt for gold or even colored studs, and the best thing about this trend is that you can DIY studded clothing. If there's a piece you'd love in a studded version but can't seem to find it anywhere, there are so many variations of stud embellishments available.
Gold studs, star studs, pyramid studs, even spikes — the world is your stud! After you've chosen the color and shape of your studs and decided which piece you want to be studded, the rest is easy. You might need glue for some types of studs, but most come with prongs or fastener pieces in the back. As for the former, a stronger type of bonding glue will be needed to secure the studs in place, but that's about it. Most materials will be fairly easy to stud, while leather might take a bit of skill, depending on its thickness.
Studs are edgy and versatile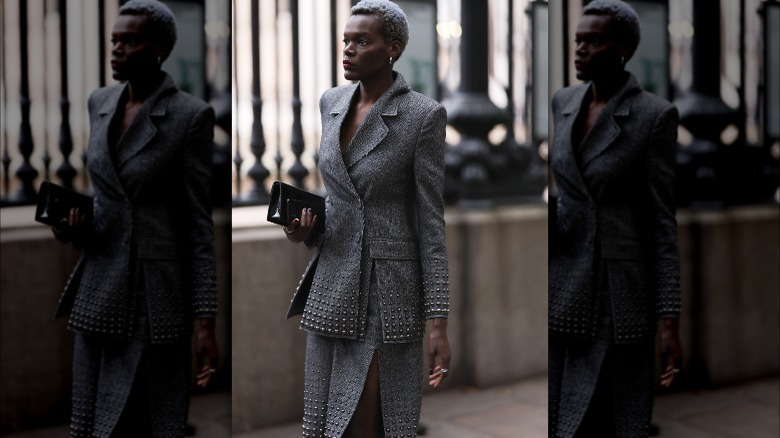 Jeremy Moeller/Getty Images
While fringe is a fun and flirty wardrobe staple, sometimes your summer outfits need an edgy touch that will make them more visually interesting. Contrary to popular opinion, studs are not reserved for casual wear only; you can definitely incorporate them into dressier looks. Studded pumps can instantly elevate your wedding guest look, and a studded bag or top will make you the star of the show at dinner.
For a more toned-down look, stylist Mary O'Keefe advises working your studded piece and counterbalancing its firm silhouette with more feminine pieces like skirts and dresses, as she shared with No Kill Magazine. To be more on-the-nose with grunge, O'Keefe recommends pairing your studs with equally loud pieces like leather pants and platform shoes.
Studded pieces can work for workwear too if you know how to style them. For example, a subtly studded leather belt can take your shirt and pants combo to fashion-forward status really quickly. For an even more discreet nod to the punk era of fashion, opt for a crystal-studded bag that will surely turn some heads around the office for the best reasons.