Fun And Flirty Fringe Is Making A Comeback In Your Wardrobe Staples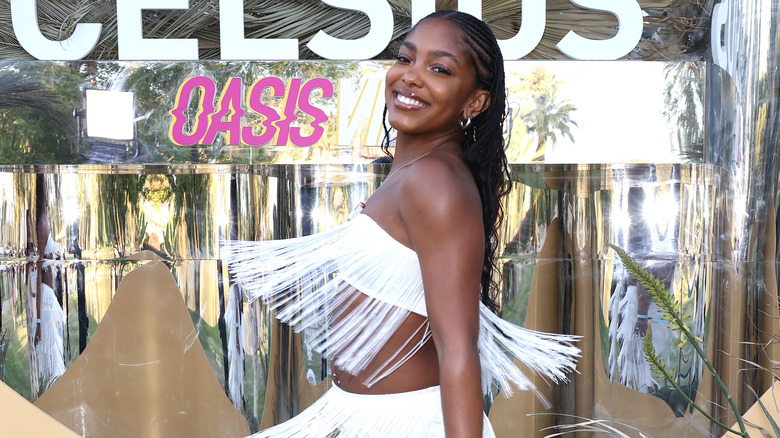 Tommaso Boddi/Getty Images
In case you haven't heard, fringe is making a comeback. When you think of fringe, your mind probably goes to the '70s-inspired looks seen in "Daisy Jones & The Six." Fringe was a hugely popular trend in the 1970s, and was most commonly seen adorning jackets and vests, particularly those made from suede or leather. You may also be thinking of the roaring 1920s when fringed flapper dresses were in abundance. 
Fashion in the 2010s was bold and varied, with the take on fringe being largely boho-inspired. Boho was everywhere during this style era, with Coachella queen Vanessa Hudgens reigning supreme as the leader of the boho trend. Aside from these peaks in popularity throughout the decades, fringe has always been popular in Western-inspired fashion, especially with the rise of the coastal cowgirl trend being totally in this year.
Basically, fringe is a lot more versatile than you may realize. No matter your style preference, we've got some of the best ways to style the fringe trend so you don't look like you're attending a '70s costume party.
A suede fringe jacket is a must-have for any season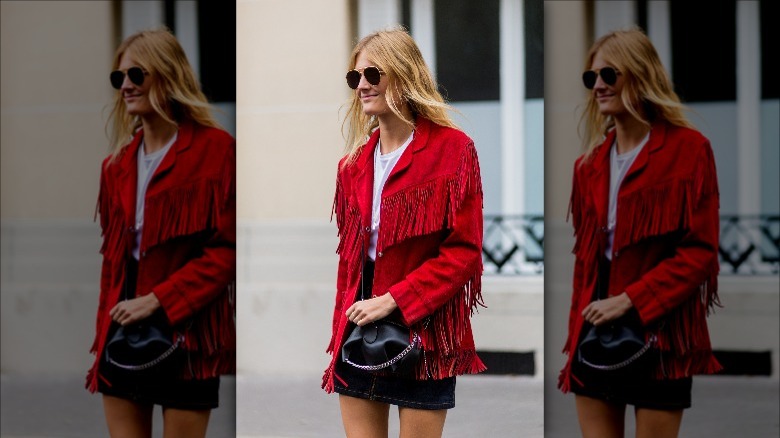 Christian Vierig/Getty Images
Probably the most classic take on the trend, a fringe suede jacket is an absolute staple. Tan and brown are most commonly seen with this style of jacket, as inspired by western/cowboy style, but choosing a jacket in a bold color like the red above can turn any outfit into a statement instantly. Just make sure to keep the rest of your outfit neutral so the color of your jacket can really pop.
A leather jacket is another go-to staple piece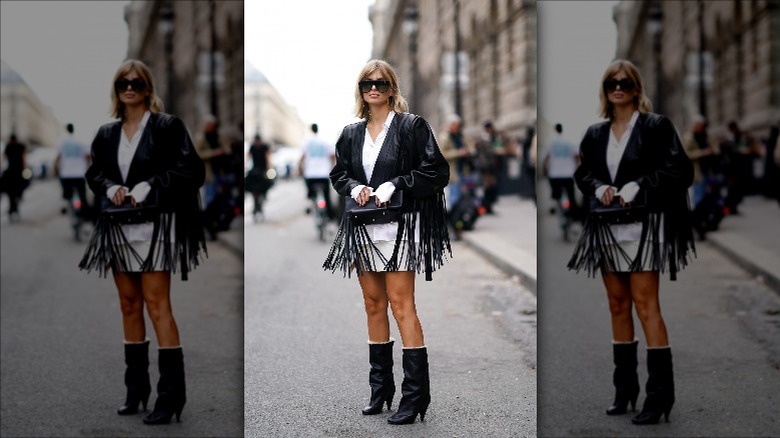 Edward Berthelot/Getty Images
If you're worried about the practicality of suede, a traditional leather (or pleather if you're vegan) jacket is a good alternative. You can throw it over a jeans-and-a-tank-top look for casual outings, or use it to tone down a fancier dress and heels look. Versatile and timeless, a leather fringe jacket is endlessly stylish. Go for an oversized silhouette if you plan to wear it with skirts and dresses, or a fitted one if you prefer that look.
Fringe truly does go with every item of clothing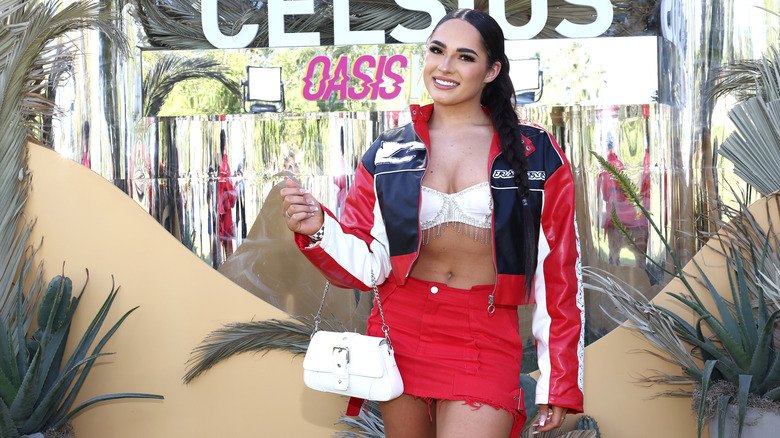 Tommaso Boddi/Getty Images
If you're looking to get a little daring, go for a bralette that has fringing detail. Though the look above is suited to a festival or outdoor event, you can always get a little fancy by matching the fringing detail with some fringed earrings. Of course, you don't have to choose a fringe bralette to hit the trend. A top with subtle fringing detail like this embroidered crochet vest from Free People would look gorgeous with some flared jeans for a retro vibe or utility pants for a more modern look.
A fringe miniskirt is a little trickier to pull off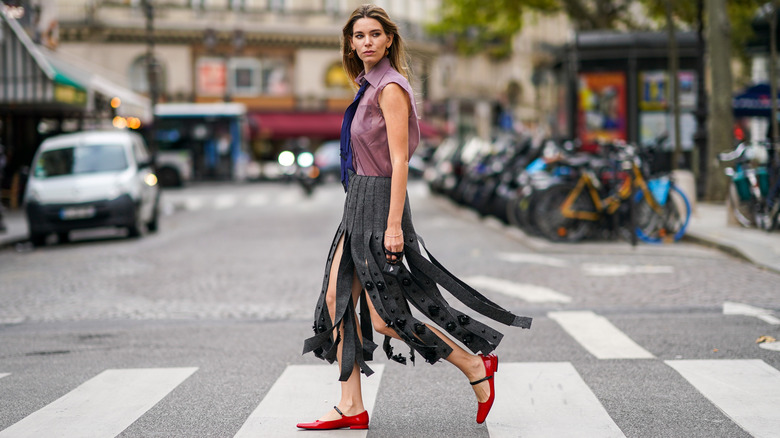 Edward Berthelot/Getty Images
A fringe skirt isn't as easy to style due to the naturally more revealing design, but this also makes them a good wardrobe go-to for a party. The skirt that's pictured above is edgier because of its cutout fringe style, but a miniskirt with fringe will also look fun and cute in a party setting. If you plan to wear a fringe skirt like the one above, it's a good idea to wear mini shorts underneath so you'll still get the full fringe effect without feeling worried about showing too much leg.
Embrace your inner cowboy with fringed boots
When it comes to this trend, you can't get more western than with a pair of fringed cowboy boots. Also tying in with the 2023 tassel trend, cowboy boots will go with most outfits, making them the perfect fun finishing touch. Go for shorter ones if you wear jeans or pants regularly, or traditionally longer ones for shorts and skirts. You don't have to go for an out-there design — cream boots like the ones above can add a simple flirty vibe to any outfit but will still go with lots of outfits.
Start off small with the trend if you're unsure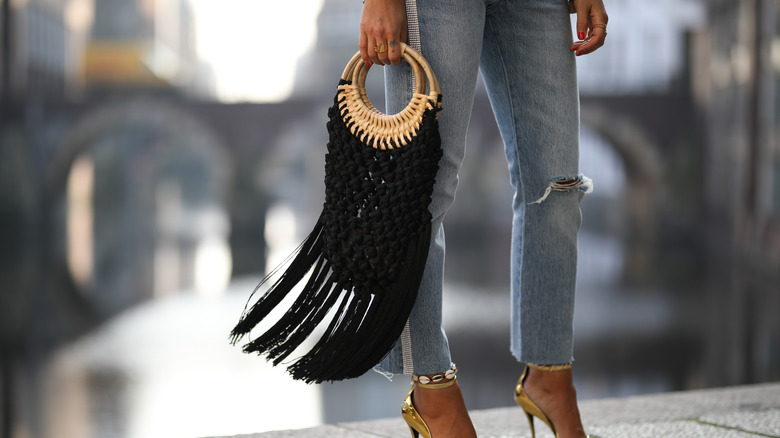 Jeremy Moeller/Getty Images
Finish your look with a fringed accessory like a bag. A fringe bag is the best place to start if you're not sure about whether you're ready to step out in a fringe skirt or a top. Plus, fringe bags will go with many pieces in your existing wardrobe, whether your style is boho or not. A black or neutral fringe bag is the most flexible choice, as both of these colors will match with bright colors and understated pieces.