Tom Holland Credits Zendaya For Helping Him Be Comfortable In The Public Eye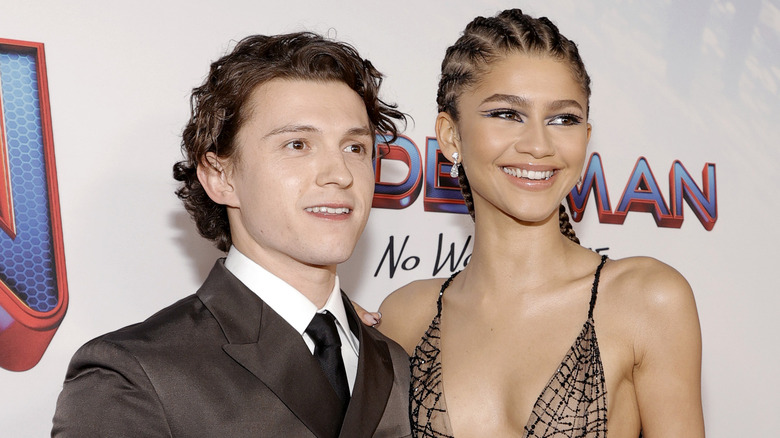 Amy Sussman/Getty Images
Fame comes with pressure — this is something actor Tom Holland knows all too well. He's used to performing and acting, but the lack of privacy and having the world's eyes constantly on his every move is something entirely different. This is compounded because he is Spider-Man, and being Spider-Man comes with extra pressures and responsibilities. "I have to remind myself that being Spider-Man is more of a responsibility than just having a job," Holland told GQ. "There are kids out there who are bullied at school who don't fit in, and Spider-Man is their [...] go-to guy, you know? And at the moment I'm that guy."
Adjusting to fame also means interacting with fans. Everywhere he goes there's a chance someone will recognize him and ask for a picture or an autograph. He formerly saw this as an annoyance. However, his approach to dealing with this has changed over the years, and largely because of his girlfriend's — the actor Zendaya — influence and advice.
Becoming friendlier for fans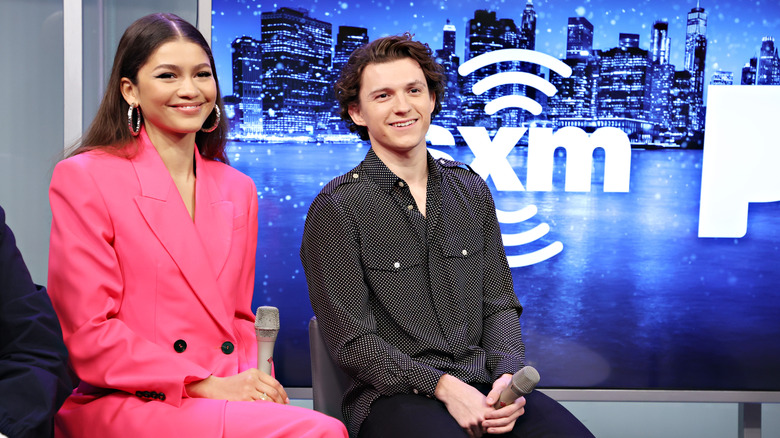 Cindy Ord/Getty Images
Holland and Zendaya speak highly of one another — Zendaya can't stop raving about Holland and vice versa. However, Zendaya did have one major critique for Holland, as she helped him better receive fans who approached him.
Zendaya helped shift Holland's perception of fame, highlighting how fame in and of itself is another job he has to be ready for each day. She showed him how to perform the job gracefully. "Having her in my life was so instrumental to my sanity," he told GQ. "She is so good at being the role model for young guys and girls. When anyone comes up, like, 'Can I have a picture?,' it's never a bad time. Whereas my initial reaction was: 'Why are you talking to me? Leave me alone.' "
Holland used to come across as rude when fans approached him. He would minimize the time he interacted with them, often denying their photo and autograph requests. Zendaya took note of this and spoke with him about it, telling him "that this sort of reaction was going to be more aggro than just smiling and taking the picture," Holland told GQ in another interview. "She totally changed the way I am able to be more comfortable in public." Since talking to Zendaya and finding his own rhythm when it comes to fame and interacting with fans, Holland has become friendlier. He takes the photos, signs the autographs, and accepts invitations for interviews from the press.
Privacy as a priority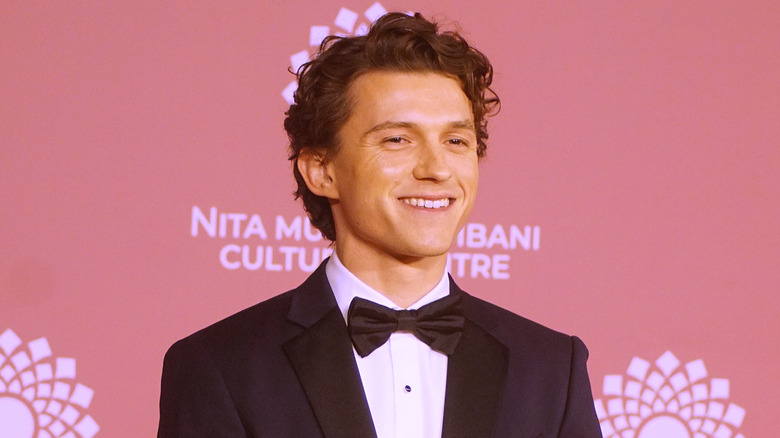 Prodip Guha/Getty Images
In addition to speaking with Zendaya, Holland also spoke with other actors to get their opinion on how to handle life as a celebrity. He got a variety of responses ranging from living lavishly to being stingy with his time. Over time, he's found his own way to protect his privacy, interact with fans, and live a little lavishly.
Holland grew up with a wariness toward fame. While he knew he'd get attention as a performer — he did start dancing at age nine — his fame propelled him to a new level. Learning how to navigate it came with time and caution. "My dad always taught me when I was younger and coming up in the business that you want to get famous as slowly as possible," Holland told GQ. " You don't want to get super famous tomorrow, because you won't be able to handle it. It will ruin your life."
Holland doesn't like being in the public eye, so it makes sense that privacy is a priority for him. His father, who works as Holland's unofficial agent and manager, helped instill this outlook over the years. "I am very selective of who I talk to and what I do. I don't ever want to overexpose myself, because my privacy is the last thing I own," Holland said to told GQ. "I think that's why he was so worried. And he'd tell me the same thing today I am sure: 'Pace yourself, you've got a long career ahead of you.'"