Kristen Stewart's Experience Coming Out Later In Life Was Anything But Easy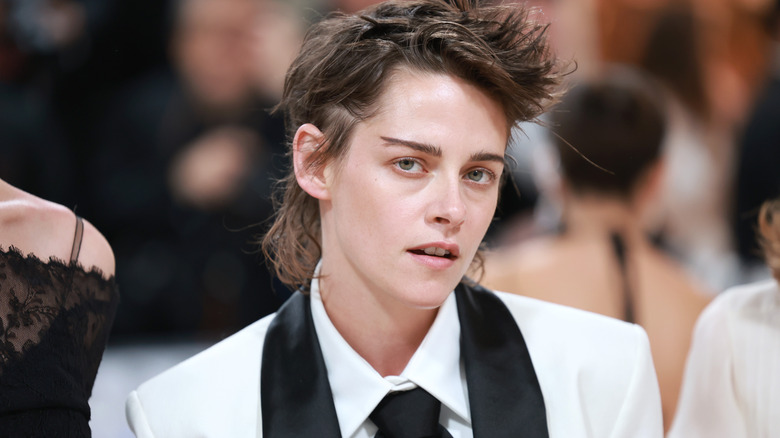 Theo Wargo/Getty Images
In recent years, Hollywood has witnessed a significant shift in acceptance of LGBTQ+ representation and inclusivity. Due to this, more and more actors are bravely sharing their personal journeys of coming out, contributing to a more diverse and accepting industry. Coming out alone is hard enough, but coming out in Hollywood is often a much more complex and even excruciating experience — at least for Kristen Stewart.
The "Twilight" star came out during an "SNL" monologue in 2017. Stewart opened up about her relationship with co-star Robert Pattinson, including how former President Donald Trump tweeted about it incessantly. Trump posted several negative messages about Stewart. Speaking to him, she said, "If you didn't like me then, you're really not going to like me now. I'm hosting 'SNL' and I'm like, so gay, dude."
The actor was already in her mid-20s when she came out but it didn't make it any easier for her. During a chat with her "Happiest Season" director, Clea DuVall, for InStyle, Stewart acknowledged, "I don't want to aggrandize my own pain, because I know that others' pain has been so great." She added, "Living in this world, being a queer person, there are things that hurt constantly." 
Stewart's decision to come out led to a newfound responsibility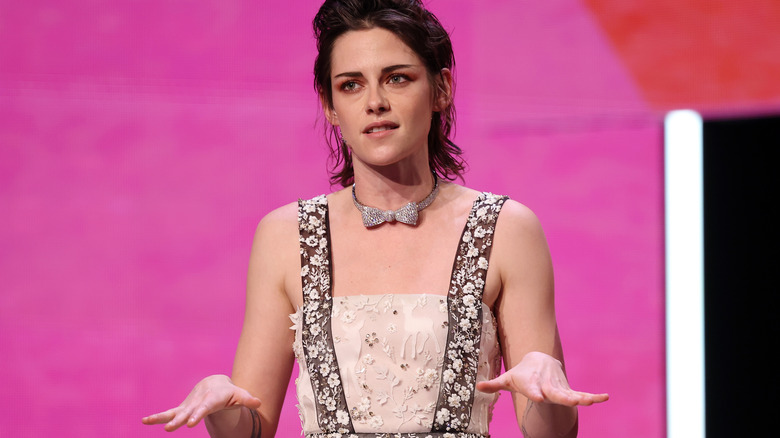 Gerald Matzka/Getty Images
Kristen Stewart confirmed that she first dated another woman at the age of 21. Since she famously only dated guys back then, the actor was often questioned about whether she was a lesbian. As she told The Guardian emphatically, "It's not confusing if you're bisexual. For me, it's the opposite." Admittedly, Stewart worried about upsetting previous partners. As a result, for the Oscar nominee, her coming out journey was marked by struggles.
Understandably, she still wanted to keep her privacy while exploring her sexuality. Per InStyle, Stewart clarified, "Not because I felt ashamed of being openly gay but because I didn't like giving myself to the public, in a way. It felt like such thievery. This was a period of time when I was sort of cagey. Even in my previous relationships, which were straight, we did everything we could to not be photographed doing things — things that would become not ours." 
Highlighting the weight of being a famous queer person and the complexities of her own self-discovery, she noted, "I think the added pressure of representing a group of people, of representing queerness, wasn't something I understood then. Only now can I see it." It took a while for the actor to fully grasp how tough it had been, despite her supportive family, to figure out her identity — something which, she noted, is "that way for everyone."