Swap Daisy Dukes With Denim Maxi Skirts This Summer For A Fashion-Forward Look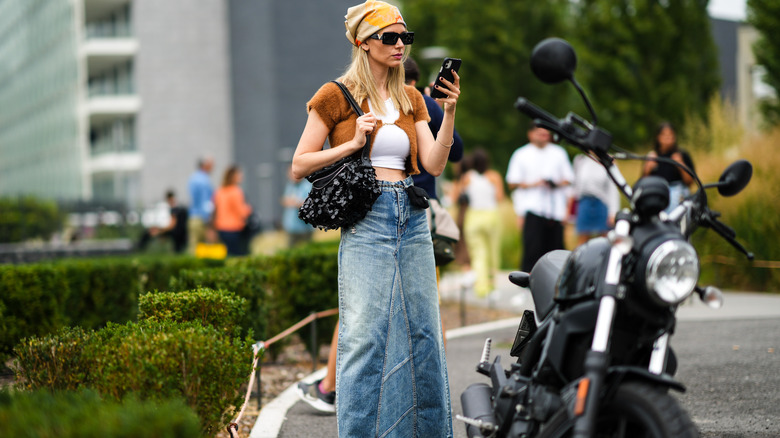 Edward Berthelot/Getty Images
Denim shorts, also known as Daisy Dukes, are a crowd-favorite denim piece to style for the summer season, but they're not really appropriate for so many occasions. If you don't want to lose your cool in the warm weather, you don't have to, because denim has a new favorite look in store for you this summer.
If you've been itching for an alternative for your Daisy Dukes, look no further because the denim maxi skirt is back in full swing — and just in time for summer, nonetheless. According to Sierra Mayhew, associate editor at Who What Wear, the denim maxi skirt is the ideal fashion-forward alternative to denim shorts. "Denim maxi skirts are going to be my go-to staple all summer long. They feel like a fresh update on a classic style," she shared in a conversation with Who What Wear, adding that she "will not be coming back to Daisy Dukes any time soon [as they] don't feel very 'fashion person' . . . right now."
It's high time to swap out your denim shorts with something more flattering and comfortable, and the denim maxi skirt is the perfect piece for the job. Whatever your age, the denim maxi is fitting and will make you feel instantly chic.
The denim maxi skirt works for all body types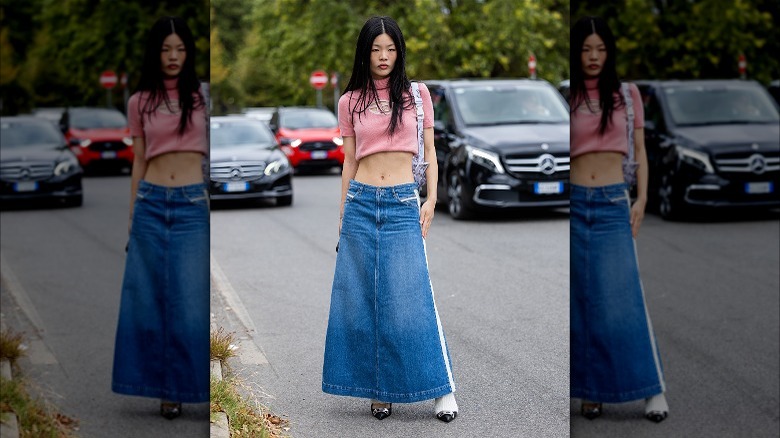 Christian Vierig/Getty Images
While denim maxi skirts are all the rage right now, the fashion-forward look isn't going anywhere any time soon. Denim for summer isn't anything we haven't seen before, true, but the styles currently trending are far from boring.
With so many variations of the style available, you're bound to find a denim maxi skirt that's perfect for you. Whatever your body type, the right one is going to work for you, not against you. The denim piece generally tends to work well with all shapes and sizes, as it creates a feminine silhouette — the high waist hits at just the right spot to cinch you in — while retaining the cool factor at all times. Even if you're petite, a denim maxi with a slit is going to visually elongate your figure, especially if you know how to work your way around the overall proportions of the outfit — style it with a crop top, for example.
The best thing about the denim maxi skirt trend in comparison to your old Daisy Dukes is that the skirt is wearable all year round, while the jean shorts definitely aren't as functional when the weather gets cooler. Styling it is much easier than it may seem firsthand, and once you've nailed your favorite combos, the denim maxi skirt is going to be the only skirt you need and want this summer.
The classic denim piece can be easily styled for any occasion
Dressing yourself with the denim maxi skirt in focus might seem like a challenge at first, but it's actually easier than making your Daisy Dukes work for anything other than the beach. While denim shorts were a cute look during the 2010s, it's high time to retire them from everyday summer wear.
The denim maxi skirt can easily be dressed up and down, as there are so many variations of the piece out there with differing fits, colors, and hemlines. For a more casual look, go for a simple denim maxi in a classic denim shade and pair it with platform slides, a cute top or an oversized T-shirt, and a vintage denim bag. So little effort is needed to create a fashion-forward look with this classic yet cool denim piece, and you'll be comfortable in the summer heat while looking chic.
Take it up a notch and take your denim maxi skirt from day to night by pairing it with a corset top and heels. Go for a skirt with a more interesting hemline and an overall tighter fit to add some interest to the look, and don't forget some statement jewelry pieces to round off the glam vibes. The effortlessly cool denim maxi skirt will make you ready for any summer event to come, and once you've tried the trend, you won't be taking it off any time soon.