How To Style Your Favorite Pair Of Denim Shorts This Summer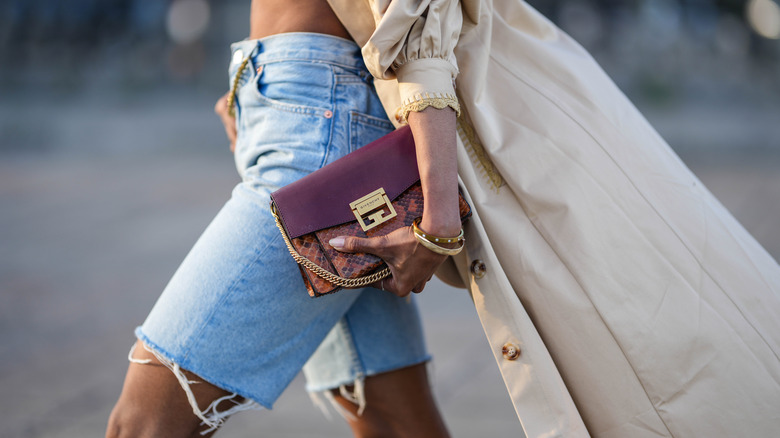 Edward Berthelot/Getty Images
Similar to finding jeans that fit your needs, finding good shorts can be challenging. Thus, hunting down the perfect pair of denim shorts can be quite a hassle, but when you've found the right ones, enjoy them to the fullest — they are a wardrobe staple that can easily be dressed up or down. Even though they're versatile enough to be styled even in the colder months, you're probably pulling them out of your closet once the warmth hits.
They can easily be styled for summer; all you need is a T-shirt and a cute pair of sandals. If you want to take it a step further, don't see them as just a basic piece of clothing but as the versatile staple they truly are.
While denim shorts might not exactly be appropriate office or business wear for everyone, they work for almost anything else once that hot summer sun begins to shine.
Make the look summer-centric
The sun is out and it's finally summer. Why not translate that feeling into your outfit? Denim shorts are the perfect item to work around and add something super fun. For a true summer fit, pair your denim shorts with a typical summer top, perhaps something floral or brightly colored. Or both! Go all out here. Play with your accessories and don't forget the impact of a cool headpiece like a bandana. To elevate the look, go for overall similar colors to get that casual monochromatic feel.
The classic white button-down effect
Pairing your denim shorts with a classic white button-down is a guaranteed hit, no question about it. Whether you're going for the casual, everyday vibe or you're looking to rock the fit for a night out, the white button-down paired with denim shorts will do the job. Dress the pairing down with some flats and a tote, or amp it up with some heels and a sparkly bag. If you don't own a plain white button-down, it's high time to get one. It's the staple every wardrobe needs.
Don't underestimate the power of a black button-down
While white button-down shirts are a must in every woman's closet, the black button-down is often underrated. When choosing one for summer, make sure it's linen, as that's the perfect warm weather staple fabric. To give your outfit some depth, pair the black button-down with short denim pieces that have a lighter wash. Add a pair of casual summer shoes in black as well, like flip-flops or sandals. That will tie the look together and make it feel purposefully styled. For the ideal summer touch, opt for a straw bag or basket.
Make your denim shorts the star of the show
Denim shorts don't have to be blue. If you're looking for something to elevate your summer looks, a pair of brightly colored denim shorts could be your new holy grail. As they are eye-catching on their own, make sure the rest of your outfit is a bit toned down if you want the shorts to have their moment. Opt for a more basic top, like a plain white tee or a cropped button-down. Color-coordinate your accessories to tie the look together and add some dimension.
White denim shorts for the perfect summer look
White denim is the perfect summer staple that can be styled year-round, though there's just something about it on a hot summer day that makes so much sense. For a casual look, pair it with cute slides and a tank top. To really make a summer statement, make the rest of your outfit white as well. The all-white fit will make you look put together, even though you haven't done much. Add a fun shoulder bag and gold or silver accessories to tie it all together in a laid-back vibe.
Go sporty
The beauty of denim shorts is their versatility. If you're not feeling up to styling them too much, a sporty vibe is a perfect way to go. Pair your shorts with some cool sneakers and a plain T-shirt or lightweight sweater on top. Make the look more interesting and spice it up with some jewelry and oversized sunnies. Consider opting for bigger earrings or layered necklaces. Don't be afraid to make use of your socks as well, as they can be the final sporty touch you were looking for. If you still want a more classy touch, add a leather shoulder bag.
Picnic-core
As a basic clothing item, denim shorts are the ideal garment for dressing down when needed. Summer days are often synonymous with barbecues, picnics, and all kinds of outdoor hangouts. To make your favorite denim shorts work for these occasions, pair them with a fun patterned button-down that will create the perfect laid-back but still meaningful look. Add a straw bag and some cute flats to seriously channel the picnic vibes. Don't forget your sunglasses to protect your eyes from the summer rays; a square model to contrast the relaxed fit.
Dress your denim shorts up
For a casual night out or a summer event, denim shorts can be the star of your outfit. Pair them with an oversized blazer to create depth, and some fabulous barely there heels. For a more casual look, opt for a lower heel and a more basic T-shirt underneath the blazer. The bag you choose can make or break this vibe, so make sure it's more of a going-out bag than a big, everyday purse. If needed, add some sparkle with jewelry, preferably some statement earrings.
Cool top galore
Denim shorts can oftentimes be underwhelming on their own, and summer calls for the least possible amount of clothes one can wear. If that's you, worry not, because you don't need much to create an amazing outfit with denim shorts. Just choose a funky top to your liking, and that's about it. Think bold prints, ruffles, whatever comes to mind. You can add some leather accessories if you want, like a belt or a shoulder bag. As for the shoes, flip-flops will do perfectly, as will any other casual summer shoe.
Go black for the ultimate cool girl factor
Denim shorts are already a pretty cool outfit staple, but you can make them even cooler by wearing all black for the rest of your look. Pair them with a simple black top, like a tank top or a T-shirt, and black accessories. Black shoes, black bag, black sunnies — a complete blackout. Make sure the wash of your denim shorts isn't too dark though, as a light wash pair will create just enough contrast needed to achieve that cool girl factor.
Graphic tee and denim shorts are the coolest summer pair
If you're going for a laid-back look that's wearable to brunch, a coffee date, errands, or whatever else you might have going on during the day, a graphic T-shirt is your saving grace when styling denim shorts. Simply choose a cool graphic tee, add your everyday bag, and some comfy shoes you can run around in all day without getting hot. Tuck the tee into your shorts if you want to emphasize your waist, and don't forget a hat. A cool baseball hat can be a great addition to this relaxed fit.
Ultimate beach wear
If you're going to rock your favorite pair of denim shorts anywhere, let it be the beach. They are the perfect bathing suit cover-up that can get you from the beach to the city real quick. If you're in a more tropical place, simply put the shorts on while remaining in your bathing suit top. A cool beach bag and platform flip-flops will do all the work. For more coverage, add a see-through kaftan dress to still have a glimpse of your denim underneath.
Accessorize to the max
The power of good accessories is unmatched, literally. You can pair your denim shorts with a pretty basic top and still manage to put together the most fun summer look. Think statement sunglasses, cool headpieces like headbands or hats, and funky jewelry. Don't forget the importance of your shoe and bag choices as well. With ballet flats coming back in style, consider trying the trend out with your denim shorts. Add some fun socks to the mix to avoid blistering if you walk a lot.
Denim on denim shorts
While styling denim on denim might be a bit overwhelming, denim shorts are the perfect way to try the trend. They're a relatively small piece of denim fabric, so adding a denim top or a jacket won't be too much, even if you're a beginner. By pairing two denim pieces, you can easily achieve the monochromatic, put-together look without much work. If your denim is darker, opt for lighter accessories, and vice versa. For a creative twist, add chunky jewelry or some fluffy sandals.
Boot your denim shorts up for a temperature drop
Summer can get pretty hot, but there are those moments when you definitely need another layer somewhere on your body to keep you just a little bit warmer. Maybe it rained the day before or it's a chillier summer night, but you still want to wear your favorite denim shorts. In that case, pair them with some darker boots to create contrast. Cowboy boots are always a good idea. For a more unexpected look, choose a sleeker boot with a lower heel.