Ryan Seacrest Has Nothing But Praise For His Live Replacement Mark Consuelos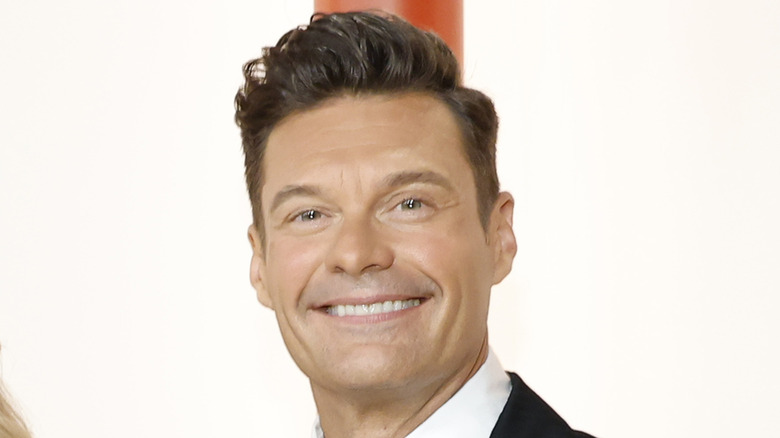 Mike Coppola/Getty Images
In April 2023, Ryan Seacrest left the East Coast and his hosting gig on "Live With Kelly and Ryan." The co-host moved to the West Coast where his radio show, "On Air with Ryan Seacrest," is headquartered, as is "American Idol," another television show the TV personality hosts. 
A little over a month after he hosted his last episode of "Live With Kelly and Ryan," the host returned to his former workplace in New York, but this time as a guest on the show, re-named "Live with Kelly and Mark" to reflect that Kelly Ripa and Mark Consuelos are finally hosting "Live" together.
Ripa and Consuelos' relationship — the two have been married for decades — makes him a natural choice for her co-host, and Seacrest seems to agree. When he appeared as a guest on "Live," he had a jovial and friendly chat with Ripa and Consuelos. Not only did he share a glimpse into his life on the West Coast, but he had high praise for his replacement.
Ryan Seacrest says he's been watching Mark Consuelos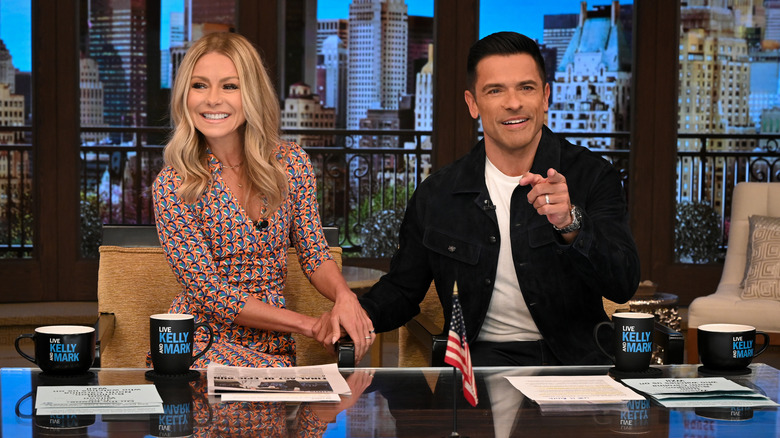 Disney/ABC
Ryan Seacrest appeared in the guest chair on his old stage and told his former co-host Kelly Ripa and her new co-host Mark Consuelos that he has been regularly tuning in to the show since he left New York and he has some thoughts.
"I have to say, I've been watching, you guys are so great together," said Seacrest. "I love it. I love Mark doing the teases, I love the promos I see, I love the games." In typical fashion, Ripa called him out on his comments and jokingly said, "You just love that you don't have to do it anymore!"
Consuelos has mutual admiration for Seacrest and shared how gracious the "American Idol" host has been while appearing on Seacrest's farewell episode of "Live" (via USA Today). "When the transition was happening one of the first phone calls I got was from Ryan," Consuelos said. "I'll never forget your words of kindness and support and reassurance. I love you." 
Ryan Seacrest is living a slower lifestyle now
With Ryan Seacrest no longer having to wake up at the crack of dawn to host "Live," he seems to be enjoying a relaxed and comfortable lifestyle. Kelly Ripa asked her former co-host how he is doing in California. "Tell us what have you been doing with your mornings?" she said. "Explain to me how it goes down at Casa Seacrest."
Seacrest quickly replied, "There's this fascinating thing I've been experiencing called 'time,'" he laughed. "I don't know if you guys know about it." He said that he's been able to sleep in, and his alarm clock doesn't wake him up until around 11 or 12 o'clock.
Then he begins his day. "I walk through the forest ... and I look for the beans of coffee," Seacrest joked. "I take them, I harvest them, I take them back, I roast them, I milk some almonds and I make a latte." Ripa chimed in, "Are you living in Colombia now?"