Nicole Kidman's First Paycheck Went To A Gift For Her Parents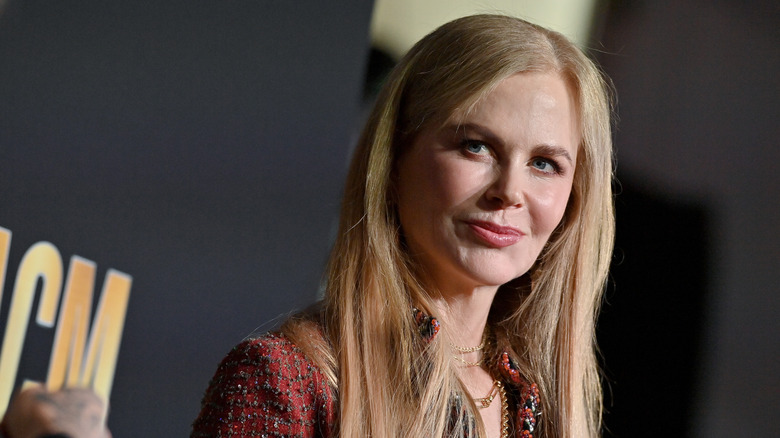 Axelle/bauer-griffin/Getty Images
Oscar-winning actor Nicole Kidman is known for her glamorous Hollywood persona, her happy marriage to Keith Urban, and, most recently, being the official spokesperson for AMC Theatres. However, long before the A-lister was stunning fans with her singing voice in "Moulin Rouge" and making us cry in "Big Little Lies," she was just a normal kid growing up in a suburb of Sydney, Australia. Kidman's father, Antony Kidman, was a decorated clinical psychologist and biochemist, and the actor received plenty of valuable life advice from both him and her mom, Janelle Kidman. 
"My mother would always say don't ever let anyone break your spirit ... She said you can be tamed a little but they mustn't break you," the "Eyes Wide Shut" star remembered in a conversation with "60 Minutes Australia." Kidman's childhood years were filled with plenty of awkwardness. "There were times when I was deeply unhappy as a child just with who I was. I think a lot of children are like that," she admitted. Despite these feelings of inadequacy, Kidman directed a cohort of neighborhood kids in backyard theater productions (tickets cost a mere 5 cents). 
In 1989, she landed her breakout role in the Australian film "Dead Calm," and international acclaim was quick to follow. Still, her family remains one of Kidman's biggest inspirations. "My whole life I've wanted to make my mother proud," she acknowledged when accepting the Academy Award for best actress in 2003. Perhaps that's why the A-lister spent her first paycheck on a gift for her parents. 
Nicole Kidman bought a washing machine for her mom and dad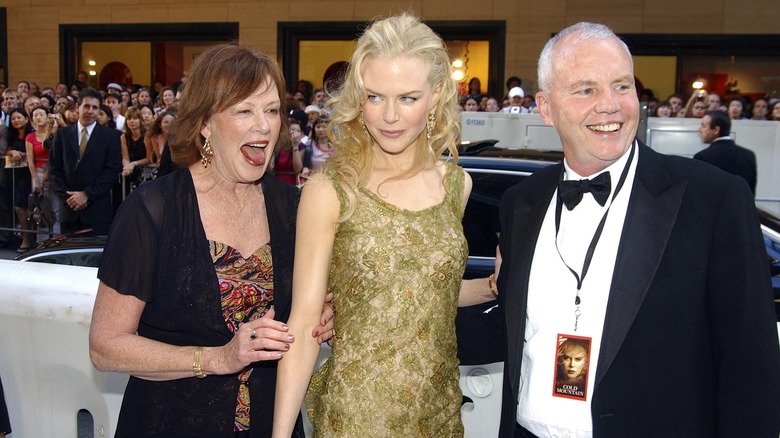 Peter Carrette Archive/Getty Images
As Nicole Kidman shared in an interview with Time, her first major paycheck went towards something selfless: A washing machine for her mother and father. After that, she splurged on a nice pair of boots, this time for herself. Those first two purchases were just the beginning — today, the actor has a reported net worth of $250 million, according to PureWow, and Kidman and her husband, Keith Urban, haven't skimped on luxury. They share two homes in Australia, two properties in Manhattan, a Beverly Hills mansion, and a Nashville country home — why buy one washing machine when you can buy six, plus a home to go with each?
The celebrity couple purchased their Nashville estate in 2008 for $3.47 million and have treated it as their main digs ever since. "Keith and I are very good at immediately clicking off because we have a really good life in Nashville that's very simple, quiet, and nourishing because we've made it like that," Kidman told Harper's Bazaar. Their house — nay, mansion — is approximately 11,000 square feet and boasts tennis courts and a home theatre (it's no AMC, but still). 
And, while answering 73 questions for Vogue, the "Moulin Rouge" star also showed off one of her Australian properties, gathering fresh-laid eggs from the property's chickens. Most importantly, all that Australian (and Tennessee) farmland gives the couple's two daughters plenty of room to run around.
She isn't the only celebrity who prioritized their parents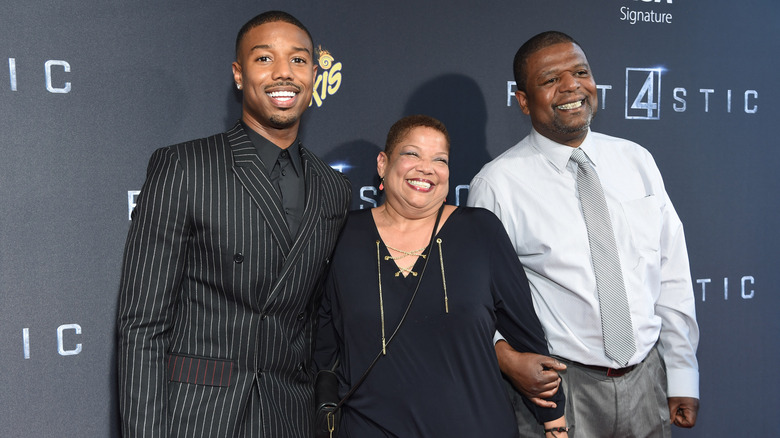 Jamie Mccarthy/Getty Images
For some celebrities, their parents are their number one priority at the first sign of financial success — what better way to show gratitude than to purchase your mom the palace she deserves? "I bought my mom a house when I was 23 years old," Chris Pratt proudly told BuzzFeed. At the time, he was starring in "Everwood" on the WB. "I wasn't rich," he clarified. "I had just enough to buy the house. I was rich for a second, and then I was poor, but my mom had a house."
Michael B. Jordan, meanwhile, spared no expense when it came to his folks. The "Creed" star bought them a $1.7 million Sherman Oaks home in 2015. The catch was he lived with them until 2020 when Jordan purchased a separate place for himself. "You get home-cooked meals but then you also have random trips to the kitchen in the middle of the night. And just the random run-ins that might be uncomfortable from time to time," he said on "The Ellen DeGeneres Show."
Plenty of other celebrities like Cardi B, Beyoncé, and Taylor Swift also splurged on their families. In fact, Taylor Swift's parents are Nicole Kidman's neighbors in Nashville — those must be some pretty special neighborhood block parties.