How To Find The Right Bra When Recovering From A Breast Reduction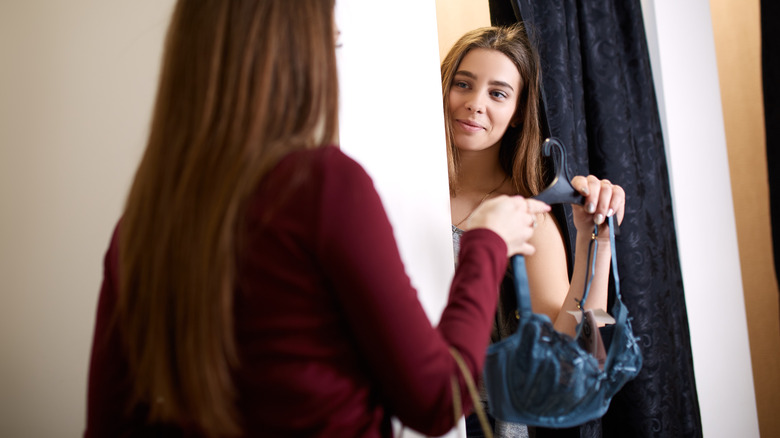 Artiemedvedev/Getty Images
The reasons for getting a breast reduction can vary from person to person, but some common reasons include ongoing back and neck pain, an inability to fit into clothing, low self-confidence, and trouble exercising. Being able to reverse one or all of those definitely results in a better quality of life, and approximately 80% of women who undergo this procedure are happy with how their breasts look after the surgery, as reported by the American Society of Plastic Surgeons.
But there are a few things to consider before going under the knife. It's not something to be taken lightly as it is a multi-hour surgery performed under anesthesia. You might need a second breast reduction to achieve your desired results. And it could cost a lot. Rachel Recchia from "The Bachelorette" wrote about her breast reduction surgery for Today, and she noted that insurance won't pay for the surgery unless there's proof that the pain you're in is otherwise untreatable — she ended up paying out of pocket. And without insurance covering it, the surgery costs thousands of dollars. And finally, like with any surgery, there will be a recovery time and that will mean, among other things, changing how you wear your bras.
You won't be able to wear your pre-surgery bras, not just because they're not likely to be the right size anymore, but because you'll need to be wearing a bra that helps with your recovery. Here's what you need to know.
Look for bras with compression and front fasteners
The recovery time after breast reduction surgery can vary, and the immediate recovery will take around three weeks: it takes three to six months for a full recovery, according to the American Society of Plastic Surgeons. Your doctor should have specific guidelines for what bra you should wear for your post-op care, but for everyone, in the days right after the surgery, you're going to want to wear a compression bra in breathable fabric. The compression will help promote healing, reduce swelling and bruising, prevent the stitches from getting irritated, and potentially lessen pain. Look for a bra that has been designed to be easy to put on and take off — think front closures with zippers, hook and eyes, or velcro.
For some specific options — again, always check with your doctor for their recommendations — AnaOno is a line of lingerie founded by breast cancer survivor Dana Donofree because we desperately need more inclusive bras. And they have some front closure, supportive bras great for after surgery that can still leave you feeling feminine and pretty, like the Rora Bra, which comes in seven sizes and four colors, and the Bianca Sports Bra; both are eligible for insurance coverage. Prairie Wear makes Hugger compression bras with a front zip and an extender for maximum adjustability.
Choose comfortable, adjustable bras without underwire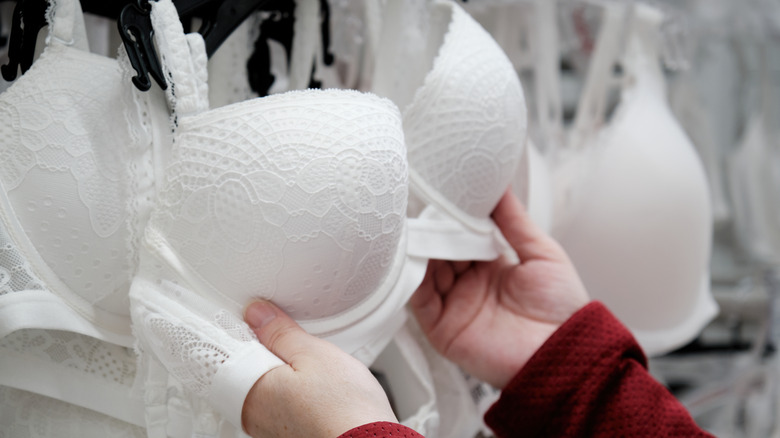 Visionlabs/Shutterstock
After the first few weeks after your breast reduction surgery, the bruising should be gone for the most part, and you will be able to broaden your range of bras within a month or so, like moving beyond the front closures. But keep in mind that your body won't yet have fully recovered. The swelling, for example, should have gone down, though not necessarily all the way as it can take three to four months for your breast swelling to come all the way down. So you need to continue to be conscious of your bra choices. You'll still need some level of compression, and you'll want a bra that is adjustable so you're not having to buy new ones as frequently as the swelling gradually goes away.
Throughout the entire recovery process, comfort will be absolutely key. Look for bras made from soft, breathable fabric like modal that will feel good against your skin. Forego any thoughts of underwire until you've fully recovered to avoid irritating your scars and breast tissue. And while going braless could potentially be a dream for those undergoing breast reduction surgery, wearing a comfortable, supportive bra in the weeks after surgery will keep helping you heal. Check in with your doctor for their guidance about when you can skip a bra altogether if that's your wish, or when you can safely start wearing underwire bras again.